EU, Ukraine hold first summit since Russian invasion
Kyiv is hosting a key summit with the European Union as Ukrainian President Volodymyr Zelensky said he wants to start talks on his war-torn country's accession 'this year'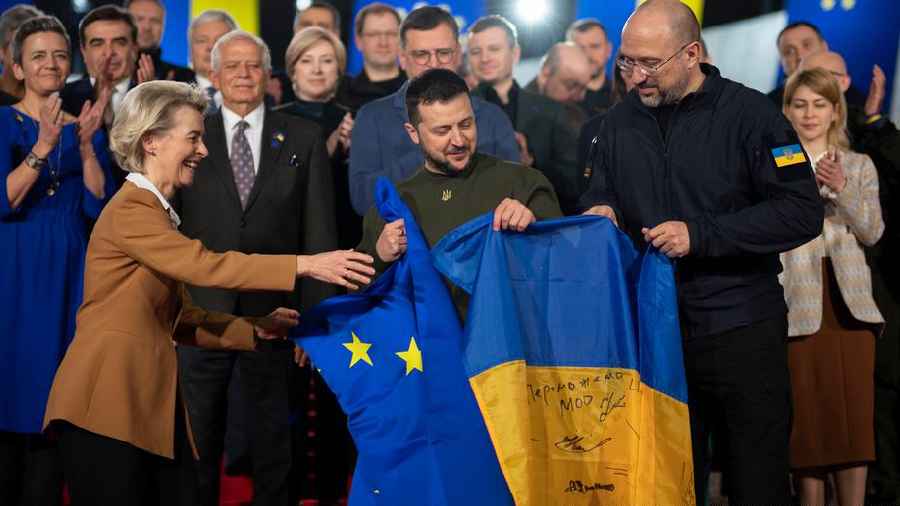 European Commission President Ursula von der Leyen, Ukrainian President Volodymyr Zelenskyy and Prime Minister Denys Shmyhal hold the flags of the EU and Ukraine
Deutsche Welle
---
Published 03.02.23, 02:34 PM
---
Two top European Union officials, European Commission President Ursula von der Leyen and European Council President Charles Michel, lead a group of 15 EU commissioners to meet Ukrainian President Volodymyr Zelenskyy on Friday for an EU-Ukraine summit in Kyiv.
This is the first EU-Ukraine summit since the start of Russian aggression almost a year ago and also since the European Council granted Ukraine candidate country status in June 2022.
Leaders are expected to discuss such issues as Ukraine's EU accession process and the bloc's response to Russia's war of aggression against Ukraine.
In a statement, the European Commission called the visit "a strong symbol of the Commission's support for Ukraine in the face of Russia's unprovoked and unjustified aggression."
Kyiv's peace and accountability initiatives will also be on the table, as will cooperation on issues of recovery, energy and global food security.
Ukraine aims to start accession talks
Von der Leyen arrived in Kyiv on Thursday along with other senior EU officials, including the EU's most senior diplomat, Josep Borrell, to highlight European support for Ukraine.
"I believe that Ukraine deserves to start negotiations on EU membership this year," Zelenskyy said Thursday after talks with von der Leyen. "Only together a strong Ukraine and a strong European Union can protect the life we value."
However, while the EU supports Ukraine and reforms there, it has declined to offer a fast track to membership while Ukraine is at war. EU officials have listed several entry requirements, from political and economic stability to passing various EU laws.
The process could take years. The last country to have joined the EU was Croatia in 2013, a decade after formally applying.
EU offers access to its market
The EU has called for more anti-corruption measures from Ukraine, saying it must build a credible track record over time. To this end, Zelenskyy recently announced investigations and the dismissal of some officials.
Von der Leyen tweeted that Ukraine was "taking notable steps forward to meet our recommendations, while at the same time fighting an invasion."
"We have never been closer," she said, noting that the EU was "working on extending tariff-free access to our market."
The EU will decide on further steps once Ukraine fulfils the conditions outlined in the European Commission's opinion on its EU membership application. As expected, the Commission will report on Ukraine's fulfilment of the conditions in spring 2023.