Donald Trump undercuts message on masks
'You can do it, you don't have to do it... somehow, I just don't see it for myself'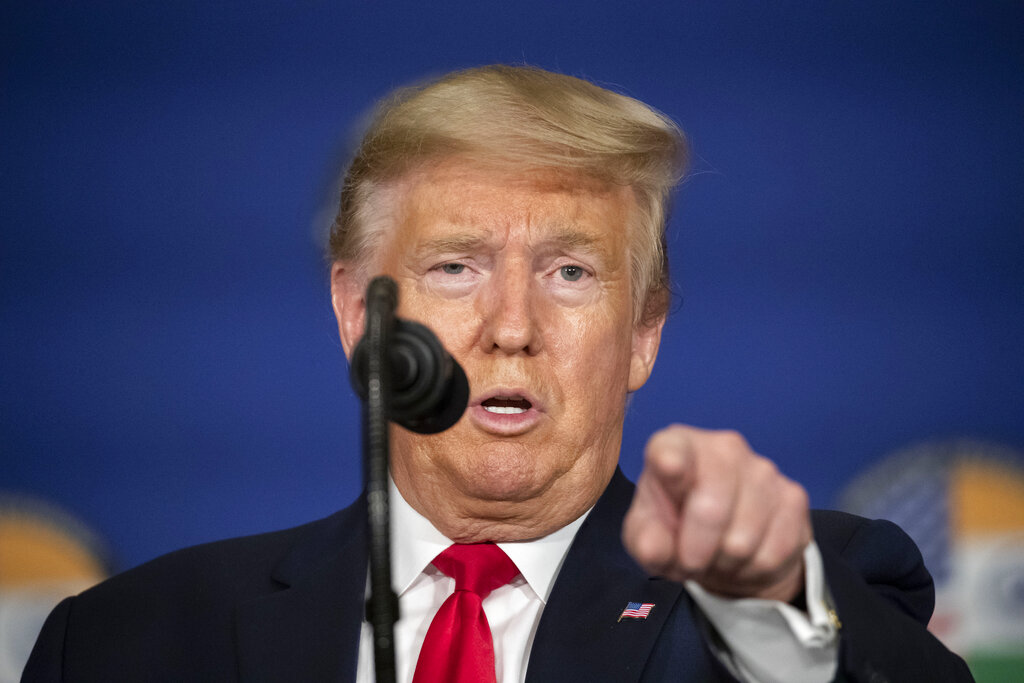 ---
|
New York
|
Published 04.04.20, 07:00 PM
---
President Trump said on Friday that the Centers for Disease Control and Prevention was urging all Americans to wear a mask when they leave their homes, but he undercut the message by repeatedly calling the recommendation voluntary and saying he would not wear one himself.
"With the masks, it is going to be a voluntary thing," the President said at the beginning of the daily coronavirus briefing at the White House. "You can do it. You don't have to do it. I am choosing not to do it. It may be good. It is only a recommendation, voluntary."
"Wearing a face mask as I greet Presidents, Prime Ministers, dictators, kings, queens — I don't know," he added, though he stopped receiving foreign dignitaries weeks ago. "Somehow, I just don't see it for myself."
Trump's announcement, followed by his quick dismissal, was a remarkable public display of the intense debate that has played out inside the West Wing over the past several days as a divided administration argued about whether to request such a drastic change in Americans' social behaviour.
Senior officials at the CDC have been pushing the President for days to advise everyone — even people who appear to be healthy — to wear a mask or a scarf that covers their mouth and nose when shopping at the grocery store or while in other public places.
The President's briefing was particularly contentious: He insulted reporters, jousted with his own administration and generally returned to pugilistic form.
At one point, he would not say, in response to a question, whether he was taking steps to ensure that the 2020 presidential election would take place as scheduled, should the coronavirus still be present in November. But he insisted the election would not be postponed.
Trump added that he did not approve of voting by mail, an idea gaining currency amid concerns that in-person voting would expose people to the coronavirus.
"I think a lot of people cheat with mail-in in voting," he said. "It should be, you go to a booth and you proudly display yourself."
Two of the principal US coronavirus hot spots — New York and Louisiana — reported their biggest jumps in Covid-19 deaths yet on Friday, as the White House sent mixed messages on whether Americans should cover their face if they venture outdoors.
Surging deaths in New York City and New Orleans showed that a wave of lethal coronavirus infections expected to overwhelm hospitals, even in relatively affluent, urban areas with extensive healthcare systems, has begun to crash down on the United States.
Governors, mayors and physicians have voiced alarm for weeks over crippling scarcities of personal protective gear for first-responders and front-line healthcare workers, as well as ventilators and other medical supplies.
With the federal government's national strategic stockpile of such equipment nearly depleted, states have been forced essentially to compete against each other on the open market for vital resources.
Cities across the country have also scrambled to expand hospital capacity and recruit healthcare professionals out of retirement to meet looming shortages of sick beds and personnel.
New York City, the pandemic's US epicentre, has mere days to prepare for the worst of the outbreak, said mayor Bill de Blasio, whose city has suffered more than a quarter of the 7,000-plus coronavirus deaths to date nationwide. New York is in an "extraordinary race against time", de Blasio told a news briefing on Friday, renewing his call for the government to mobilise the US military.
"We're dealing with an enemy that is killing thousands of Americans, and a lot of people are dying," he said. "You can't say, every state for themselves, every city for themselves. That is not America."