Trump says toll inflated, experts disagree
The numbers have hobbled the US President's approval ratings and harmed his re-election prospects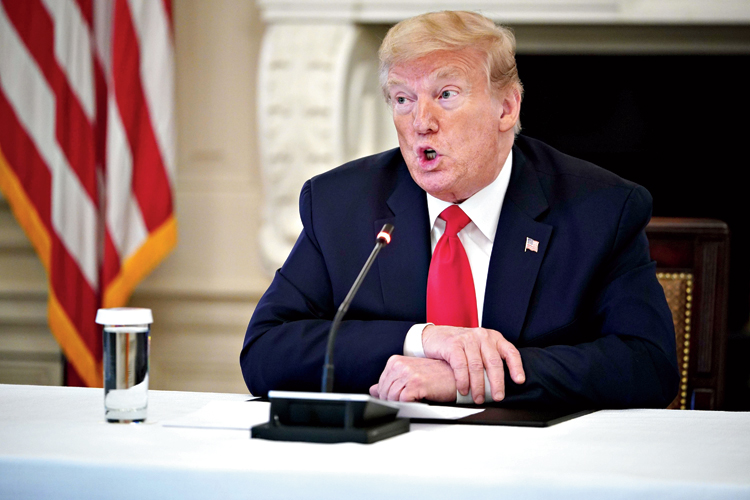 President Donald Trump
(AP)
---
Washington
|
Published 23.05.20, 08:27 PM
|
---
President Trump, eager to reopen the economy, has begun questioning the official coronavirus death toll, suggesting the numbers, which have hobbled his approval ratings and harmed his re-election prospects, are inflated.
In coronavirus task force and other White House meetings, conversations with health officials have returned to similar suspicions: that the data compiled by state health departments and the Centers for Disease Control and Prevention include people who have died with the coronavirus but of other conditions. The numbers, some say, include too many "presumed" cases of Covid-19 and too many Americans who were never tested for the disease.
Last Friday, Trump told reporters that he accepted the current death toll, but that the figures could be "lower than" the official count, which now totals nearly 95,000.
Most statisticians and public health experts say he is wrong; the death toll is probably far higher than what is publicly known. People are dying at their houses and nursing homes without ever being tested, and deaths early this year were likely misidentified as influenza or described only as pneumonia.
Dr Anthony S. Fauci, the nation's top infectious disease expert, told lawmakers this month that the overall toll was likely an undercount. "I don't know exactly what per cent higher but almost certainly it is higher," he said at a Senate health committee hearing.
Inside the White House, doubts about the official numbers are pervasive, though they come in different forms.