Cop27: Climate summit struggle on pact
Rival 'developed' and 'developing' blocs struggled to find an agreement on a range of issues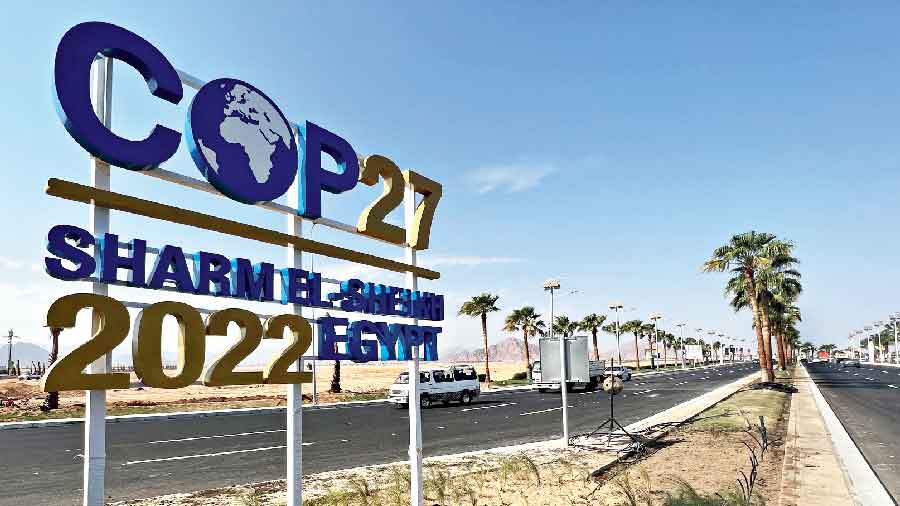 Representational image.
File Photo.
---
Sharm El-Sheikh
|
Published 19.11.22, 03:39 AM
|
---
The global climate conference Cop27, scheduled to end on Friday, was set to spill over to Saturday as the rival "developed" and "developing" blocs struggled to find an agreement on a range of issues, particularly a loss and damage finance facility.
The developing countries' desire for a new finance facility that will hold the developed nations legally liable for the loss and damage caused by climate change is proving the biggest hurdle to a unanimous Cop27 decision.
India has so far chosen to remain silent on the stalemate, saying only that it would support the developing countries' position. Experts feel that India is treading carefully because several countries, especially from the European Union, have begun demanding that emerging economies and emitters like China and India should also pay for the loss and damage. As the countries negotiated, a text prepared by ministers engaged with the issue came up on Friday, offering three options.
One, a decision to establish the fund at Cop27 itself; two, a timeframe of 2024 for the fund's establishment; and three, providing the proposed financial support through existing funding arrangements. The first option, set in motion by the EU, has gathered momentum with the developing countries asserting that Cop27 will be a failure without the establishment of the facility.
But this option comes with riders for India and China as it talks about phasing out all fossil fuels and turning around emission curves quickly, and demands that countries like China and India too pay for the loss and damage.
"The proposal is an effort to divide the developing countries' unity on the issue and isolate China and India," an expert said. Nabeel Munir, Pakistan's ambassador and key negotiator, told The Telegraph: "We want the facility to be created right at Sharm El Sheikh; the modalities may be worked out in the coming one or two years. If that is not done, Cop27 will not be successful."