Boris Johnson favourite to be next Prime Minister
His political chances appear not to have been affected by his colourful personal life for Boris has been open about his new girlfriend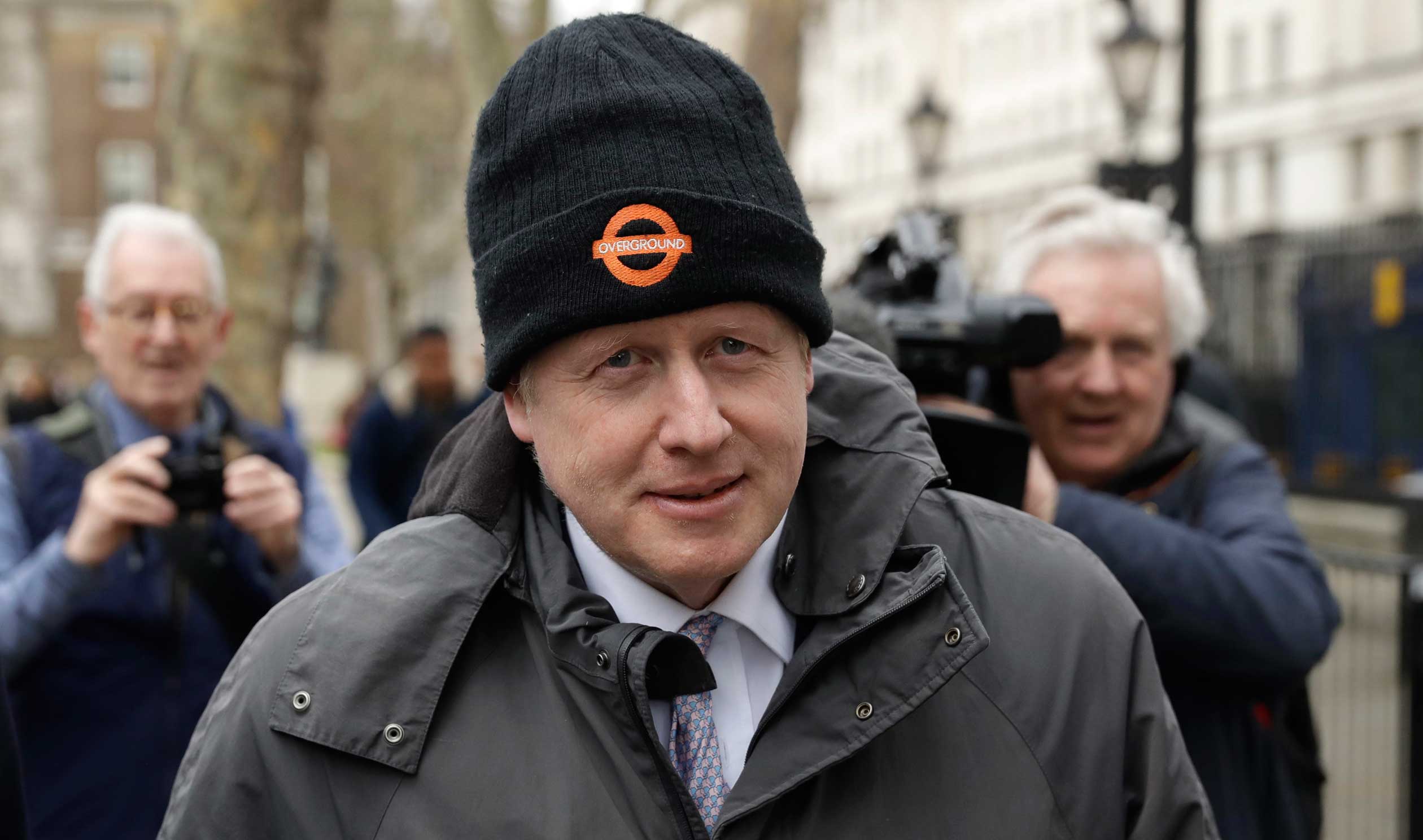 Boris Johnson, Britain's former foreign secretary, outside the Cabinet Office in London, on March 19, 2019.
(AP)
---
London
|
Published 18.05.19, 07:34 PM
|
---
The former foreign secretary Boris Johnson is the runaway favourite to replace Theresa May as Prime Minister, according to two opinion polls published on Saturday.
India might not be too unhappy with 54-year-old Boris getting the post because he knows the country well, mainly though his half-Sikh barrister wife, Marina Wheeler, 55, whom he is in the process of divorcing.
His political chances appear not to have been affected by his colourful personal life for Boris has been open about his new girlfriend, 30-year-old Carrie Symonds, a former Tory party official.
Mamata Banerjee could have met and established a rapport with Boris during her first visit to London in July 2015 but he said he could see her only in the morning but she insisted on an afternoon appointment. She, as chief minister of West Bengal, did not feel inclined to change her schedule for Boris, who was then mayor of London, and the meeting never took place, according to a member of Mamata's 100-strong delegation.
But he will outrank her if he becomes Prime Minister, as the polls predict.
A YouGov survey for The Times of Conservative party members — who will have the final say in the contest — put Johnson on 39 per cent, three times the 13 per cent for the former Brexit secretary Dominic Raab.
He is followed by the Pakistan-origin home secretary Sajid Javid and the environment secretary Michael Gove, both on 9 per cent, with foreign secretary Jeremy Hunt on 8 per cent.
Defence secretary Penny Mordaunt and the leader of the House of Commons, Andrea Leadsom, are on 5 per cent, with the international development secretary Rory Stewart on 4 per cent and health secretary Matt Hancock on 1 per cent.
YouGov interviewed 858 Conservative Party members between May 10 and 16.
Earlier in the week, Boris confirmed that he would put himself forward for the top job in British politics. He told a Manchester conference: "I'm going to go for it. Of course I'm going to go for it. I don't think that is any particular secret to anybody. But you know, there is no vacancy at present."
But there soon will be, with May expected to announce her departure date within a matter of weeks.
That will trigger the process for the election of her replacement, with 330 Tory MPs in the Commons whittling down the number of candidates to just two.
These will then go forward to the 124,000 Tory party members in the country, among whom Boris is known to be the favourite.
But whether Boris will be the choice of the Conservative parliamentary party remains to be seen.
Another poll, conducted by Survation for the Daily Mail, also put Boris way ahead of his rivals.
The detailed poll of more than 1,000 people asked who was most likely to beat Labour under Jeremy Corbyn.
Johnson was streets ahead of the others on 32 per cent. His closest rival was Javid on 11 per cent. Hunt and the work and the pensions secretary Amber Rudd were next, both with 7 per cent. However, Boris also had the highest negative ratings: he was seen as likely to be a good prime minister by 32 per cent of the public, but bad by 45 per cent.
Assessing his prospects, the Financial Times said: "Mr Johnson is the bookmakers' hot favourite to be Britain's next prime minister, even though Tory MPs variously see him as frivolous, unreliable and a flop in his two years as foreign secretary, not to mention his role in the Brexit chaos that is gripping the party and country.
"One former pro-Remain cabinet minister admitted that while he was close to some of the other candidates in a crowded leadership field, he was backing Boris. 'It's rather against my own expectations,' he admitted. 'The fact is, for all his flaws, he has a streak of brilliance.'
"Another Europhile former minister said the party faced a stark choice between a solid centrist like Jeremy Hunt, the current foreign secretary, or taking a chance with Mr Johnson, the erratic but charismatic 54-year-old Brexiteer, who might be able to pick the Conservatives off the floor.
" 'Jeremy is like a Volvo XC90, solid, reliable, will get you home,' he said. 'Boris, on the other hand, is like a powerful motorbike, more exciting — and dangerous.' The former minister's smile suggested he was ready to flirt with danger.
"Nearly 20 Tory MPs have suggested they could run for the Tory leadership, but Mr Johnson stands out. He is rated as 2-1 favourite by bookmakers Paddy Power, with Dominic Raab, the former Brexit secretary and rival for the Eurosceptic Tory vote, trailing behind at 6-1.
"After that come Michael Gove, the Vote Leave champion now casting himself as a party bridge-builder, at 8-1, and Mr Hunt, a Remainer who has tried to curry favour with the Tory Brexiteer base at 10-1."
Not all FT readers are Boris fans.
One summed up: "Boris will be a disaster! No majority in the Commons; a refusal to deal with the EU; a hopeless Foreign Secretary and a fairly useless Mayor; a serial liar; a bully and a fraud. We have never had a PM of such low character and talent, and in such a crunch crisis. No wonder the pound is collapsing – he makes May look like a miracle. And he will seek to avoid a GE (general election) he knows he will lose and drive us out of the EU with no deal amidst bluster and idiocy. Oh dear. Poor old Britain."
Another observed: "Don't forget the Tory membership totals 120,000 at an average age of 72. This tiny group of aged blinkered ideologues will be electing our next PM. It's time for a revolution." ends