Belarus 'hijacks' plane to detain Opposition-minded journalist
A Soviet-era MiG-29 fighter jet escorted a Ryanair-operated passenger plane flying from Athens to Lithuania under the pretense of a bomb alert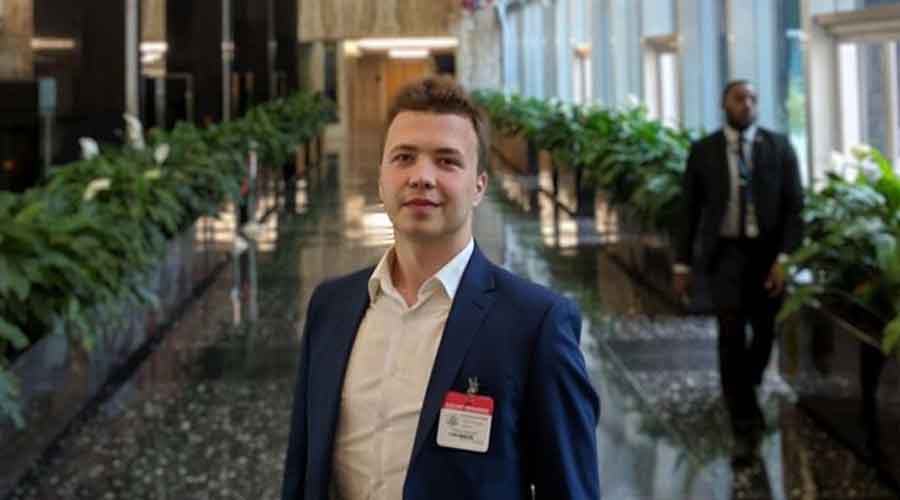 Journalist and activist Raman Pratasevich
(twitter.com/Tsihanouskaya)
---
Moscow
|
Published 24.05.21, 02:47 AM
|
---
Belarusian authorities scrambled a fighter jet and flagged what turned out to be a false bomb alert to force a Ryanair plane to land on Sunday and then detained an Opposition-minded journalist who was on board, drawing criticism from across Europe.
In the dramatic incident, described by one EU leader as a hijacking, a Soviet-era MiG-29 fighter jet escorted a Ryanair-operated passenger plane flying from Athens to Lithuania. The plane was suddenly diverted to Minsk, the capital of Belarus, where authorities detained journalist Roman Protasevich.
Protasevich, 26, had his head in his hands and was shaking when he realised the flight was headed for Minsk, Lithuania's Delfi news outlet said, quoting a passenger. Later, as he was led away, according to the report, he remarked: "I'll get the death penalty here." Reuters could not verify the report.
Last year, Protasevich was an editor for Poland-based Nexta Live, which played an important role in broadcasting huge Opposition protests against Belarusian President Alexander Lukashenko via the Telegram messenger app.
Data from the flightradar24.com website showed the plane was diverted just two minutes before it was due to cross into Lithuanian airspace. After several hours in Minsk, the plane took off and finally landed in Vilnius where Lithuanian Prime Minister Ingrida Simonyte was waiting to meet the passengers. EU member state Lithuania, where Protasevich is based, urged the European Union and Nato to respond. Nato secretary-general Jens Stoltenberg said in a Tweet that the incident was serious and dangerous and required an international investigation.
Poland's Prime Minister called it a "reprehensible act of state terrorism" and said he was pushing for a summit of EU leaders this week to discuss immediate sanctions against Minsk.
"I condemn in the strongest terms the detention of Roman Protasevich by Belarusian authorities, after a Ryanair passenger aircraft was hijacked," Mateusz Morawiecki said on Twitter.
The incident is certain to worsen already dire relations between the West and Belarus, which has been tightly controlled since 1994 by President Lukashenko.