Minister says any attack on scribes will be investigated
Taliban detain, beat up journalists for covering women's protest
Zaki Daryabi, founder and editor-in-chief of the newspaper Etilaat Roz, shared images on social media of two male reporters with welts and bruises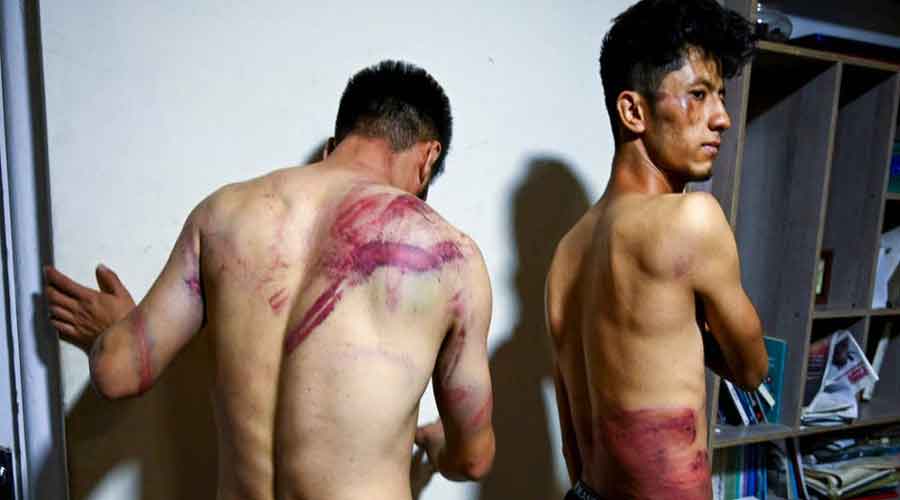 In this picture taken on 8 September 2021, Afghan newspaper Etilaatroz journalists Nemat Naqdi (L) and Taqi Daryabi show their wounds in their office in Kabul after being released from Taliban custody.
Getty Images
---
Kabul
|
Published 10.09.21, 03:11 AM
|
---
The Taliban have been rounding up scores of demonstrators and subjecting them to abuse in overcrowded jails, according to journalists who were present.
The repression follows a Taliban announcement on Tuesday that protests would not be allowed without government approval.
Several Afghan journalists said they had been arrested and beaten in custody while covering a protest on Wednesday in front of a police station in Kabul — one of the first accounts of journalists being abused since the Taliban came to power.
Zaki Daryabi, founder and editor-in-chief of the newspaper Etilaat Roz, shared images on social media of two male reporters, one with large, red welts across his lower back and legs and the other with similar marks on his shoulder and arm.
Send our journalists to hospital. pic.twitter.com/W3GQ34BPtl

— Zaki Daryabi (@ZDaryabi) September 8, 2021
Both men's faces were bruised and cut in the pictures, which were verified by Reuters.
Asked about the incident, an acting Taliban minister said that any attack on journalists would be investigated. He declined to be identified.
Daryabi said the beatings had sent a chilling message to the media in Afghanistan, where an independent press, much of it funded by western donors, had flourished in the last 20 years.
"Five colleagues were kept in a detention centre for more than four hours, and during these four hours two of our colleagues were beaten and tortured brutally," he told Reuters on Thursday, the day after the incident.
Taqi Daryabi, one of the two Etilaat Roz journalists, said seven or eight people beat them for about 10 minutes.
"They would raise sticks and beat us with all of their strength. After they beat us, they saw that we had passed out. They took us to lock us up in a cell with a few others," he said.
The last time the Taliban ruled the country from 1996 to 2001, there was no independent media and the Internet was in its infancy.
"With the sudden collapse of the government, Etilaat Roz initially decided to stay and operate in the hope that there would be no big issue for media and journalists," Daryabi said. "But with yesterday's incident, that little hope I had for the future of media and journalists in this country is destroyed."
On Tuesday, Zabihullah Mujahid, the acting deputy information and culture minister, said all protests had to be approved in advance by the ministry of justice.
Still, a day after the warning, protesters were once again taking to the streets.
The Taliban have not said how many demonstrators are in custody, but several local journalists have painted a harrowing portrait of one jail in Kabul.
When three colleagues of a videographer detained on Wednesday went to the police to ask for his release, they too were taken into custody, they said.
"The barracks of the police station were full of prisoners," said Aber, one of the reporters.
He said he saw a demonstrator who was covered in blood after being severely beaten, and witnessed Taliban fighters abusing prisoners. "They were mocking us and saying: 'You want freedom? What freedom?'" he said.