21 hurt as Boeing 737 skids into Florida river
All the 136 passengers and seven crew members had been rescued by early Saturday morning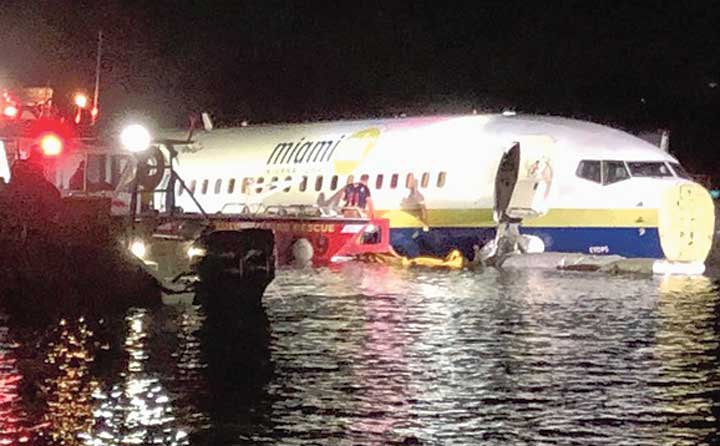 ---
|
New York
|
Published 04.05.19, 07:13 PM
---
A Boeing 737 charter jet arriving at the Jacksonville, Florida, naval air station from Guantanamo Bay, Cuba, slid off the runway into the St Johns river on Friday night, injuring at least 21 people, the authorities said.
All the 136 passengers and seven crew members had been rescued by early Saturday morning, a navy spokeswoman said. None of the injuries were life-threatening, the Jacksonville Sheriff's Office said.
"I think it is a miracle," Captain Michael P. Connor, the commanding officer at Naval Air Station Jacksonville, said at a news conference early on Saturday. "We could be talking about a different story."
The sheriff's office said the plane had never been submerged. Photos showed it floating on the St Johns river in an image eerily reminiscent of the January 2009 emergency landing of a US Airways jet on the Hudson river.
The accident occurred at about 9.40pm (local time) as the pilot attempted to land the jet amid thunder and heavy rains.
Early images from social media showed rescue teams scurrying over the plane. "While they work please pray," Mayor Lenny Curry of Jacksonville said in a Twitter message posted at 10.30pm.
About 15 minutes later, he followed up: "This is a developing situation. I've been briefed that all lives have been accounted for." Emergency response teams, he added, were working to control jet fuel leaking into the river.
The flight was operated by Miami Air International, a charter company that shuttles military service members from the base in Guantanamo Bay to naval air stations in Jacksonville and Norfolk, Virginia. The flights run every Friday and every other Tuesday, said Susan Brink, a Navy spokeswoman.
Officials for Miami Air International did not return phone calls about the accident.
The company's website said the airline has a fleet of Boeing 737s that caters to the military, religious groups, sports teams and corporate groups.
Brink said Miami Air International flights typically carry active duty personnel and their families, contractors and others with clearance to travel to Guantanamo Bay, where the military operates a naval base and a prison for accused and convicted terrorists. She said she did not have a specific breakdown of the passengers on Friday's flight.
The National Transportation Safety Board said it was sending a team to start an inquiry. Boeing said it also was investigating.