10 killed in Los Angeles shooting
Gunman remains at large and the motive is still not clear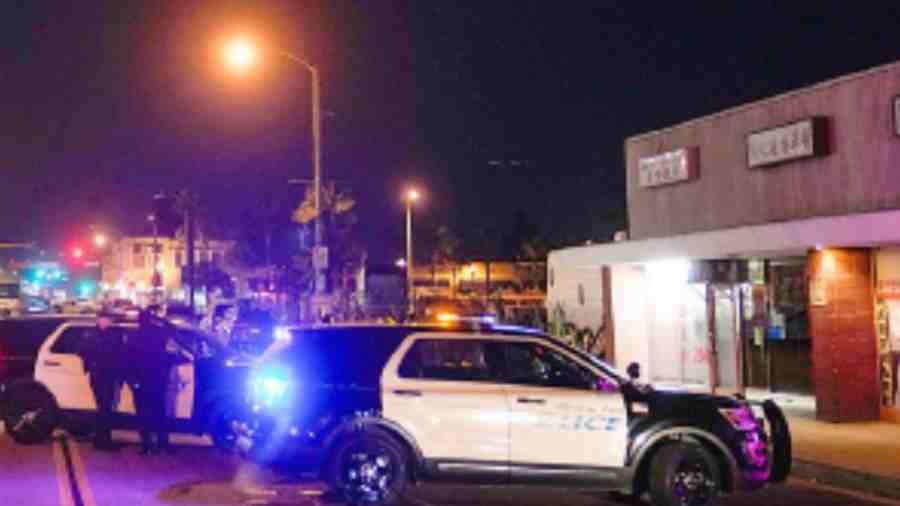 Police vehicles block the street near the spot where the shooting took place in Monterey Park, California, on Sunday.
AP/PTI picture
---
Los Angeles
|
Published 23.01.23, 05:19 AM
|
---
At least 10 people were killed and 10 others were injured in a shooting on Saturday night inside a ballroom dance venue in Monterey Park, California, the Los Angeles county sheriff's department said.
The gunman remained at large, and the motive was still unclear, the sheriff's department told reporters early Sunday morning, adding that the FBI and other law enforcement agencies were involved in the investigation.
The shooting occurred around 10.20pm on West Garvey Avenue, a main thoroughfare of Monterey Park that earlier in the day had hosted a festival celebrating the eve of the Lunar New Year, a major holiday in many Asian communities.
Captain Andrew Meyer of the sheriff's department said that it was too early to say whether the shooting was racially motivated. "We will look at every angle as far as whether it was a hate crime or not," he added.
Monterey Park, about seven miles east of downtown Los Angeles, has a population of about 60,000 people, about 65 per cent of whom are Asian American and 27 per cent are Hispanic or Latino, according to government data. In the 1990s, it claimed to have become the first city in the continental United States to have a majority of residents with Asian ancestry.
The incident was the deadliest mass shooting in the United States since last May, when 19 children and two teachers were killed in a massacre inside an elementary school in Uvalde, Texas.
Saturday's shooting is also the second major attack in less than a week in California. Last Monday, gunmen killed six people in Tulare County, including a 16-year-old mother and her 10-month-old child, in a shooting that the police said was likely gang-related.
Governor Gavin Newsom of California wrote on Twitter that the city of Monterey Park "should have had a night of joyful celebration" and instead experienced a "horrific and heartless act of gun violence." "Our hearts mourn as we learn more about the devastating acts of last night," he added.
Attorney-general Merrick B. Garland has been briefed on the mass shooting, and justice department personnel, including FBI and ATF investigators, are on the scene, according to officials. The FBI and ATF agents are assisting local authorities in the early stages of the investigation, but they typically also collect information to determine if federal charges, such as civil rights or gun violations, might be pursued later.