Workers rescued from bonded labour in Andhra Pradesh
The duo returned home last week following initiatives by a social media platform operating out of Bengal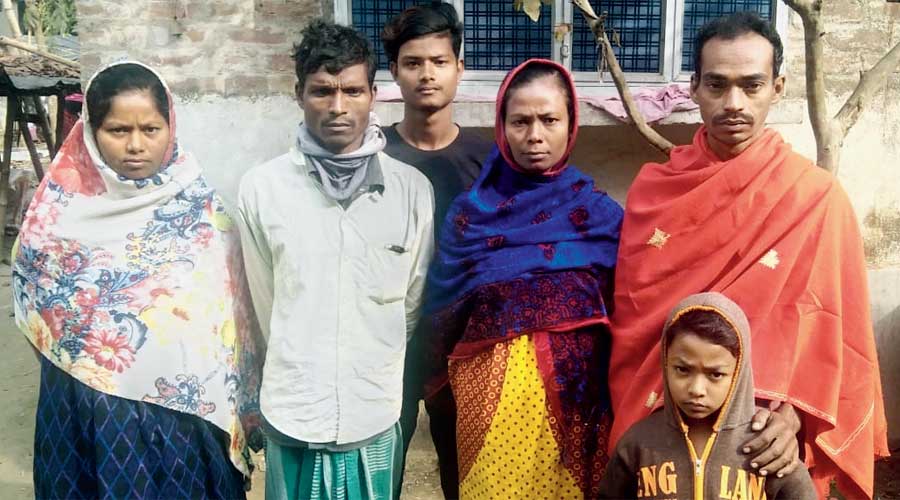 Migrant workers Tarikul Gazi (in white shirt) and Siddique Mollah (in red shawl) at their village in North 24-Parganas
Telegraph Picture
---
Bolpur(Birbhum)
|
Published 21.01.22, 03:09 AM
|
---
Two migrant workers from North 24-Parganas' Hasnabad, and their family members, who were allegedly misled and roped into a situation of bondage at a brickfield in Andhra Pradesh in December were rescued and returned home last week following initiatives by a social media platform operating out of Bengal.
Abdul Aziz Mollah, a social worker from Asuria village in Hasnabad, informed members of the Assistance to Common People Trust, via social media, after hearing about the plight of Takirul Gazi, Siddique Mollah, and four of their family members earlier this month.
"Two middlemen had assured Gazi and Mollah late last year of a job at a brickfield in Andhra Pradesh. Not long after they reached the site, it turned out that they had been conned into being collateral for a debt of Rs 2.60 lakh that was owed to the brickfield owner," said a member of the social welfare organisation.
"The site was in Andhra's Ravulapalem area in the East Godavari district. Both these middlemen were from Malda and Basirhat and had assured the victims of a daily wage of Rs 500 for a male worker and Rs 350 for assistants, which led both Gazi and Mollah to take their wives and sons along," they added.
Gazi, who is the father of a 14-year-old son, whereas Mollah has an eight-year-old son, both of whom were on the verge of being put to work.
"After working for about a month, we came to know that we have to repay Rs 2.60 lakh, which our middlemen had taken from the brickfield owner. When we told the owner he said they would not let us go home till we repaid the amount. We were just paid some money to run our daily necessities," said Gazi.
Gazi said the owner of the brickfield used to send his own staff to accompany and watch him and  Mollah  whenever the latter had to go to the market to purchase essentials.
"On a day when I argued with the owner and told him about the middlemen, he even beat me up. Later I informed my situation to social workers from our village," added Gazi, explaining that Abdul Aziz Mollah took up his social media initiative shortly after, making use of the Assistance to Common People Trust's Facebook page titled "Baap ke Bolo (Tell father)".
"All of the family members were actually forced to work just like bonded workers and they have yet to get their wages of work done in Andhra Pradesh so far," said Mollah.
Wahidur Rahaman, a member of the trust, said they had contacted the district magistrate and police chief of East Godavari and had requested them to rescue the family.
"After we communicated with the local administration in AP, police raided the brickfield and rescued the families. Following the intervention of police, they reached their village safely on January 14," said Wahidur.
The police chief of East Godavari district Ravindranath Babu confirmed the details of the rescue operation when asked on Wednesday.
A senior police officer in Ravulapalem police station, who headed the operation, said, "Actually, the owner had paid a lot of money as advance and he was trying to make them work till repayment of the amount. We arranged a car and train ticket for the families and they were sent back to their homes safely."
Trust member Rahaman added that they were trying to locate details of the middlemen so as to inform Bengal police but had been successful so far.
"We will approach police here in Bengal to take action against these middlemen who are behind such rackets," he said.