West Midnapore: Wild elephants kill cattle, damage crops
According to sources, around 30 jumbos entered human habitats on Thursday while foresters were reportedly attempting to drive them through paddy and vegetable fields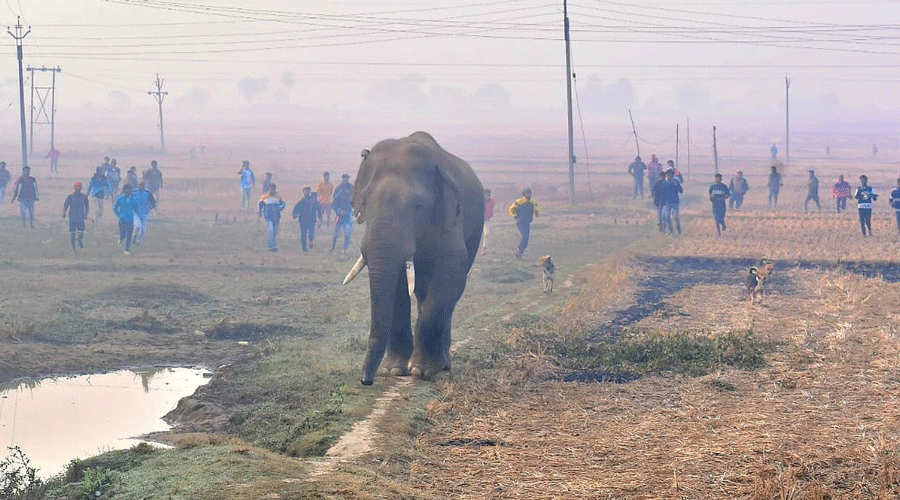 An elephant on the prowl in West Midnapore's Garbeta on Friday.
Saikat Santra
---
Calcutta
|
Published 07.01.23, 04:02 AM
|
---
A group of elephants from a herd of 30 on Thursday night went on a rampage in West Midnapore's Garbeta, destroying crops, breaking down boundary walls and killing at least two cows.
A group of villagers reportedly prevented foresters from driving away the jumbos through fields to save their ready-to-harvest crops. 
Sources said a herd of around 30 jumbos entered human habitats on Thursday evening while foresters were reportedly attempting to drive them through paddy and vegetable fields. 
"The logic of those villagers who prevented the foresters from driving away elephants was not wrong as they have the right to save their crops grown with hard labour. But they have to understand the forest department needs a passage to drive away the wild animals towards the forest," said Manish Kumar Yadav, divisional forest officer of Rupnarayan division of West Midnapore. 
As a result of the resistance, the herd of 30 animals was split and a few entered Kharkata village of Garbeta where they went on a rampage overnight.
Villagers said the elephants attacked their cattle and ransacked several houses, leaving them without shelter on a winter's night. They also accused the foresters of not turning up even after they made several phone calls during the rampage. 
"It was a nuisance for us to play hide and seek with elephants amid the heavy cold. When the foresters did not turn up, a group of villagers drove the animals away by using fire and beating drums through the field. "At least 30 acres of crops were damaged," said Nimai Mondal, a resident of Kharkata.
Yadav said it was difficult for the foresters to drive away the animals after the herd was split.