Bengal polls 2021: Subash Ghisingh critic late Sudarshan Sharma's girl debuts
Anjani is contesting as an Independent from the Darjeeling Assembly seat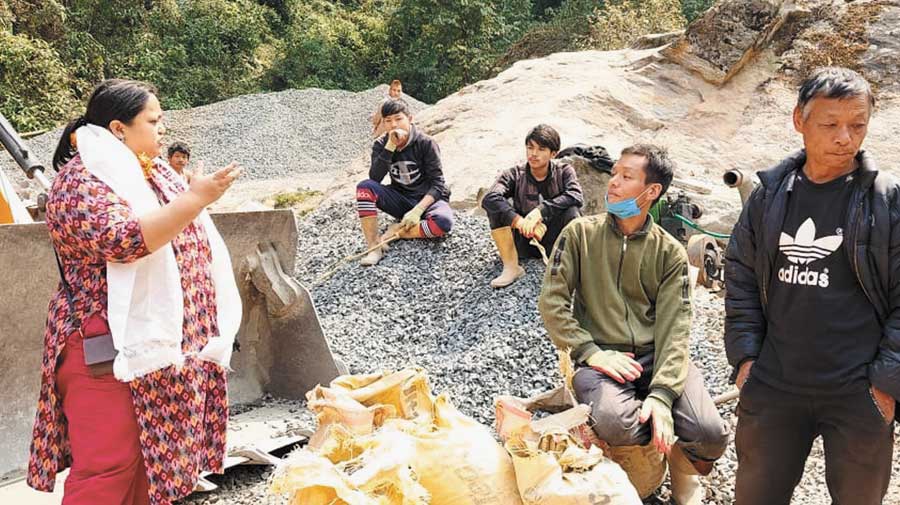 ---
Darjeeling
|
Published 15.04.21, 02:23 AM
|
---
Anjani Sharma Bhujel was in Class V when her world came crashing down. Her father Sudarshan Sharma, a vocal critic of then undisputed Darjeeling leader Subash Ghisingh, was killed in 1992, and no one has been convicted for his murder.
Twenty-nine years later she has plunged into "electoral politics", unfazed by the family tragedy but with a strong urge to change the culture of politics in hills.
Anjani is contesting as an Independent from the Darjeeling Assembly seat.
"Wherever I went for campaigning the atmosphere was congenial. I did not face political hostility," Anjani, 40, said on Wednesday, the last day of campaigning. Her father was only 42 when he was killed.
Such a congenial atmosphere was not around when her father was in politics. Sudarshan was a leader of the Akhil Bharatiya Gorkha League (ABGL), rivals to Ghisingh's Gorkha National Liberation Front (GNLF).
Sudarshan — with party colleague Madan Tamang who was killed in 2010 —was actively involved in a movement to recgonise the Nepali language in the Eight Schedule of the Constitution.
Ghisingh wanted the nomenclature Gorkhali during recognition while many in the hills wanted to stick with Nepali.
The language — with both the words Gorkha/Nepali — was recognised in the Constitution on August 22, 1992.
Sudarshan was murdered on November 21, the same year.
"He was killed because of his involvement in the bhasha andolan and also because he was against autocratic rule… against the practices of social boycott (against Opposition supporters), settling for an autonomy (DGHC) following the Gorkhaland struggle," said Anjani.
Anjani was only a child when she lost her father but his life left a major impression on her.
"Wherever I went there were a lot of people who talked about my father" said Sharma, a data scientist who has floated her own company.
The Independent candidate said she was scared that issues like "regionalism" were under threat in the hill which prompted her to contest the elections.
She does not hold a grudge against the GNLF. In fact, Subash's son Mann Ghisingh did apologise to her. "I don't have grudges; Mann was not responsible for my father's death. I, however, want him to keep regionalism alive as his father (Subash) did. Back then the Congress was powerful (as a pan-India party), but regionalism had been kept intact, unlike now," said Anjani.
The electoral decision "angered" her mother Innu Sharma but the retired schoolteacher did not discourage Anjani from choosing her own path, she said. "My mother went through difficulties after the family tragedy," said Anjani. "She struggled a lot to raise her two children," said Anjani.
Despite him being a municipality councillor there was no water and electricity connection at Anjani's house when her father died.
Sudarshan, who was also a teacher at Municipal Boys' High School, was in jail for protesting against the Prime Minister Moraji Desai, during his visit to Darjeeling in 1979. Anjani's elder brother Ananth was born then, Anjani said, adding that her father was also born when her grandfather Hari Prasad Sharma was in jail "for advocating issues of the community".
Standing in an election for the first time, Anjani said her campaigning experience made her believe that hill people are more conscious of issues and parties now. "Even in remote places like Srikhola, people were aware of issues and political parties," said Anjani.
Irrespective of the outcome of election results, Anjani plans to work on creating awareness on the census process and prepare the hill people with documents for the NRC process.
Recently, Union home minister Amit Shah has said Gorkhas would not be displaced by the NRC process.
"Leaders may make tall claims that Gorkhas might not be affected but we need to have our documents and many of our people are poor in documentation and keeping records," said Anjani.