Forty-three members of the Bengal cabinet, in the third straight term of Mamata Banerjee as chief minister, are likely to take oath at 10.45am on Monday, in the historic Throne Room of Raj Bhavan.
The cabinet currently has only Mamata, who was sworn in on Wednesday. It can have a maximum of 44 members — 15 per cent of the 294-seat Bengal Assembly.
In the list of people likely to take oath as ministers on Monday, there are 24 of cabinet rank (the 25th being the Trinamul chief herself), 10 ministers of state with independent charge, and nine other ministers of state.
"The list (of ministers) is fairly balanced with no drastic changes. The choices indicate a fair amount of thought has been given to performance, as well as consideration to proper representation to various quarters such as districts, communities, gender and lobbies," said a Trinamul vice-president.
Seventeen ministers from the previous term — including Gautam Deb, Rabindranath Ghosh, Purnendu Basu, Ashis Banerjee and Tapan Dasgupta — did not make the cut this time. Some among these 17 were not fielded in the elections, some others lost, a few won.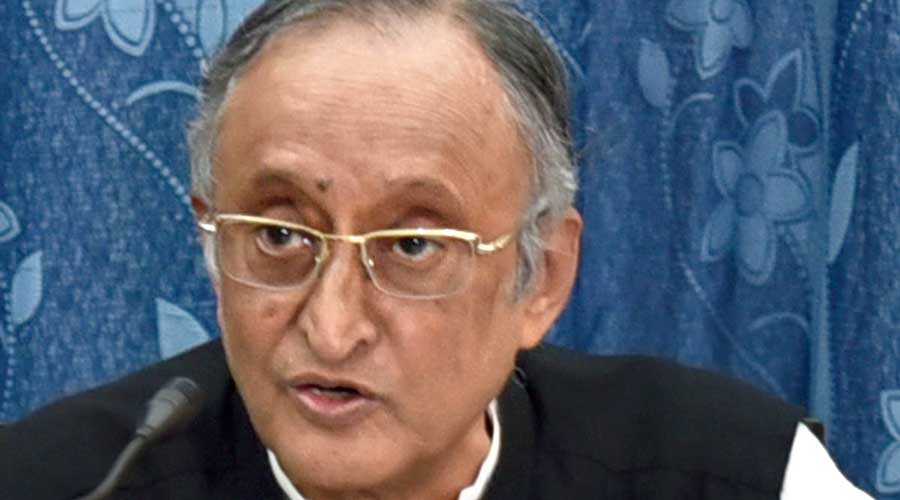 Amit Mitra. File photo
Still, the list has no real surprises, the highlight being Amit Mitra's inclusion despite his withdrawal from the election this time on account of his poor health.
Should Mitra take oath on Monday according to schedule, he is likely to get a third consecutive term with the vital portfolio of finance.
He and Bratya Basu, because of their failing health, are likely to be sworn in virtually, in a first in Bengal's legislative history.
East Midnapore's Akhil Giri, known for years as being bitterly opposed to Suvendu Adhikari and his clan, made it to the list as a minister of state with independent charge.
The list also includes two others from the anti-Adhikari lobby in the form of Soumen Mahapatra, who is getting his third consecutive term as a cabinet minister, and Seuli Saha, as a minister of state.
The anti-Adhikari camp existed in the ruling party much before Adhikari defected to the BJP in December last year.
Though most candidates from the entertainment industry that Mamata had fielded in this state election emerged victorious, none (other than Bratya Basu and Indranil Sen, who have had experience as ministers in the past) is on the list of ministers as of Sunday evening.
However, former Team India cricketer Manoj Tiwari, who entered politics just before the elections, is on the list as a minister of state.
Humayun Kabir, the IPS officer who took voluntary retirement to contest and win the Bengal polls, is apparently being rewarded with a minister of state (independent charge) berth.
A quick look at the names who, along with Mamata, will run Bengal in Trinamul's third term:
Cabinet ministers: Subrata Mukherjee, Partha Chatterjee, Amit Mitra, Sadhan Pande, Jyotipriya Mullick, Bankim Chandra Hazra, Manas Ranjan Bhunia, Soumen Mahapatra, Moloy Ghatak, Aroop Biswas, Ujjal Biswas, Arup Roy, Rathin Ghosh, Firhad Hakim, Chandranath Sinha, Sobhandeb Chattopadhyay, Bratya Basu, Pulak Roy, Shashi Panja, Ghulam Rabbani, Biplab Mitra, Javed Khan, Swapan Debnath and Siddiqullah Chowdhury
Ministers of state, independent charge: Becharam Manna, Subrata Saha, Humayun Kabir, Akhil Giri, Chandrima Bhattacharya, Ratna De Nag, Sandhyarani Tudu, Bulu Chik Baraik, Sujit Bose and Indranil Sen.
Ministers of state: Dilip Mondal, Akhruzzaman, Seuli Saha, Srikant Mahato, Sabina Yasmin, Birbaha Hansda, Jyotsna Mandi, Paresh Adhikary and Manoj Tiwari.