West Bengal Polls 2021: Matua faces too few, rue TMC & BJP camps
While the Trinamul nominated only one candidate from the community, the saffron party nominated five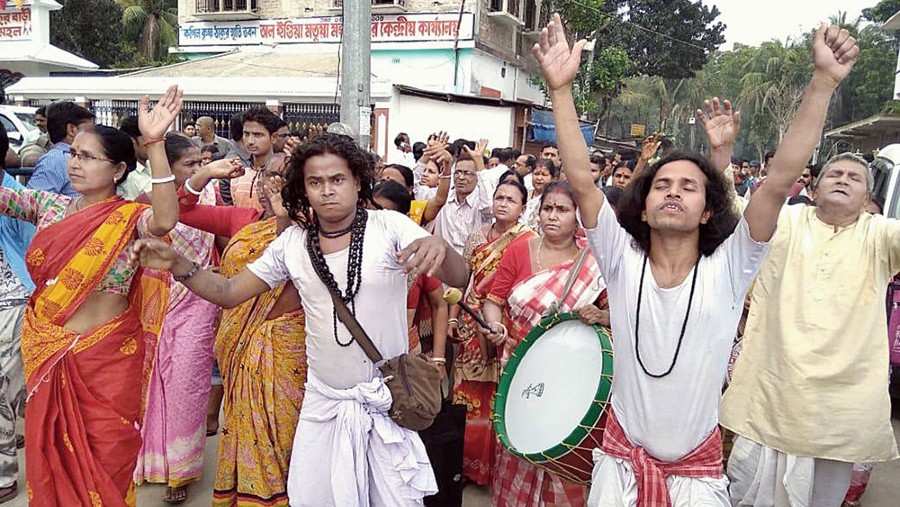 ---
Calcutta
|
Published 25.03.21, 03:02 AM
|
---
The hope of the Matuas to get greater representation in the Assembly hit a hurdle with both the BJP and the Trinamul not fielding enough candidates from the community that has a significant number of voters in 25-30 seats.
While the Trinamul nominated only one Matua candidate, the BJP nominated five. The count is too low given that the Matua faction of the Trinamul headed by Mamatabala Thakur and her counterpart in the BJP Santanu Thakur had been demanding a far greater representation from their respective parties.
Former Trinamul MP Mamatabala heads the Sarba Bharatiya Matua Mahasangha. Her nephew Santanu Thakur is the chief of the All India Matua Mahasangha (AIMM) and a BJP MP.
While Mamatabala has openly expressed her resentment about Trinamul not nominating many from the community, BJP MP Santanu was more diplomatic. "Expectation is not always fulfilled," he said.
Two days ago, Santanu's father Manjulkrishna Thakur, one of the heads of Thakur family and a top leader of the AIMM, held a news meet to vent his anger on this issue.
Trying to downplay Manjulkrishna's outburst, Santanu said his father had been given wrong information by the media and claimed that the BJP had fielded not five but eight candidates, but could not name eight seats.
In the 2019 Lok Sabha poll, the Matuas, considered to be the support base of the Trinamul, were swayed by the BJP's citizenship offer and helped the saffron party win both the Bongaon and Ranaghat constituencies. The setback forced the Trinamul to try and woo Matua support in the run-up to the Assembly polls.
Sources said that Mamatabala had asked the Trinamul leadership for a bigger Matua representation in the Assembly but her plea was turned down. "She demanded at least 12 seats but the Trinamul gave only one ticket. The lone nominee, Narottam Biswas, is known to be Mamatabala's rival," said a leader of the Sarba Bharatiya Matua Mahasangha.
"The way Matua community members have been denied nomination is painful," said Mamatabala.
The scene is no different in the BJP camp. 
Sources said Santanu wanted 10 seats for Matuas. "Only five persons from the community have got BJP tickets," a member of the AIMM said. 
AIMM joint chief and BJP's Gaihata candidate Subrata Thakur said they had greater expectations but what they got "wasn't a bad deal either".