Bengal Assembly Polls 2021: Bimal Gurung's campaign in south
Hill leader holds rally for Trinamul at Kharagpur that has 22,000 Gorkhas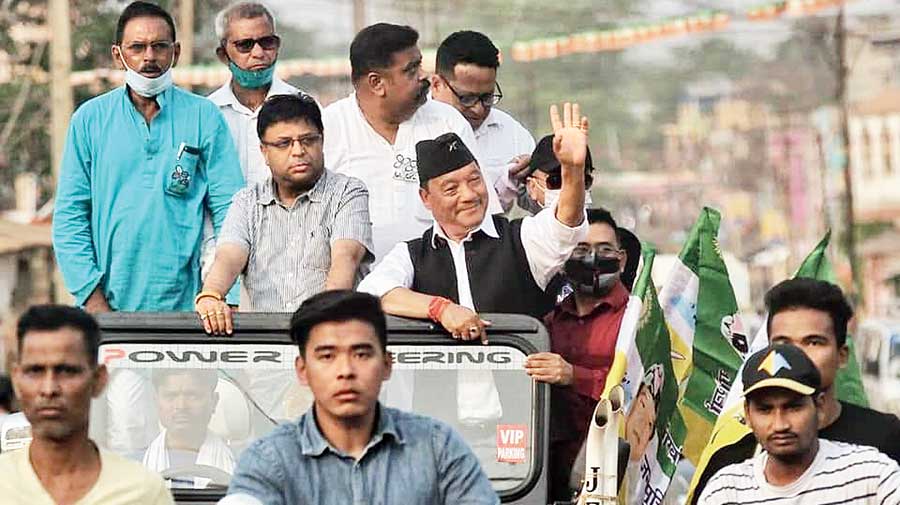 Gorkha Janmukti Morcha leaders Bimal Gurung and Roshan Giri campaign for the Trinamul Congress at Salua in Kharagpur on Thursday
Telegraph picture
---
Published 26.03.21, 01:13 AM
|
---
Gorkha Janmukti Morcha leader Bimal Gurung on Thursday reached Kharagpur in West Midnapore, accompanied by his second-in-command in the party Roshan Giri, to address Gorkha voters in the region and rally them behind the Trinamul Congress.
"We have come to meet our supporters who have organised a meeting here," said Giri over the phone.
Salua in the Kharagpur Assembly segment has around 22,000 Gorkha voters, most of whom come from families that have served in the Eastern Frontier Rifles. The EFR is headquartered at Salua.
Gurung is campaigning for Trinamul in the Bengal Assembly elections and in what is being predicted as a close contest, even a swing of 10,000-15,000 votes could be a game changer.
Sources said Gurung had also addressed the public meeting at Salua .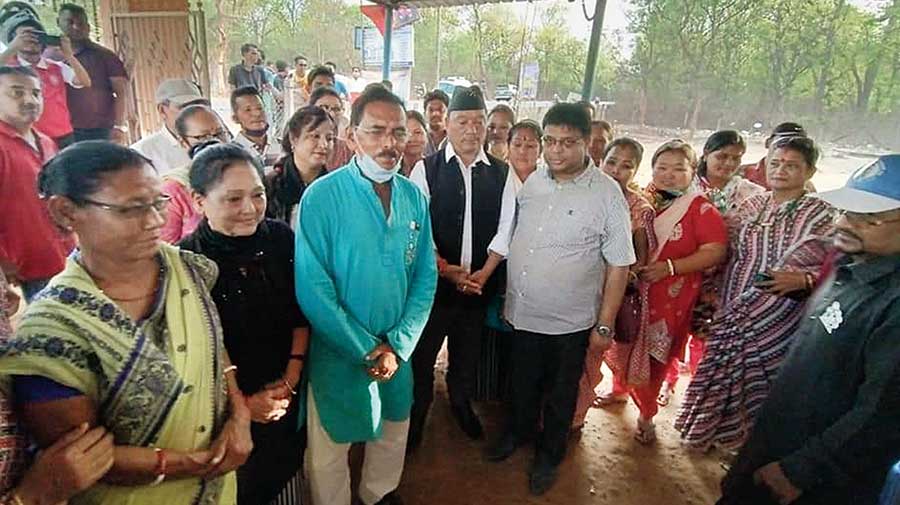 Many believe the visit could have political ramifications not only in this south Bengal constituency but also in the Darjeeling hills.
"So far, there has been no clear message that Trinamul has publicly endorsed Gurung's faction as an ally," said an observer. "This visit would clear many doubts."
Also many organisations in the hills which are inclined towards Trinamul have recently extended support to the Binay Tamang faction of the Morcha and not the Gurung camp.
The Tamang camp has been claiming that Gurung has not been fully accepted by Trinamul "Can they show a single picture with senior TMC leaders? They are just in touch with the I-PAC team (which is headed by poll consultant Prashant Kishor)," Tamang said.
The visit is, however, being seen by many that Trinamul is taking Gurung seriously.
"In the last Lok Sabha elections, Tshering Dahal of the Tamang camp had campaigned in Kharagpur, accompanied by Trinamul Rajya Sabha member Shanti Chhetri," said an observer.
Tshering Dahal is the candidate of the Tamang camp in Kurseong.
"The fact that Bimal Gurung and Roshan Giri have been asked to campaign also suggests Trinamul still believes that Gurung has some hold over the community," the observer said.
Even though both the Tamang and Gurung factions are allies of Trinamul, they are adopting different methods in the election campaign.
Tamang had announced his faction wouldn't hold joint election campaign programmes with Trinamul in the hills. Gurung has not yet held any joint election campaign with Trinamul in the hills. But in the plains, he has been sharing platforms with Trinamul candidates.
With Trinamul deciding to leave the three hill seats of Darjeeling, Kurseong and Kalimpong for their "friends", a section of the workers in the ruling party seems disenchanted.
Sources said the Trinamul leadership had called a meeting in Siliguri on Friday to smoothen ruffled feathers.
Candidate
Gorkhaland activist Anjani Sharma Bhujel has decided to contest as an Independent in Darjeeling.
Anjani had earlier planned to contest in Kalimpong. There are allegations that Anjani changed the decision as the Bimal Gurung faction of the Gorkha Janmukti Morcha fielded her father-in-law R.B. Bhujel in Kalimpong.
"It is true he is my relative. He is an able candidate. However, the issue (of self-determination) is more important than the family," said Anjani.