Polls: A People's Puja
Chronicling the festival that is elections and some of the paraphernalia around it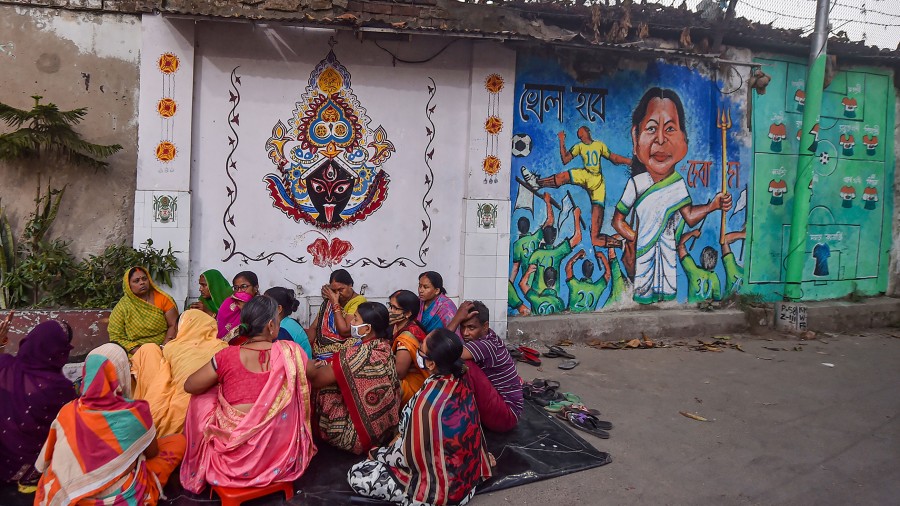 PUBLIC PARTY: A wall graffiti in Calcutta with this yearís TMC slogan Khela Hobe
PTI Photo/Swapan Mahapatra
---
Published 14.03.21, 12:44 AM
|
---
You know it is poll season, when even the lover's red, red serenade does not escape the hawk eye of political campaigners. Tumpa Sona, a new musical release about romantic and class aspirations of a young man, had barely become the most-hummed tune in these parts this spring when, spotting a winner, Red cadres made it their anthem.
On February 28, supporters of the Left-Congress coalition pranced their way into Calcutta's Brigade Parade Ground to the accompaniment of the "inspired" number. It went, "Tumpa/ Toke niye Brigade jabo/Tumpa/Chain flag-e math sajabo/Tumpa/Athashe tulbo awaj/Tumpa/Modi Didi sob bhoge jak..." CPI(M) supporter Udit Sengupta, who is the creator of the new song, tells The Telegraph, "It is a way of communicating with the masses. My group will soon be coming up with another number in which we will talk about our Nabanna abhijaan (expedition) and the death of Maidul Islam Middya." Nabanna is the name for the state secretariat; Middya was the unit secretary of the CPI(M)-backed Democratic Youth Federation of India who died in early February allegedly from wounds sustained in a police-protester clash.
In the 1980s, RSP leader Jatin Chakraborty, who was the PWD minister in Jyoti Basu's ministry, had termed Usha Uthup's music "apasanskriti", or decadence. Now, going against the party line about avoiding all things with a whiff of apasanskriti about them — senior CPI(M) leaders such as Sujan Chakraborty and Surjya Kanta Mishra shared videos of Tumpa Sona on their respective Facebook pages. Said a senior party member who did not want to be identified, "They have understood that there are certain things that have to be sacrificed for the greater cause. It is important to speak to the masses and they understand this language better than shuddha Bangla..."
The other language that the masses are conversant in is that of sweets, which is why come any big event from Fifa to Covid-19, city confectioners get cracking to make the menu topical. This time round, Balaram Mullick and Radharaman Mullick Sweets has come up with sandesh with party symbols on them. Sudip Mullick, director and owner of the mishti chain says, "We have also made sweets with the faces of Mamata Banerjee and Narendra Modi."
Only the two of them? He replies, "There are no other faces in this election."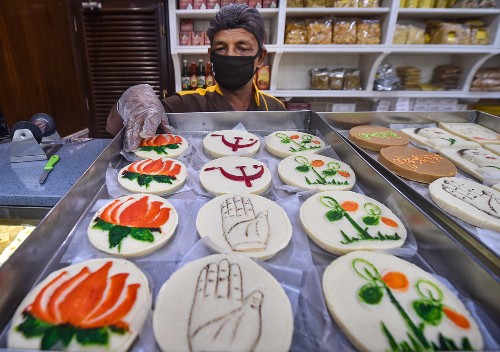 These sweets, available in two flavours — vanilla and nolen gur — are not delectables the common man will buy. But yes, there will be conversations around them. And, according to Mullick, people who are involved in the business of politics will order these in the run-up to the elections. Once results are announced, there are sure to be bulk orders for gifting purposes. A cake themed on akal bodhon, which is basically an invocation of Durga by Ram in order to vanquish Ravana, is in the offing too.
Speaking of Ma Durga, poll puja too shares its trappings with any other puja in these parts. And what is a puja without a pandal. North
Calcutta's Dompara is home to those artisans who make the kathamo or bamboo framework for idols.
Bultu Malik is a resident of Dompara. According to him, till about 10 years ago, work for elections would begin months ahead and it would involve making bamboo frames for flexes, banners and other decorative elements on the elaborate puja tableau. "But that work has long stopped with the advent of digitisation and social media. Nowadays, there are no takers for raths made of bamboo either," he adds.
If you enter Dompara, you will find artisans frenetically making sticks — some as long as seven feet. Says Malik, "Each and every political party is ordering 8,000 to 9,000 sticks every day. The numbers will increase as each party will fix the party flags along roads, at street corners, and use them to adorn the stage at rallies."
If the city is all dressed up for elections, its denizens cannot be far behind. The pavements of Gariahat, New Market and Hatibagan are milling with hawkers selling saris and kurtas with party symbols embossed on them.
And this great big electoral carnival comes with its own music. Yes, political parties are releasing music videos. The trend started with the release of a video titled Poriborton, a soft and rhythmic number by the BJP. It has been playing on YouTube and social media sites. Then the BJP MP Babul Supriyo came up with the number Phutbe ebar padma phool. Former MLA of the TMC, Madan Mitra, also launched a music video, one that showed him pumpkin in hand mocking Amit Shah, Prime Minsiter Narendra Modi and TMC turncoats who have crossed over to the BJP. Other numbers such as Bangla-e Shudu Dangabaji followed suit. To counter the political message, Debangshu Bhattacharya, the TMC spokesperson from North Bengal, has uploaded a poem on his social media timeline with the punchline "Khela khela khela hobe" — yes, yes, yes, the game is on.