Weather tweak makes hilsa scarce
South 24-Parganas and East Midnapore fishermen stare at losses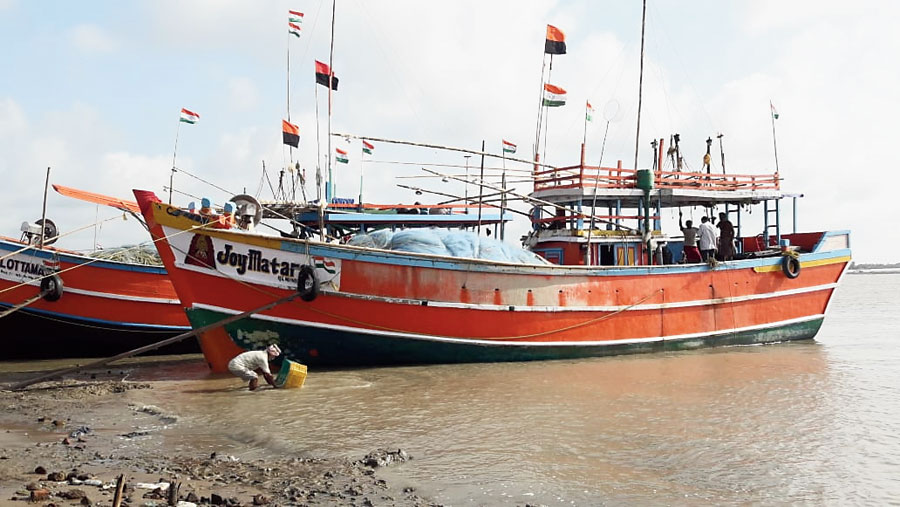 ---
|
Digha
|
Published 13.07.20, 03:00 AM
---
Bengal's quintessential monsoon romance with the hilsa is in for a rude shock this year. Shoals of hilsa have dwindled sharply, fishermen in coastal South 24-Parganas and East Midnapore aver.
Their estimated catch since nearly a month of active fishing is a fraction of the average 40,000 tonne annual haul. Hilsa yield in Bengal starting June 15 — when fishing officially resumed — has been less than 50 tonne. Usually, it is over 400 tonne in the same time.
The numbers are a shock to fishermen and traders associations who had anticipated a higher yield this year owing to calmer waters in the coronavirus-induced lockdown.
"We had thought that the lockdown's lack of industrial activity would induce higher numbers of hilsa to flock to shallow waters, but it turns out there has been a significant shift in the monsoon pattern this year that drastically affected the catch," said South 24-Parganas assistant director of fisheries (marine) Jayanta Pradhan.
"Seasonal wind this year has been west-bound rather than the traditional east-bound and light drizzles are largely missing. We don't know if this is because of Amphan. But this weather change is affecting hilsa yield," he added.
Association sources added that owners of over 3,000 trawlers — 2,800 in South 24-Parganas and 200 in East Midnapore — halted fishing expeditions in disappointment.
"Our average hilsa yield during a week-long fishing expedition is between 500kg to 1 tonne. This time we barely made 40kg and so decided to discontinue," said fisherman Sujit Kar, adding that maintenance and operational costs overtook profit. "A yield of about 500kg per expedition is our minimum just to break even," he added.
The highest revenue that fishermen like Kar made over the past month was Rs 40,000. Usually, it is Rs 1.2 lakh.
Fishermen association sources in Digha said the development was especially taxing in the wake of months of lockdown-induced uncertainty.
"This is the latest blow amid the raging pandemic. We don't know why the weather changed this year, but it is affecting hilsa yield and thousands of fishermen adversely," said Digha-Sankarpur fish traders' association secretary Shyamsundar Das.
Das explained that while trawlers had without exception returned to harbour, motorised boat operators were still going to the seas in the hope of making a catch.
"Kakdwip fishermen's welfare association secretary Bijon Maity said this was the worst season they have had in a long time. "We are also unable to get into deeper waters now because of the unusual wave patterns. But still we do what we can as fishing is a question of survival for many," he said.