Waste to wonder: a lesson for all
Students of Class V had beautified and spruced up the garden in Akshar with handmade bird feeders, painted pebbles and flowerpots made of old jeans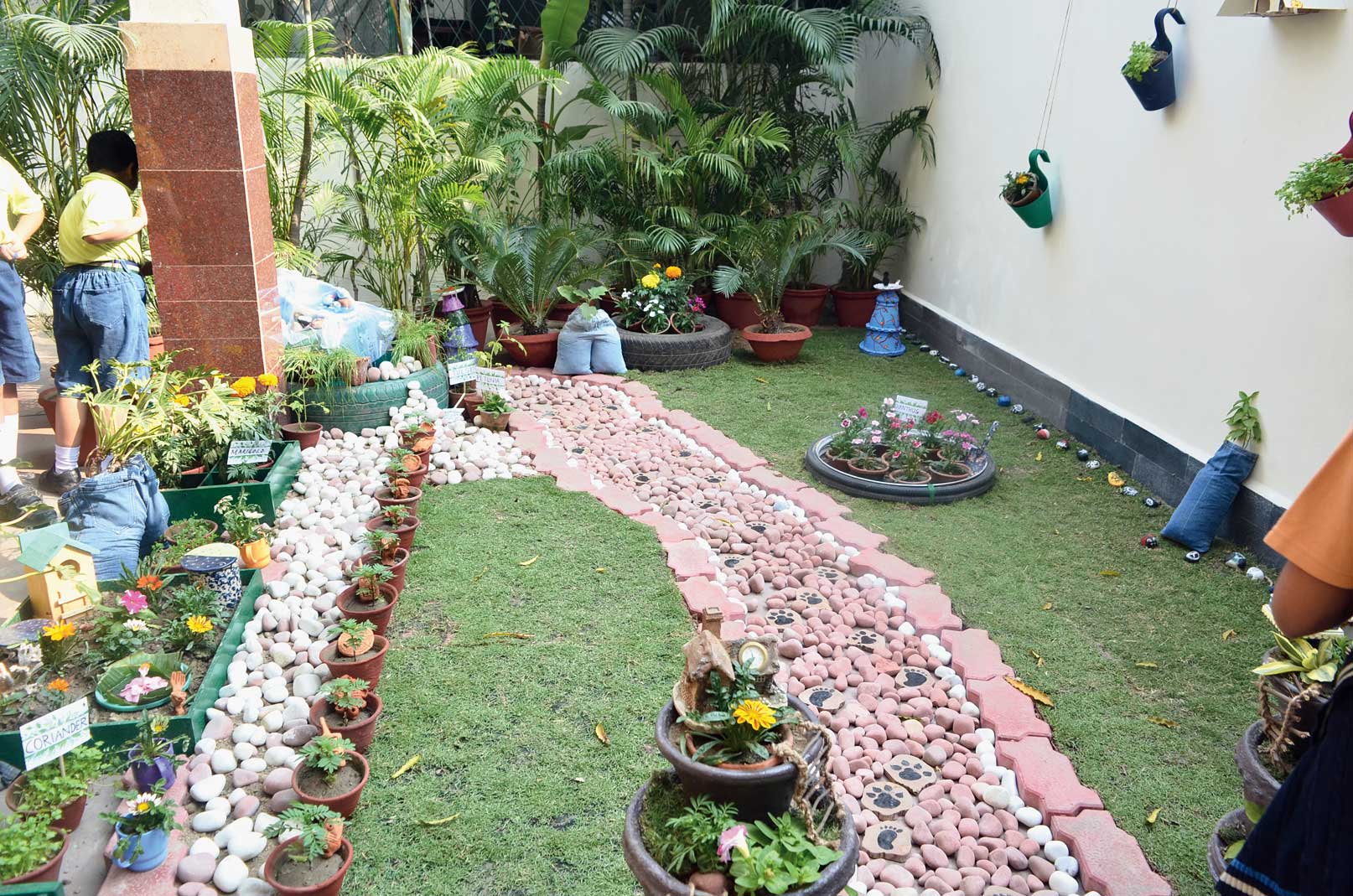 Old jeans fashioned into flowerpots and bird feeders made of recycled items gave the school garden a makeover
Picture by Biswajit Kundu
---
Calcutta
|
Published 18.12.18, 09:17 AM
|
---
An army of students cleared their school of junk and used discarded items to set up a model home on the campus.
The 500-odd students emptied the cupboards at The Akshar School and storerooms and found pieces of ropes, used bottles, broken flowerpots, torn cloth, mugs and much more. The trash was painted and reused for Artistic Living, an exhibition organised last Friday.
Visitors to the exhibition were greeted with a patch of green. Students of Class V had beautified and spruced up the school garden with handmade bird feeders, painted pebbles and flowerpots made of old jeans.
"We were taught how to turn discarded denims into flowerpots and how to create a small pond out of an old tub. I am surprised they look so good now," said Class V student Kesha Jasani, who was involved in giving the garden a makeover.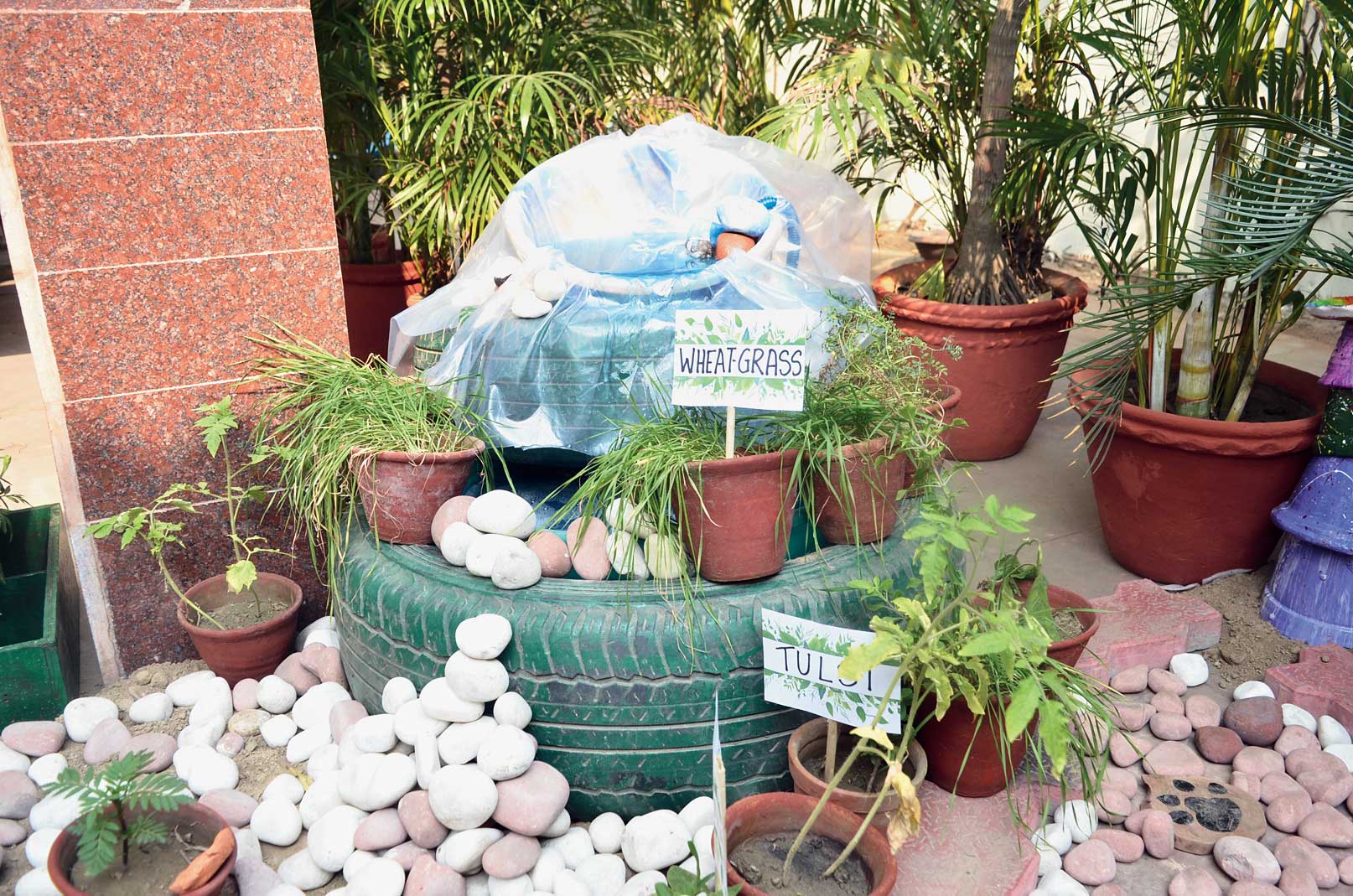 A few steps ahead, the school swing got a facelift with a canopy made of banana leaves. "This is now our very own selfie booth. Kids can take fun clicks here," smiled art teacher Soma Roy.
Inside the school building, the students had created a model home, done up exclusively with recycled goods. The walls of the living room were decorated with painted egg trays and old toys, while the dining area had coasters made from old CDs and kitchen napkins turned into fashionable serviettes.
A discarded suitcase had been turned into a shoe rack and old shirts given a new life as cushion covers.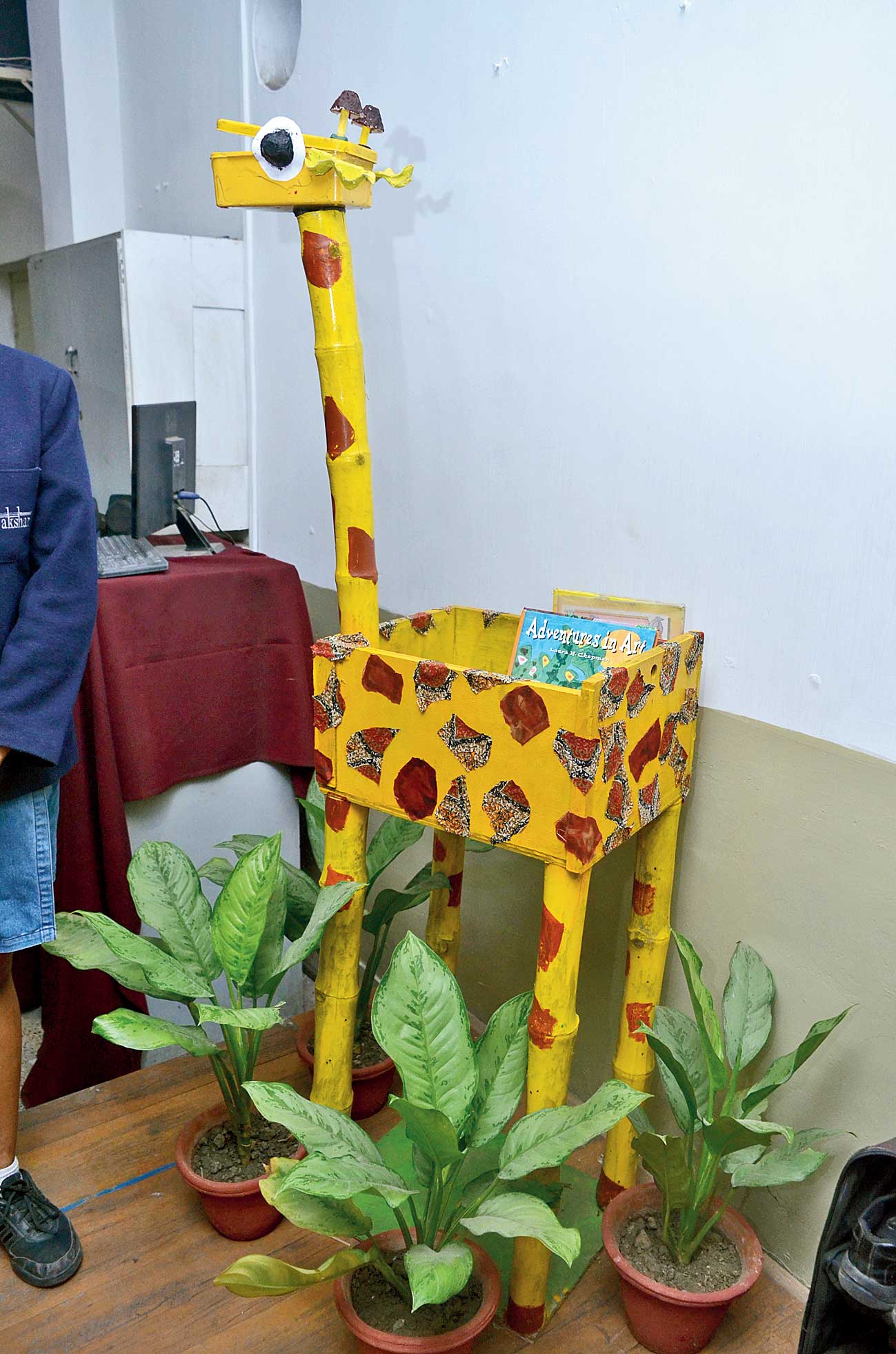 Every room had fancy vases, used terracotta knick knacks, patchwork rugs, wall hangings, bedcovers and storage spaces created from discarded items.
Priyadarshini Sengupta of Class V proudly showed off an old hat that was turned into a fruit bowl. Near the kitchen, stood a piggy bank made with an old water bottle.
The centrepiece in the bedroom was a toy basket made of recycled objects.
"Students learn best through such practical experiences. As they beautified the school, they also learnt many recycling tricks that will help them later," said Kavneet Khullar, the principal of the school.
Visitors were also treated to live art shows on the Chipko Movement, the threat of urbanisation on the environment and Avni the tiger's killing.