Visvakarma Puja damper in Haldia
Haldia wore an empty look this time because of the downturn in the port city over the last few years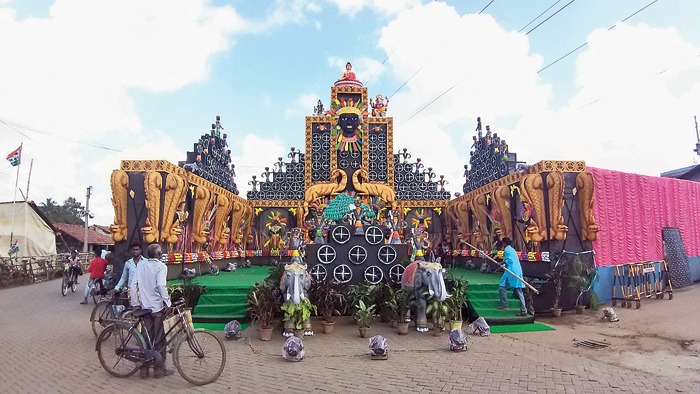 ---
|
Haldia
|
Published 18.09.19, 09:59 PM
---
Visvakarma Puja, a celebration of the creator who is considered the divine engineer, has never been so quiet in Haldia.
Once the roaring seat of heavy industry in south Bengal, Haldia wears an empty look this time because of the downturn in the port city over the last few years.
Old-timers recall Visvakarma Puja as one of the highlights of the year. "Visvakarma Puja always has been and, always will be, our Durga Puja. But for so many in Haldia, the joy has been taken out of our favourite day of the year," said a worker at the Mitsubishi plant. It was one of the few that held the puja for its workers on Wednesday.
On Tuesday, Bengal minister Suvendu Adhikari inaugurated a handful of pujas at factories. "Suvenduda made a request to owners to raise our puja bonuses above 18 per cent so that we can celebrate again," said a resident.
Laid-off factory workers and residents agreed that the local economy had taken a severe beating.
"For the past five years, I have not seen any big spending during puja," said businessman Manoj Samanta, 50.
Paritosh Manna, 40, a laid-off factory worker, contrasted the picture. "This day has become a day of contrasts for our town. What used to be the best day of the year is now the worst because it reminds us that we have nothing to spend."
Beginning 2014, Haldia has seen the closure of at least five heavy industrial units, which together employed more than 2,000 residents.
"The local administration could have done so many things to revive industry. They have not even dredged the river properly," said CPM district president Niranjan Sihi.
Trinamul sources insisted the problems in Haldia were specific to each industry. "We do our best. These companies closed down for their own reasons," said Inttuc working president Shibnath Sarkar.