Villagers vow to save embankment in coastal North 24-Parganas
As high tides are expected to lash the areas on June 11 and 26, they were told by the district administration to move to shelters, but most refused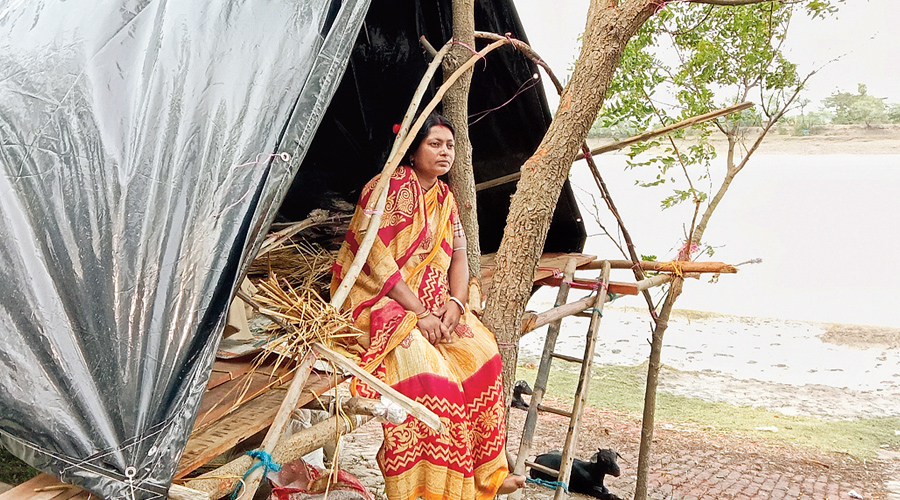 ---
---
Thousands of villagers in coastal North 24-Parganas, including a part of the Sunderbans, are spending a sleepless night on the eve of the high tide set to hit Bengal's coastline on Friday evening.
Ignoring repeated appeals to shift to safe locations, these villagers at Hansnabad, Sandeshkhali, Hingalganj, and Minakha have decided to lodge themselves close to the earthen embankment of rivers like Raimangal, Bidyadhari, Dasa, and Goureswar by erecting tents so that they can pitch in to save the dykes and take immediate protective measures, if possible, if high tidal waves cause a breach.
Around 1,000 families had been evacuated from these areas a day before Cyclone Yaas on May 26. These families have returned home some two days ago and begun repairing their damaged properties. As high tides are expected to lash the areas on June 11 and 26, they were told by the district administration to move to shelters, but most refused.
"It's useless to move to the rescue centre. Survival is a burden without home and livelihood. So, we decided to stay back despite the odds and have vowed to fight to save the embankment if necessary," said Suchitra Mandal, a homemaker, as she sat inside a tarpaulin tent mounted on trees on the banks of Goureswar river.
Homemakers Anupama Mondal, Anita Barui and Bandana Mondal echoed Suchitra.
"We came home on Wednesday after staying at the flood shelter since May 25. Officials today (Thursday) came and asked us to return to the shelter before Friday's high tide. But we won't move. Unless we can protect the embankment, our survival will be forever at stake," a woman said.
"Most of the dykes here are very weak as they have been freshly repaired. These could be damaged again. We will try to protect these stretches during the high tide with sandbags and mud," a villager said.
An official of North 24-Parganas district administration in Basirhat said: "Repair of embankments is on and we have assured villagers of all possible protection. We have asked them to leave villages in coastal belts but many have refused to oblige."
After Yaas wreaked havoc on May 26, chief minister Mamata Banerjee expressed displeasure about the quality of the irrigation department's work to repair embankments. In view of the impending high tides, she had advised officials to complete repair of damaged dykes by June 9. But work remains incomplete at most places where Yaas had hit.