Village in Naxalbari block wakes up to leopard up on a tree
Sources said around 8.30am, some residents spotted the animal and informed the guards of Sashastra Seema Bal, who patrol the village close to the India-Nepal border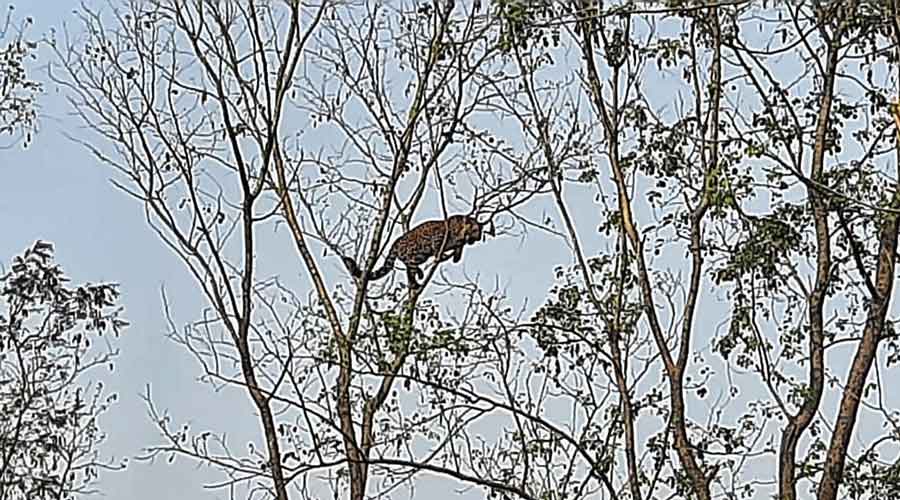 The leopard on the branch of the tree at Chotomoniramjote village under Naxalbari block of Siliguri subdivision on Sunday.
Passang Yolmo
---
Siliguri
|
Published 21.02.22, 02:39 AM
|
---
Chotomoniramjote, an otherwise nondescript village in Naxalbari block located some 35km from Siliguri, turned out to be a tourist attraction for hundreds on Sunday morning.
A wild leopard, which is suspected to have strayed into the village from the adjoining Tukuriajhar forest, climbed up a tall tree and stood there for hours till foresters trapped it around 11.30am.
"Leopards are often sighted in tea estates and villages of the Terai and the Dooars as they come in search of food. Also, female leopards use the drains of tea plantations to keep newborn cubs," said an officer of the Kurseong forest division.
Sources said around 8.30am, some residents spotted the animal and informed the guards of Sashastra Seema Bal (SSB) who patrol the village close to the India-Nepal border.
"Officials of the SSB informed us about the leopard and told us that it has strayed into the area and climbed up a tree. They also said that as villagers and people from
adjoining localities have started assembling in the area, the animal is up on a branch and not coming down," the official added.
The area comes under Tukuriajhar forest range of the forest division. "We found the leopard up on the tree. Hundreds of people crowded at the site for a glimpse of it. Many were clicking pictures and shooting videos," said a forester.
It took time to persuade the crowd to move back to safer places to avoid any attack by the leopard that appeared panicky. Foresters thought of tranquillising the animal with a dart gun but because of the height of the tree, the plan did not work.
"We realised that the animal can't be tranquillised from the ground. The other option was cutting down the tree. We positioned our staff with nets so that once the animal falls on the ground, it can be trapped," the forester added.
Forest guards first chopped the tree's trunk partially. Then they tied it with a rope and dragged it with one of their vehicles.
Soon, the tree fell and so did the leopard.
"It ran for a few metres in the ground but our men could successfully cast nets on it and trapped it. Eventually, it was put in a cage. It was a major challenge as hundreds of people were standing at the spot and we could rescue the animal without any mishap," the official said.
It took around three hours to trap the leopard. Around 20 forest guards were engaged in the process, said sources.
Later in the day, the animal was taken to the Bengal Safari Park located on the northeast outskirts of Siliguri.
"It has been kept under observation at the park," a source said.