Vidyasagar College gets bust and statue
Mamata led the procession that carried the bust from Hare School on College Street to Vidyasagar College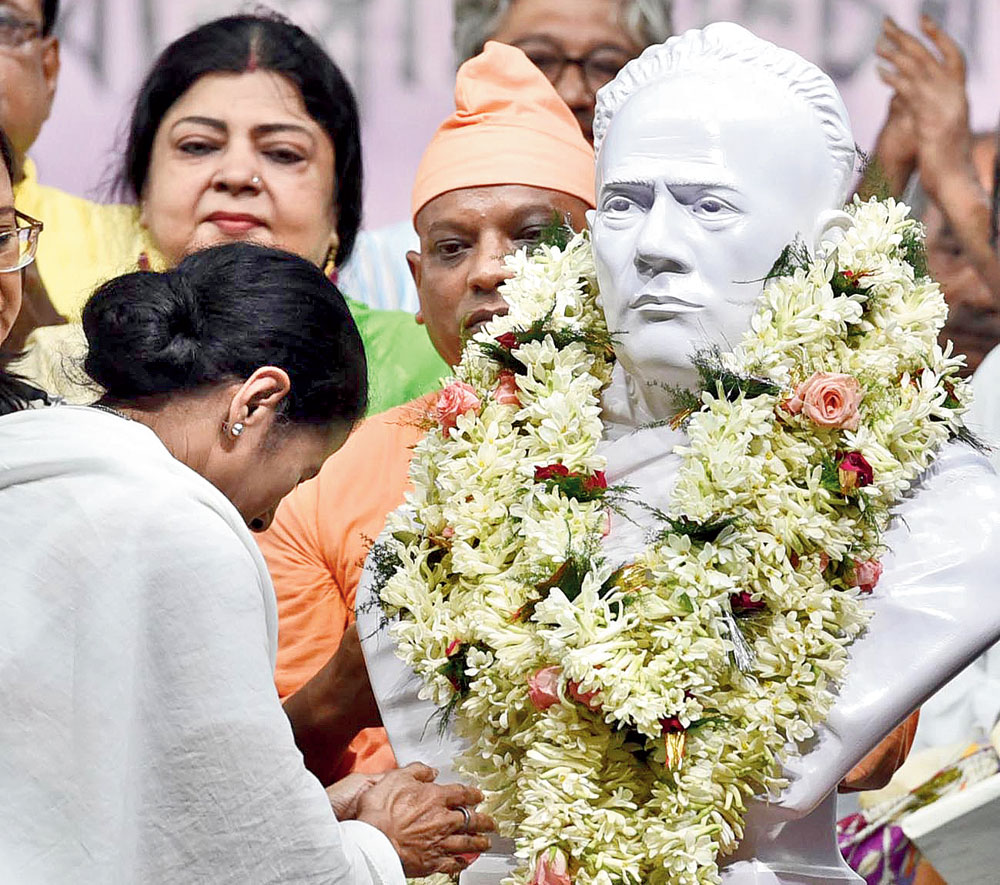 Chief minister Mamata Banerjee installs the Vidyasagar bust on Tuesday
Picture by Pradip Sanyal
---
Calcutta
|
Published 11.06.19, 11:45 PM
|
---
Chief minister Mamata Banerjee installed a bust of Ishwarchandra Vidyasagar at Vidyasagar College on Tuesday, 28 days after a bust of the Bengal Renaissance icon was vandalised on the Bidhan Sarani campus by suspected BJP supporters.
Mamata led the procession that carried the two-and-a-half-foot-high bust from Hare School on College Street to Vidyasagar College, around a kilometre away.
At Hare School, the chief minister unveiled the bust and addressed a gathering of teachers, writers and students. After her speech, police placed the bust on a white Maruti Gypsy adorned with flowers.
The rally started at 2.30pm.
During the walk, which went on for half an hour, the chief minister was greeted with chants of "Joy Hind, Joy Bangla" by Trinamul Congress supporters. There were also cries of "Didi, Didi".
She paused for a few seconds at the intersection of Mahatma Gandhi Road and College Street to wave at supporters. Education minister Partha Chatterjee, power minister Sobhandeb Chattopadhyay and prominent party leaders were tailing her.
Near the Bata store on Bidhan Sarani, flower petals were showered on her.
Police had a tough time regulating the crowd as many tried to break through the cordon, which police created with ropes, to shake hands with Mamata.
At the college, Mamata first unveiled an eight-and-a-half-foot-high statue of Vidyasagar made of fibreglass in front of the college building.
She then entered the building and placed the bust, also made of fibreglass, on a wooden pedestal.
During an interaction with principal Goutam Kundu, the chief minister wanted to know what the college had done with the pieces of the earlier bust.
"We told her that the pieces have been kept in an archive on the campus where items related to Vidyasagar are preserved," Kundu said.
Intruders had barged into the campus while a procession led by BJP president was passing by and smashed the bust on the ground on the night of May 14.
At the Hare School event, Mamata said: "I concur with authors like Shirshendu Mukhopadhyay and Sanjib Chattopadhyay that you cannot take an icon away from our heart by breaking his or her bust."
Asked why the event was held at Hare School, an education department official said: "On May 14 night, the chief minister had walked from Bidhan Sarani to College Street as a mark of protest. So while installing the new bust, she wished to take a walk from College Street to Bidhan Sarani."