20 BJP supporters claiming to be victims of post-poll result violence protest Dilip's refusal to meet them
A section of the Asansol district committee said the agitators were members of around six to seven families, who had taken shelter at the party office following the attack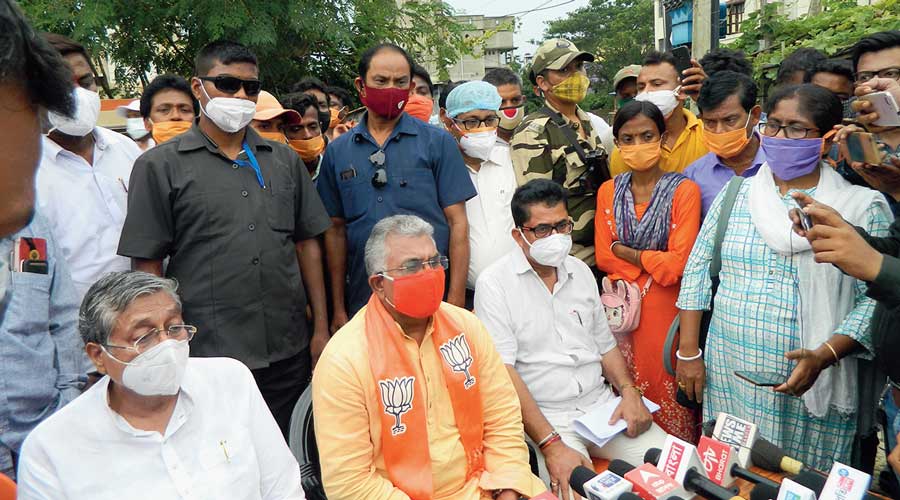 Dilip Ghosh (centre) addresses journalists outside the BJP office in Burdwan on Monday.
Munshi Muklesur Rahaman
---
Calcutta, Durgapur
|
Published 08.06.21, 12:53 AM
|
---
Around 20 alleged victims of post-poll result violence raised protests when state BJP president Dilip Ghosh refused to grant them an appointment on Monday.
Ghosh, who was at the district BJP office in West Burdwan's Asansol for an organisational meeting, finally met the members of the three-four families for 15 minutes. They all are supporters of the BJP.
This is the second time that Ghosh has run into protest. Last week, he was gheraoed by BJP workers at Chinsurah in Hooghly district.
"We are the ones who are being threatened by our political opponents and yet, we are not allowed inside (the BJP office)," said Kalachand Mondal, a vice-president of the OBC cell of the party's Asansol organisational district.
"The people who are meeting Dilipda are mostly turncoats from other parties. Why shouldn't he speak to grassroots workers?" he asked.
A source in the BJP said as Ghosh had finally started visiting district party offices to take stock of the post-poll violence, more such incidents were likely to happen. The source said BJP workers were angry that Trinamul turncoats had been given upper hand during Assembly elections.
"We accused Trinamul of being a party of thieves. But the BJP has become an even bigger party of thieves," said a BJP old-timer.
Ghosh finally gave in to the demands of the agitators and spoke to them at the end of the organisation meeting.
He later said: "This wasn't an agitation. Several of our workers are unhappy because they fought to win but we weren't successful. This was an expression of their grief."
A section of the Asansol district committee said the agitators were members of around six to seven families, who had taken shelter at the party office following post-poll violence.
The district leaders alleged that even while all the needs of these families had been taken care of, they created an unnecessary ruckus.
"All their needs are being taken care of. Food, shelter and even mobile recharge. They've also been given cash assistance multiple times. What else do they want?" an Asansol BJP leader said.
In a similar incident on Friday, Ghosh had to face the wrath of BJP old-timers when they had surrounded him in Chinsural to demand the removal of district president Goutam Chatterjee and state secretary Dipanjan Guha. The agitators accused that the party owed its poor results in the Hooghly district to Chatterjee and Guha.
Subir Nag, the former Hooghly BJP president, was issued a show-cause notice on Monday on charges of provoking the agitation.
In the midst of such circumstances, the BJP's state executive committee will meet at its Hastings office on Tuesday. A section of state office-bearers is likely to raise questions on why the party received a drubbing at the polls and who should be held responsible for it. BJP's Bengal minder Kailash Vijayvargiya, his deputy Arvind Menon and the party's national joint general secretary (organisation) Shivprakash are likely to be present at the meeting.