Trinamul Congress onboards Alok Chakraborty in Terai
The Siliguri-based leader, associated with Congress' trade union front for decades, is known to have clout among the region's tea population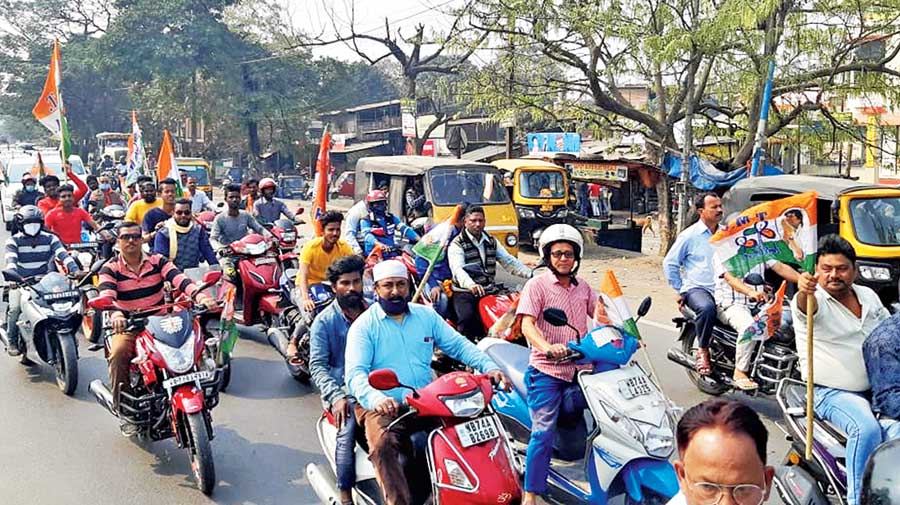 Trinamul supporters at a bike rally near Darjeeling More in Siliguri on Sunday to welcome veteran trade union leader Alok Chakraborty into their fold.
Passang Yolmo
---
Siliguri
|
Published 15.02.21, 12:14 AM
|
---
Trinamul leaders in the plains of Darjeeling district seeking to cement their support base in the tea belt of Terai — Siliguri subdivision and Islampur subdivision (in neighbouring North Dinajpur) — received a boost by getting Alok Chakraborty, a veteran Intuc leader, on board.
Siliguri-based Chakraborty, associated with Congress' trade union front Intuc for decades, is known to have clout among Terai's tea population.
On February 2, he left the Congress and joined Mamata Banerjee's party in Calcutta. Party secretary-general and state education minister Partha Chatterjee inducted him into Trinamul in the presence of Darjeeling (plains) district Trinamul chief Ranjan Sarkar.
On Sunday, the trade union leader returned to Siliguri. At Bagdogra airport, he was welcomed by Trinamul supporters who held a bike rally as his car rolled out of the airport.
"He is a senior trade union leader and a known face in the tea gardens of north Bengal. When he joined Trinamul, many Intuc members followed suit. We are confident that his presence will boost Trinamul's support base in the Assembly seats of Matigara-Naxalbari, Phansidewa and even in the Chopra seat of the neighbouring district (North Dinajpur)," said Pratul Chakraborty, who chairs Trinamul's Darjeeling district committee (plains). In all these three Assembly seats, votes of the tea population decide the results.
According to party insiders, despite having committees at different tiers in the Terai, Trinamul suffered without a prominent trade unionist in the region unlike the Left and the Congress.
Back in 2013, Chakraborty joined Trinamul briefly and returned to Congress after a few months.
The trade union leader was the president of Intuc backed National Union of Plantation Workers and also Intuc's Darjeeling district president. He was also a national committee member of Intuc.
"That he has a considerable support base in Terai was evident in 2006 when he backed Hamidul Rehman to contest as an Intuc-backed Independent candidate when the state Congress did not give Rehman a ticket, and secured Rehman's win. Also, it was because of him that the Congress could win the Phansidewa seat in 2016. He was also instrumental in securing some seats for Congress at the three-tier panchayat elections of Siliguri subdivision in 2015," said a source.
Trinamul sources said a few weeks back, Chakraborty expressed his desire to join Trinamul again. Accordingly, he held talks with party leader and MP Abhishek Banerjee and also with chief minister Mamata Banerjee. At these meetings, he elaborated how he could help Trinamul secure support in the tea gardens of Terai and even the Dooars. "This is why it seems he was inducted into the party again," said a source.
The senior trade union leader, when asked about his decision, said he felt the need to stand with Trinamul to counter the BJP.
"Congress and the Left have joined hands for the upcoming elections but their political stand is vague. They will have to make it clear who their number one political enemy in the state is.
Owing to this confusion, I felt it necessary as a trade unionist and political worker to join Trinamul," Chakraborty said.
On his plan, he said his focus would be on four Assembly seats of Siliguri, Matigara-Naxalbari, Phansidewa and Dabgram-Fulbari (the seat of state tourism minister Gautam Deb). "Along with the district leadership, I will devote my time to secure Trinamul's win in these four seats," he said.