Uber data for city planners
Figures to help plan real-time solutions to traffic problems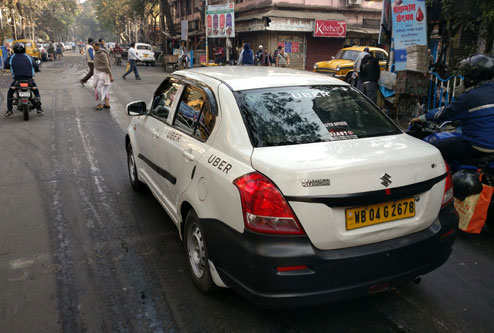 Uber said this was first step in helping urban planners across Calcutta tap readymade data and plan accordingly.
Telegraph file picture
---
Calcutta
|
Published 05.02.20, 08:52 PM
|
---
Travel time from EM Bypass to the racecourse came down by nearly 30 per cent after the west-bound ramp connecting the Parama flyover with the AJC Bose Road flyover was opened
Travel time between Ballygunge Phari and Golpark increased by 28 per cent because of shopping in and around Gariahat during weekends leading to last year's Durga Puja
App-cab aggregator Uber on Wednesday launched Uber Movement, a platform that would provide data on traffic movement in Calcutta.
The data will be available to all users and can be utilised by urban transportation professionals and urban planners to frame policies that could help commuters, Uber said.
The website — movement.uber.com — will offer information on travel time between two points in the city during a time of your choice and help you see how the city's traffic movement has fared. Technologists, academics and planners welcomed the initiative saying the data pool would be of great help in understanding trends or planning traffic movements.
Big data analytics has been the buzz word in urban transportation around the world for some time. As part of the initiative, professionals analyse data to identify trends that can help formulate real-time solutions, be it through creating infrastructure, rationalising routes or integrating various transport modes for the benefit of commuters.
Uber said this was the first step in helping urban planners across Calcutta tap readymade data and plan accordingly. The data will help the authorities identify the most congested zones during rush hours or plan diversions in case of floods.
"This is a significant step. Different platforms are throwing up different types of data and the more such information is made available, the easier it would be for experts to analyse various models and develop solutions," said Surajit Chakravarty, a professor working on public policy and management at IIM Calcutta.
Uber Movement draws its data from lakhs of trips across Calcutta and then categorises them into different segments such as zones, time, movement patterns and others.
"Lot of derivatives can be arrived at from this data, including certain behavioural patterns like whether people have started drinking more because of app-cabs and whether this has led to a surge in the sale of alcohol," said Debasish Sen, the chairman of New Kolkata Development Authority.
"We have started a data lake in New Town, where information from various sources are being pooled. The data is on usage of water and electricity, housing occupancy, health issues and other fields. A team will soon start deciphering the data to help us formulate next-generation policies."
The transport department in Bengal has been analysing its data for some time to understand how state-run buses were faring on various routes. "The data was used to develop Pathadisha app. Commuters can now plan by tracking real-time movement of buses," said Rakhi Basu, a World Bank representative in India.