Twin streetlight launches shed light on TMC feud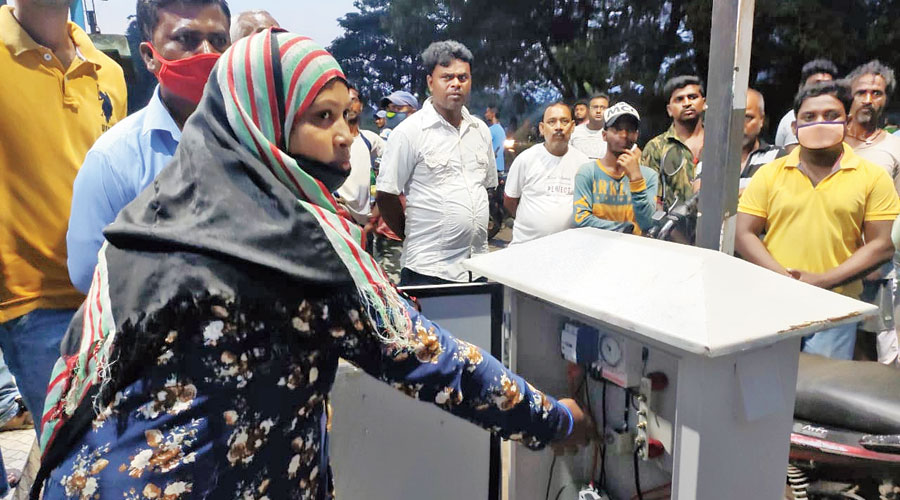 ---
|
Asansol
|
Published 12.10.20, 02:43 AM
---
Two separate inaugurations of one state-funded street light project by rival Trinamul leaders within a span of an hour in West Burdwan's Kulti on Saturday shed light on the ruling party's factional feuds here.
Both Trinamul leaders in question — Asansol deputy mayor Tabassum Ara and Kulti MLA Ujjwal Chatterjee — claimed sole credit for the initiative.
On Saturday, Tabassum Ara inaugurated the Rs 2.42-crore street light project in Kulti around 5.30pm with her followers in attendance, barely an hour before it was scheduled for flag-off by Chatterjee, who is also deputy chairman of Asansol-Durgapur Development Authority (ADDA), which executed the project.
Tabassum claimed on Sunday that she had taken initiative for the project and urged urban development minister Firhad Hakim for funds.
"It is my project and I had taken the entire initiative, arranging funds after talking to our urban development minister. I work for the people and so I have the right to inaugurate it," said Tabassum.
She also accused Trinamul MLA Chatterjee of "not doing" any development work in Kulti. "He (Chatterjee) has been the MLA from Kulti for the past 15 years but what has he done for his Assembly area? Mamata Banerjee wants to develop Bengal and I am her soldier," she said.
Chatterjee, who along with his followers, inaugurated the same project around 6.30pm on Saturday, refused to respond to Tabassum's comments.
"I am not aware of what she has done. They (her claims) are her matter. All I know is that I took initiative for the project and yesterday (Saturday) I inaugurated it," Chatterjee said on Sunday.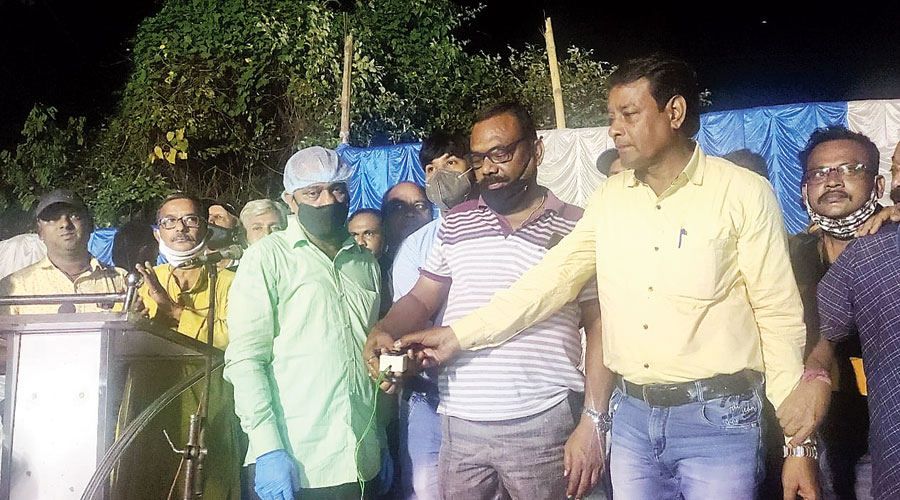 The streetlight project along the Neamatpur-Dishergarh road in Kulti was sanctioned and funded by the state urban development department a year ago.
Trinamul sources said Tabassum and Chatterjee are at loggerheads over contesting from Kulti in the 2021 Assembly polls.
Chatterjee is reportedly close to Asansol mayor and party president in West Burdwan Jitendra Kumar Tiwari. Likewise, Tabassum is said to be close to minister and recently appointed party chairman Molay Ghatak.
Kulti is among the five Assembly segments — out of seven under the Asansol Lok Sabha seat — where the BJP's Babul Supriyo has been defeating Trinamul since 2014 to become the MP. In the Kulti segment, the saffron brigade secured a lead of 50,000 votes in the 2019 Lok Sabha polls while in 2014 the lead had been around 45,000.
Sources in Trinamul said infighting was one of the prime reasons behind the party's 2019 poll debacle from here.
"Didi (Mamata Banerjee) wants to see us united in the party but such incidents malign her image," said a Trinamul leader in Asansol.
Asansol mayor Jitendra Kumar Tiwari said he had informed the matter to Trinamul higher-ups in Calcutta. "I have been told by the Kulti MLA (Chatterjee) about the incident and I have forwarded the matter to our Calcutta leadership," he said.