Twin planks in BJP fight for West Bengal Assembly elections
Mamata was trying to consolidate the party's position in North Bengal through 'repeated visits' and 'the right narrative'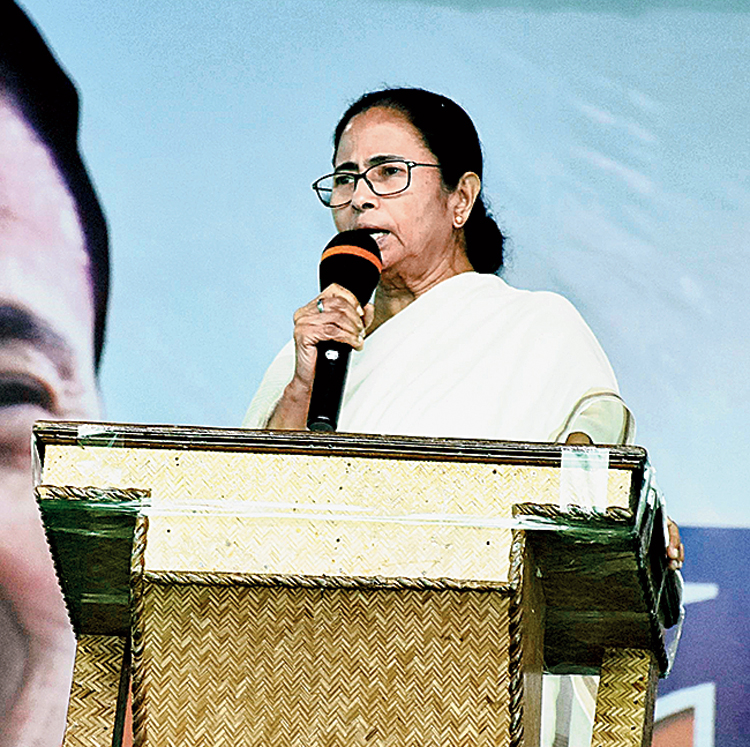 Mamata Banerjee at the party meeting in Buniadpur of South Dinajpur on Wednesday.
(Kousik Sen)
---
Malda
|
Published 04.03.20, 08:04 PM
|
---
Mamata Banerjee on Wednesday yet again took on the Centre over the Delhi "genocide" and the new citizenship matrix, prompting suggestions that the Trinamul Congress had finalised the narrative to counter the BJP in the Assembly elections in Bengal next year.
"People in Delhi have not died due to the coronavirus infection, or due to dengue, swine flu or encephalitis. It was a planned genocide and later attempts were made to give the impression that it was a riot," the chief minister told a party workers' meeting in Buniadpur, South Dinajpur.
"After such a massacre, none from the BJP or the Centre has apologised. Instead, they are shouting slogans like 'goli maaro'. I want to make it clear that Bengal is not like UP or Delhi. Those who had raised such slogans in Calcutta have been arrested. We will not allow such activities in our state," Mamata added, referring to the incendiary slogan that preceded the Delhi riots and was also chanted in Bengal earlier this week when Union home minister Amit Shah addressed a programme in Calcutta.
In her three public addresses in north Bengal in the past two days — in South Dinajpur and Malda on Wednesday and North Dinajpur on Tuesday — the Trinamul chief's focus has firmly been on the Citizenship Amendment Act, National Population Register and the National Register of Citizens, and she has linked the tripod to the Delhi riots.
At all three rallies Mamata assured the audience that she would not allow the new citizenship matrix to be implemented in Bengal. The three districts have a significant minority population.
"Given Bengal's demography, the citizenship matrix is a major issue in the state as people are genuinely scared of their citizenship status. We have to highlight this," a Trinamul source said.
North Bengal will play an important role in next year's Assembly elections as Trinamul had suffered heavy losses in the region in the 2019 Lok Sabha elections. The BJP had won seven of north Bengal's eight seats in the parliamentary polls.
Trinamul sources said Mamata was trying to consolidate the party's position in the region through "repeated visits" and "the right narrative".
At Wednesday's meetings, Mamata asked what the BJP MPs had given to north Bengal and contrasted the actions of the parliamentarians with those of the Trinamul candidates they defeated.
Mamata referred to Arpita Ghosh and Mausam Benazir Noor, who lost from Balurghat and Malda North, respectively. "Why should a girl like Mausam, who runs across the district to work for people, lose the election? Despite being defeated, Arpita is still with people, while those who got elected didn't do anything," Mamata said.