Twin hauls lay bare tactics to smuggle coal
 These incidents come at a time when the ED, the CBI and the CID are probing an alleged multi-crore coal smuggling scam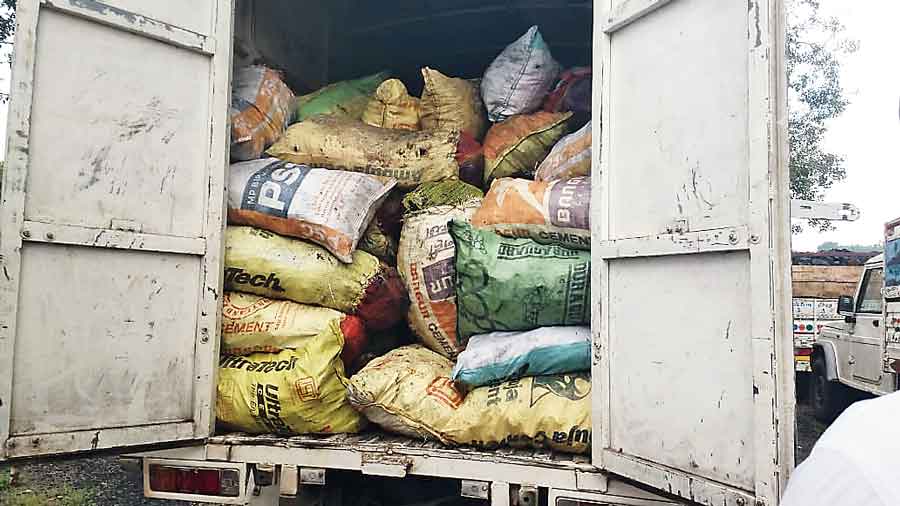 Representational imageCoal seized from a truck in Jamuria last week.
Dipika Sarkar.
---
Durgapur
|
Published 19.09.22, 01:55 AM
|
---
 Two seizures of smuggled coal in the Asansol-Durgapur police commissionerate in the past week have revealed tactics of subterfuge such as illegal coal being transported under the garb of ferrying milk-based products and bakery items so as to get by security screening.
Police intercepted two container trucks, one on Tuesday night and the other in the small hours of Saturday, within Jamuria police station limits to seize smuggled coal pilfered from different Eastern Coalfields mines in the area. Police on Tuesday arrested the truck driver and on Saturday the driver and helper. Search is on for truck owners and alleged smugglers.
Police said they intercepted the trucks during naka checking at Bijpur village in Jamuria on Tuesday and Saturday. 
"Initially, in both the cases, the drivers told the police that they were transporting dairy products, biscuits and cakes but when the law enforcers searched the vehicle they found sacks stuffed with coal," said a source.
During interrogations later, the drivers said they were transporting coal to Calcutta and Howrah but could not produce valid documents. The total coal seized on both days amounted to 7,000kg. These incidents come at a time when the ED, the CBI and the CID are probing an alleged multi-crore coal smuggling scam in which the Asansol-Durgapur Police Commissionerate area is under the scanner. 
Several police officers who served in the jurisdiction, as well as political leaders here including law minister Molay Ghatak, have either faced raids or interrogations in connection with the alleged scam. Recently, the CID summoned four BJP leaders for interrogations in connection with coal smuggling and two of them were from the ADPC area. Police have set up several checkposts on the arterial NH2 in the commissionerate limits and on the Bengal-Jharkhand border to check the transport of smuggled coal.
 But sources said that coal smuggling was continuing here and the hauls last week proved it. "We are strict about checking the transportation of smuggled coal and cattle in the commissionerate jurisdiction. All the police stations have been alerted and as a result we were able to intercept the trucks," said Sudheer Kumar Neelakantam, the commissioner of the ADPC.
Last month, Purulia police seized a container truck sporting the name of a branded milk and milk product company, bearing Uttar Pradesh registration, after they found 14 cows in the vehicle without valid documents.