True Spirit of celebration as Thakurpukur State Bank Park Sarbojanin gets top prize
The puja, part of the TSP honours list for 11 years, had finally made it to the top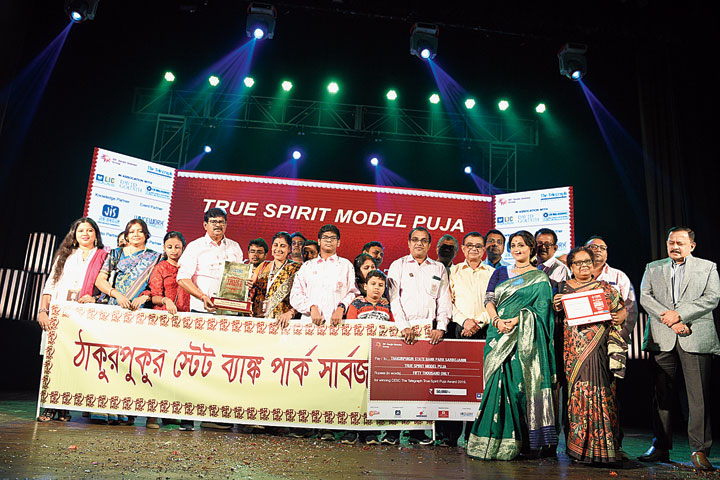 ---
|
Calcutta
|
Published 21.10.19, 12:08 AM
---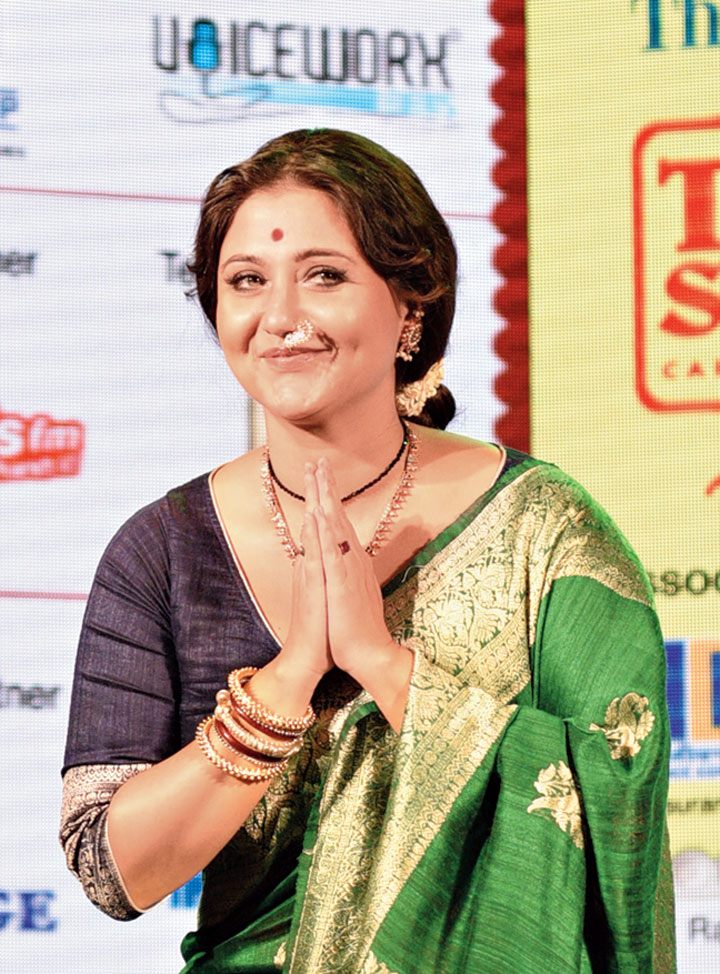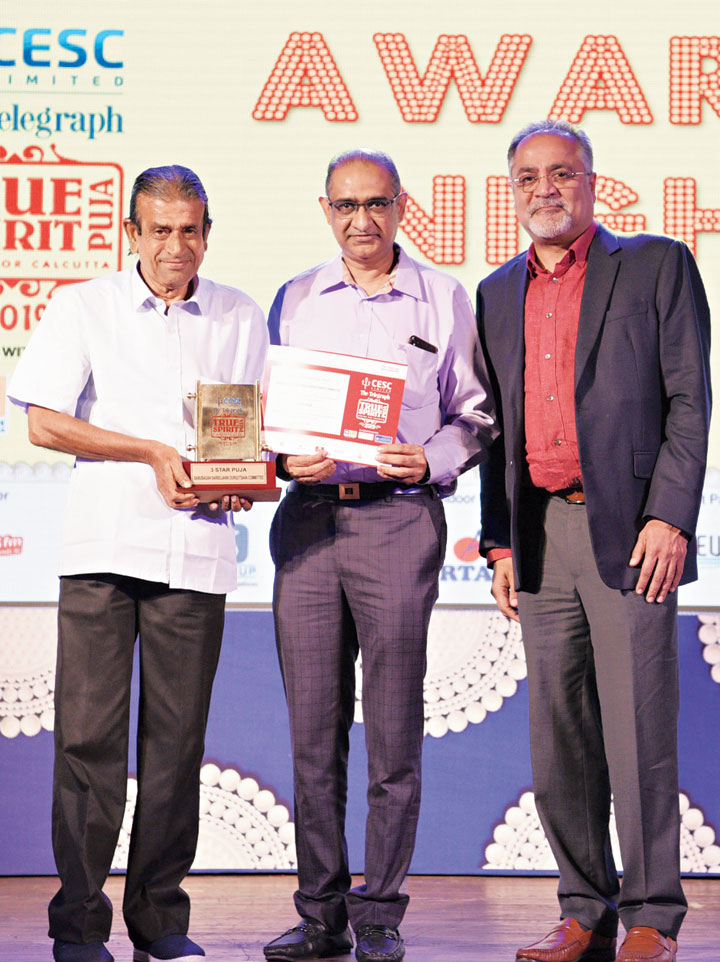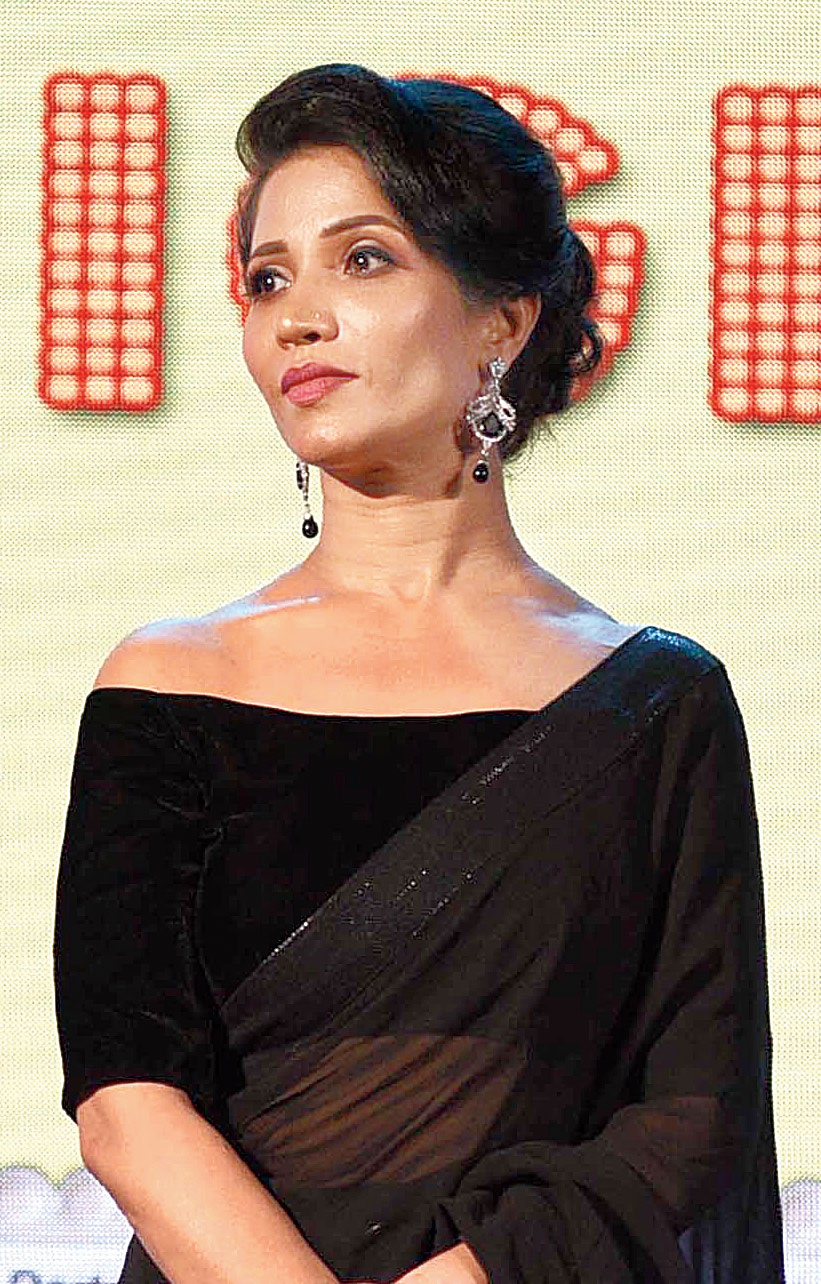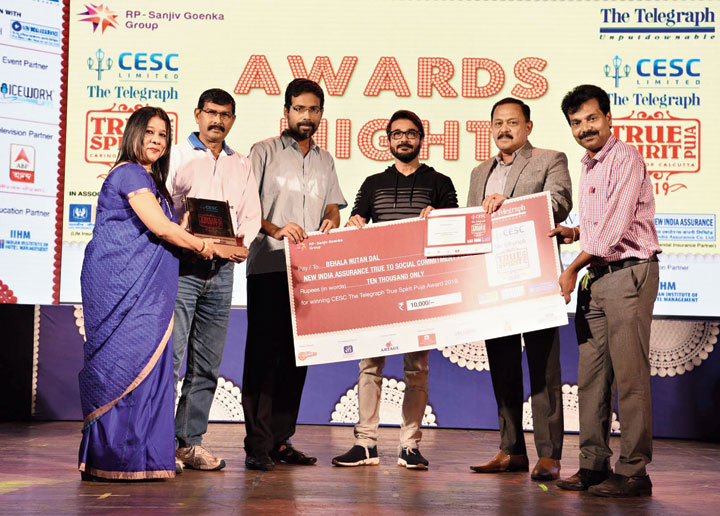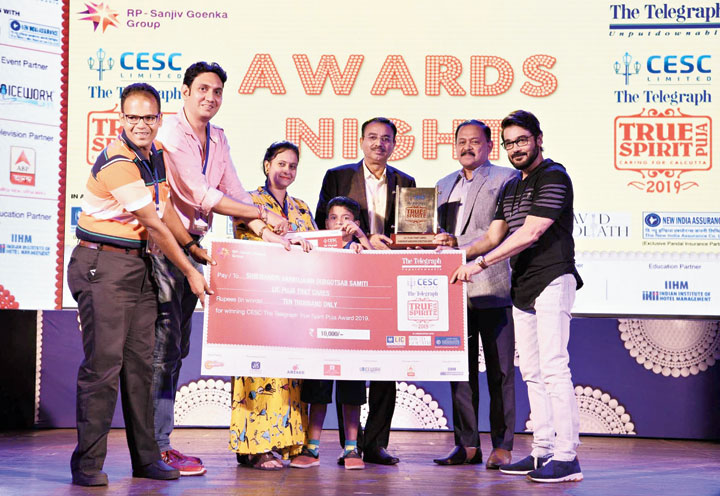 Barisha Club was IIHM True to Nature Puja, Shibmandir Sarbojanin got LIC Puja that Cares, Dum Dum Park Yubak Brinda was named David & Goliath Truly Green Puja while the New India Assurance True to Social Commitment Puja title went to Behala Nutan Dal.
"Who is getting which rank tonight is not important. All of you who are here belong to the same family that works to bring Ma home. People wait to see the creativity you present," the Gumnaami star said.
Among the Three Star pujas, Telengabagan made a comeback to the honours list after a two-year gap. "This time, we built a stage to facilitate missing person announcements, placed dustbins and improved on our electric meter box. Even the first-aid counter was in place from Dwitiya," said office secretary Amrit Shaw.
Salkia Alapani, another Three Star Puja, got a special mention from the stage for the role they played in spreading the Santanan Dehi movement, initiated by The Telegraph. "We called all the pujas in north and central Howrah to a seminar to convince them to chant santanan dehi, in place of putran dehi during anjali. We also sent out leaflets on Mahalaya in which Devi Durga asked residents why they sought only a son. A short film was launched on Chaturthi on social media, featuring similar messages from eminent Howrah residents," said member Sayantan Chakraborty.
The ceremony started with TC The Mentalist, as Tapobrata Chakraborty calls himself, taking stage. The Belghoria youth worked such a charm on members of the audience who volunteered — making them feel his touch without touching them, guessing numbers they were thinking of and solving a Rubik's cube puzzle blindfolded — that one of the volunteers, Subarna Laha from Shibmandir Sarbojanin told Metro on getting off the stage: "He really demonstrated that an aura exists around us."
Then it was time for actor Prosenjit to take the stage to hand out the special prizes along with the special invitees. Badamtala Ashar Sangha got the Voiceworx Truly Managed Puja. "Our pandal may have been smaller because of reduced budget but the crowd remained as massive as other years. We could hardly cross the road," said Akash Das, speaking for the brigade of youngsters in yellow. "Yet we made sure that the elderly in need of wheelchairs or women carrying children were looked after," added Amit Das.
First up on stage among the Four Star pujas was 41 Pally. If they were among the veterans, having been successfully involved in the TSP movement since the inception, in 2003, there were some new names too in the finals — Alipur 78 Palli (Two Star), Garia Prantik Avijatri Sangha (Two Star), Avenue South Pally Mangal Samity (Two Star), Ashwininagar Bandhumahal (Three Star), Masterda Smriti Sangha (Three Star), Sabarnapara Barisha Sarbojanin (Four Star), Talapark Prattoy (Four Star) and Chorebagan Sarbojanin (Five Star). Such has been the improvement in visitor and community-friendly measures that both in the Four Star and Five Star categories, an extra puja had to be awarded.
Another notable feature was the presence of children on stage — from two-year-old Swastik Ghosh of Santoshpur Lake Pally to 10-year-old Ranuska Manna of Dum Dum Park Bharat Chakra. "The juniors are our future puja organisers," Pratik Choudhury, general secretary of Dum Dum Park Bharat Chakra, smiled. Just as well they were baptised early in the TSP mantra.
They came on stage with flowers, a framed photograph of their idol, a handi of sweets and — not one — but three glitter bombs that bathed the stage with confetti as the 32 members cheered on. Thakurpukur State Bank Park Sarbojanin was savouring the moment of their crowning as the Model Puja in the CESC The Telegraph True Spirit Puja (TSP) 2019 on Friday. The puja, part of the TSP honours list for 11 years, had finally made it to the top.
As much as the impression of the judges, what must have helped were the blessings of the female pandal-hoppers who found fresh sanitary napkins and hand cleansers in the women's toilet and a covered drum to dispose of used ones or those with visual impairment in the neighbourhood.
Asked how they planned to use the Rs 50,000 prize money, president Sanjoy Majumdar said: "In association with Sankar Nethralaya, we gift spectacles to 190 people and conduct free cataract operations for those who need it. We also donate wheelchairs to 70 people. We intend to raise the figure to 100. Before Puja, we also replenish the stocks of some physically challenged small-time shop-keepers. The money will help fund these activities." The puja has also been stocking fire bombs for emergencies for the past four years, even before the state government took that route.