Trinamul councillor in Bengal's Raiganj to put up Priya Ranjan Das' statue-- after party had promised one
Bengal's ruling party had already said it would put up a bronze statue of the late Congress leader. So now there will be 2 statues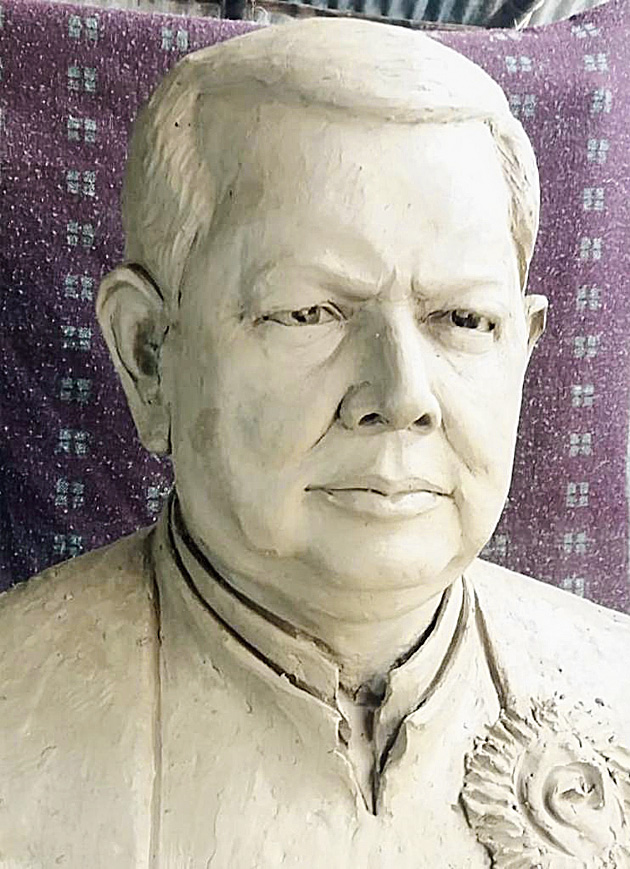 The semi-finished statue of Congress leader Priya Ranjan Das Munshi in Raiganj.
Kousik Sen
---
Raiganj
|
Published 21.11.18, 10:37 PM
|
---
A Trinamul councillor of Raiganj municipality tossed a surprise on Wednesday as he announced the installation of a statue of Congress leader Priya Ranjan Das Munshi in his ward within a month.
On Tuesday, the Trinamul-run civic board had announced that it would put up a bronze statue of the leader at Siliguri More, a prominent crossing of the town. Das Munshi's first death anniversary was on Tuesday.
"A sculptor at Krishnagar in Nadia is making the statue and it is almost complete. We will install the statue in a month at Dosti More, located at the entrance to my ward," said Ashim Adhikary, the Trinamul councillor of ward 25, on Wednesday.
According to him, it is an old decision made to "pay homage to the leader who had taught him politics".
The decision has left other Trinamul councillors in an awkward position as it is evident now that two statues of Das Munshi will be installed in due course in different locations of the town.
"We will meet our commitment. Priyada's statue will be there in Siliguri More. Also, one of our councillors will install another statue in his ward," said Sandip Biswas, the civic chairman.