Trekking guide trainees face the cons of heavy snowing in Sandakphu
Darjeeling forest division started the trekking guide-training programme on January 25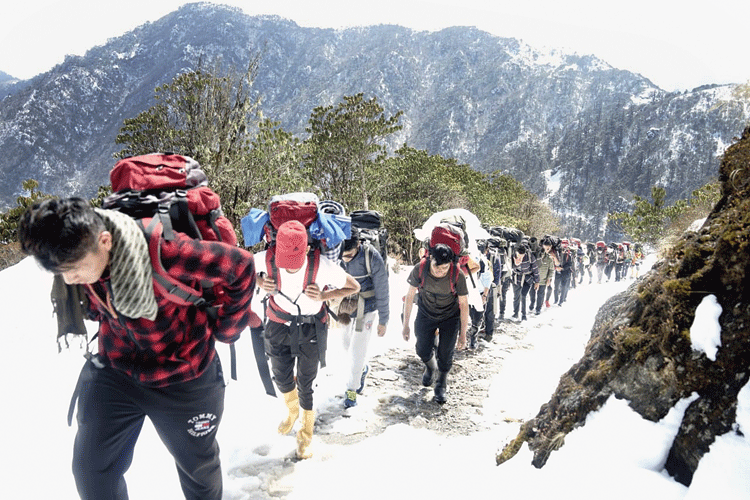 ---
---
Nature's vagaries have shaped boys into men of steel.
A group of amateurs from forest villages in the Darjeeling hills who are being trained as trekking guides had to plod through 2ft-deep snow at a height of 12,000ft, carry gas cylinders and head loads weighing around 10kg and also create a pathway for horses during a skill development training programme in Sandakphu.
All because it suddenly snowed.
In an effort to develop the skills of unemployed youths living in the forest areas, the Darjeeling forest division started the trekking guide-training programme on January 25.
"We reached Maneybhanjyang (the starting point for treks to Sandakphu) on January 26 and it was snowing heavily. Vehicles which were to carry our rations could not ply," said Sangay Sherpa, a course instructor.
The group decided to try a different route from Dhooteriya. "Our vehicles got stuck in snow 2km ahead of Dhooteriya. So, we decided to walk through the snow," Sangay said.
Apart from the 38 trainees, the group had four instructors, four kitchen staffers and two helpers. The instructors decided to carry the gas cylinders to motivate the trainees. "We divided rations for 50 people amongst ourselves and each trainee had to carry a head load of 10kg," Sangay said.
On the first day the group trekked for four hours through 2ft of snow to reach Tumling. On the second day, the group managed to get hold of horses to carry their ration.
"Since the snow was so deep the horses could not move. So, the group walked in front. Nearly 50 pairs of boots ensured that the snow got hardened and the horses could then follow us," Sangay said.
On January 28 the team trekked for nearly six hours to reach Kalpokhri, after which classes were held for the group. "It was difficult but the youths loved the unexpected challenge," Sangay said.
While most of the youths were in the age group of 17 to 30 years, one of them — Sangabir Tamang — was 59. "I think I inspired the youths to carry on during the difficult phase," he said in a video message to The Telegraph.
The team reached Sandakphu on Thursday evening only to find there was a scarcity of water. "We, however, managed everything," Tamang said. The team decided to skip their trek to Phalut as there was no open space to pitch a proper tent, and instead went downhill to Srikhola on Saturday.
The training, which will conclude on March 5, will also include sessions on river-rafting, rock climbing, paragliding and bird watching.