Transfer fear grips Visva-Bharati varsity staff after VC comment
Vice-chancellor Bidyut Chakrabarty's comment that people would be sent to the satellite campus in Uttarakhand has left employees worried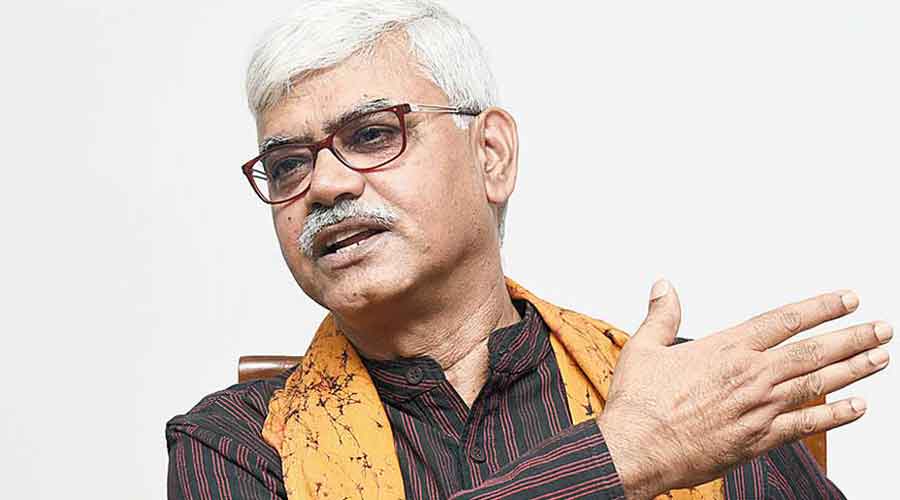 ---
Santiniketan
|
Published 29.01.22, 12:17 AM
|
---
Visva-Bharati vice-chancellor Bidyut Chak­rabarty's Republic Day comment that people would be sent from here to the satellite campus in Uttarakhand's Ra­mgarh has left teachers and non-teaching employees worried as the spectre of imminent transfer has come to haunt them.
"Many people apprehend that now he (I) would transfer them to Ramgarh. Is it not your duty to go to Uttarakhand and take responsibility for the Visva-Bharati campus? If we don't take responsibility it would turn into a Uttarakhand campus just like today's Visva-Bharati became Paschimbanga Bharati or Bolpur Bharati," Chakrabarty said in his Republic Day speech on Wednesday.
"I will not allow that campus to become Uttarkhand-Bharati till I am here. So, a gr­oup of people from here have to go there (Ramgarh). They have to live there to make sure that it (satellite campus) remains Visva-Bharati," he added.
Several varsity teachers and employees said the "soft" appeal by the VC was nothing but a veiled th­r­eat similar to ones he had executed by transferring to Calcutta employees who had da­red to raise their voices aga­inst Visva-Bharati authorities.
"The VC will use the Ramgarh campus as a weapon to punish voices of dissent. At least 300 teachers and staff, including casual employees, have faced various kinds of punishments for going against the VC," said a varsity professor.
Sources said several senior professors had either been suspended or terminated or demoted only going against the wishes of the VC. "He transferred the security officer from Santiniketan to the varsity's Calcutta office while his presence was important on the campus. Recently, Anirban Sircar, the former acting public relations officer, transferred. The publication unit in Calcutta has become a dumping ground for voices of dissent," he added.
Work on the Visva-Bh­ar­ati's satellite campus in Ramgarh has been accelerated with the Uttarakhand government donating 46 acres of land in the hilly pocket of the northern state where Rabindranath Tagore used to spend vacation with his family and wrote several verses at the rest house.
Chakrabarty had earlier threatened teachers who da­red to go against him by shifting them out of the campus. However, he had then regretted his inability to execute his wish in the absence of an alternative. Visva-Bharati insiders said that with the Ramgarh campus coming up the VC might fulfil his dream to transfer teachers who oppose him.
Visva-Bharati's acting public relations officer, Atig Ghosh, however, did not take calls or reply to a text message when this correspondent wanted to know the varsity's stand on the issue.