Top cop miffed over noise norm violation in Calcutta
Police fail to tame decibel devil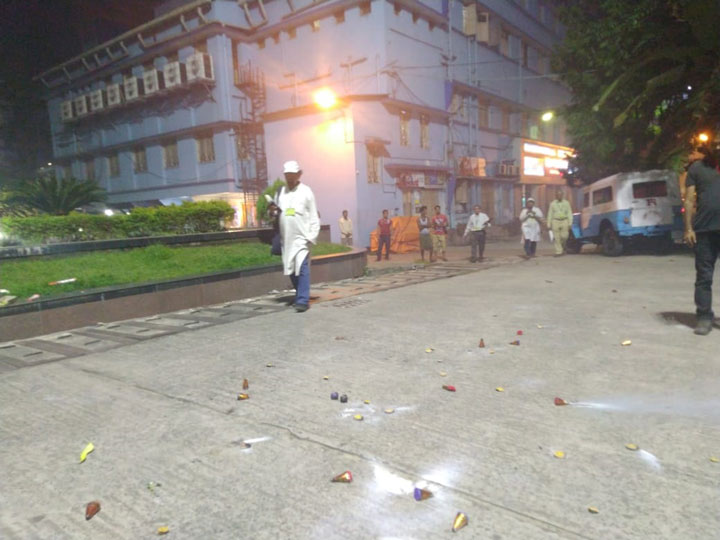 ---
|
Calcutta
|
Published 28.10.19, 09:51 PM
---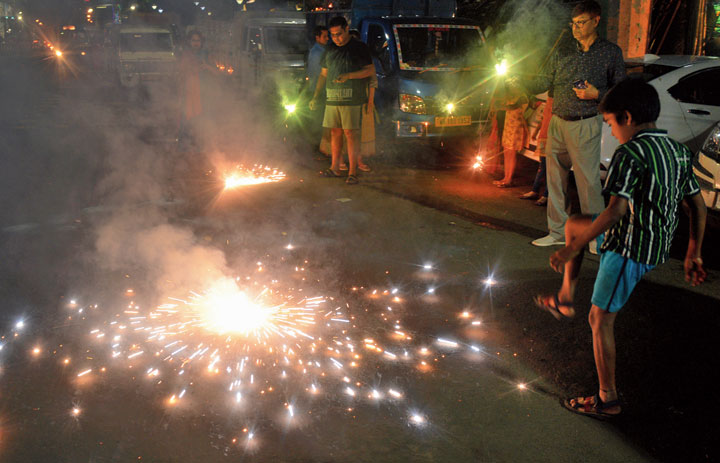 "We used discretion (while prosecuting offenders). People who were caught with large quantities of banned crackers were booked under the explosives act. But if a person was caught with a small quantity of banned crackers, petty cases were slapped," said an officer of the south division.
The city police seized 1,862kg of banned firecrackers on Sunday night and arrested 758 people for bursting illegal firecrackers. The majority of the arrests were from Narkeldanga, Phoolbagan, Entally and stretches along the EM Bypass. Fewer arrests were reported from south Calcutta and places in the port division of the city police.
More than 430 people were arrested across the city on Sunday night for disorderly conduct and gambling.
The areas around Calcutta did not fare better. The state pollution control board lodged complaints against eight housing societies in Maheshtala, Belghoria, Uttarpara, Lake Town and other areas for bursting banned fireworks.
Subrata Bhattacharya, a resident of Bangur Avenue, said noise from firecrackers started intensifying minutes past 10pm and described their plight as "harrowing".
Another resident, Rajdeep Dutta, said: "I have elderly parents at home. They could not sleep the entire night. People were out on the streets trying to outdo one another by bursting fireworks in brazen violation of laws. We heard at least a couple of explosions every minute."
An officer of the Bidhannagar commissionerate said 30 people had been arrested for disorderly conduct and bursting firecrackers in Lake Town, Bangur and adjoining areas.
In Salt Lake, too, crackers could be heard going off at frequent intervals after 10pm.
Residents of several blocks in Sector I of the township, including AA, CD and CF, had violated the noise rules.
"Pamphlets mentioning the period when fireworks could be lit and a list of banned crackers were distributed before Diwali, but still we could hear explosions after the 10pm deadline," said Arunangshu Chakraborty, an advocate and a resident of GD Block.
The officer added a total of 71kg of banned fireworks were seized on Diwali night.
Around 5,000 policemen were on the roads in the city. As many as 1,190 people were arrested. But crackers exploded till early on Monday.
The rampage of the decibel demon bared two truths: there is no alternative to strict vigil on firecracker manufacturing units and at least some police stations did not do enough to carry out police commissioner Anuj Sharma's directive to ensure a noise-free Diwali.
At 11.20pm on Sunday, Sharma wrote in the official WhatsApp group of the city police that people were bursting crackers even after 10pm, sources said.
He made a second post a few minutes later, saying he had received several complaints of noise norm violation and that he would take up the matter with the officers in charge of the respective police stations.
The Supreme Court had last year ruled that permissible fireworks could be lit only between 8pm and 10pm.
In Bengal, only those fireworks are legal that produce 90-decibel sound five metres from the source.
Although the figures of arrest and seizure show the prosecution rate this year was higher than last year, the men in uniform failed to enforce compliance at least in some pockets.
Parts of the city were indeed quiet but residents of the places where firecrackers exploded said violations were more rampant than last year.
A senior IPS officer at Lalbazar said the vigil this Diwali was stricter than last year, which resulted in a drop in the number of complaints. "Whatever violations were reported were from added areas. The quality of air this morning was much better than what we had experienced last year," he said.
The police, he said, received only 32 "verbal complaints". He pointed out that only the state pollution control board had the right to lodge complaints for noise norm violations.
A section of officers wondered what more the force could have done in the absence of any effective measure to stop production of illegal fireworks in adjacent districts.
Pockets such as Maheshtala's Nungi and Champahati in in South 24-Parganas are notorious for manufacture of banned firecrackers. Calcuttans flock to these areas ahead of Diwali to buy such items.
Some officers said the difference in the extent of violation between various places in the city depended on how strictly the local police enforced the law.
For example, officers of one police station allowed a person caught with banned firecrackers to walk away after prosecuting him for a petty case and seizing the items. Officers of another police station charged a man accused of the same offence under the explosives act.