TMC targetting 10 Lok Sabha seats in Assam
I assure you we will do everything to defeat the BJP, says Abhishek Banerjee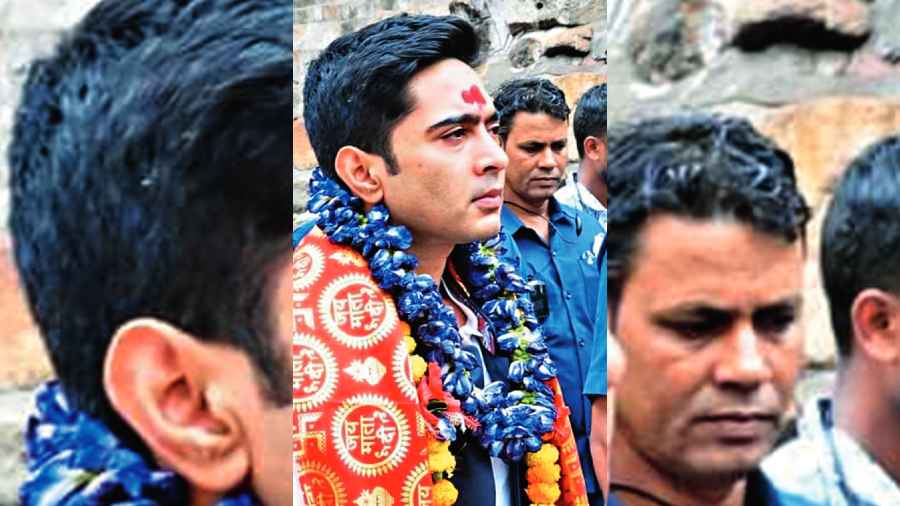 Abhishek Banerjee at Kamakhya temple in Guwahati on Wednesday.
Picture courtesy: Facebook
---
Guwahati
|
Published 12.05.22, 01:49 AM
|
---
Trinamul has set its sights on 10 of the 14 Lok Sabha seats from Assam in the 2024 general elections.
This was evident from Trinamul national general secretary Abhishek Banerjee's address to party members during his first visit to Guwahati on Wednesday after formation of the Assam unit in April.  He said: "Next year, we will fight the state elections in Tripura and Meghalaya with all our strength and will defeat the autocratic forces, be it BJP in Tripura or the BJP and NPP in Meghalaya. With your blessings we will form our governments in Tripura and Meghalaya."
He added: "There is time for Assam polls. Four years to assembly polls. But no time for Lok Sabha polls. We have only two years.In these two years you just assure me that out of 14 seats you will fight with all force and ensure 10 seats for Trinamul from Assam. I assure you we will do everything to defeat the BJP. We will not back off . They can't scare us through the CBI or ED."
Of the 14 seats, the BJP had won nine and Congress three in the 2019 polls. Trinamul does not have any elected representative in the state.
Abhishek said Trinamul's goal was growing as an active political participant across 10 states. It has become active in Tripura, Meghalaya, Goa and Assam after winning the Bengal assembly polls last year.
In an attempt to woo the Assamese population, he said that Assam should be run by Assam, not from Delhi. "Give 10 seats to Trinamul then see what will be the status of Assam... We will be with you all along. We have to work from today to win 10 seats," he said before adding that Mamata Banerjee will visit the state once the organisation is in place.   
He started his Guwahti visit by praying at the Kamakhya temple and interacting with the party workers at Machakhowa, inaugurating the state party office in Jayanagar and speaking to the media. Trinamul MPs Sushmita Dev, Santanu Sen, Assam unit president Ripun Bora accompanied him.
"We are not here (Assam) to replace anyone. We will visit every people with our vision of the development of the state and make sure that the ideology of TMC reaches every people. It is up to the people of Assam whether they want to go with TMC or any other party. Wherever we go, we invite all like-minded parties to come together to defeat BJP today to strengthen our party. By the end of December, we will have a committee in every booth," Abhishek said.
He also hit out at Union home minister Amit Shah who had alleged Bengal was not cooperating with the Centre in checking infiltration from beyond the borders. "It is the responsibility of the Border Security Force that comes under the home ministry. I would be happy to see if they can put out any information on the Bengal government's non-cooperation in this matter," he said.
He said the home minister's tone and view on CAA in Bengal and Assam was different. Shah had said in Bengal last week that CAA will be implemented after the pandemic, but was silent on the issue in Assam during his two day visit to Assam on Monday and Tuesday.
" This is a testament to the kind of politics BJP-led Central govt is doing. They are using this issue as a jumla," Banerjee said.