TMC revokes suspension of 15 accused of misappropriating Amphan dole
The party justified its decision, saying the members had returned the funds, the decision raising an outcry from the BJP and CPM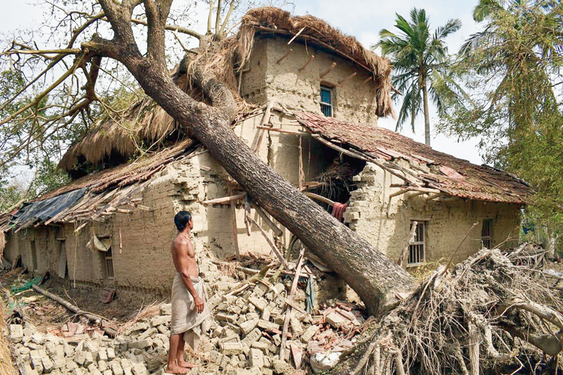 Around 200 party members in Nandigram had been handed showcause notices by Trinamul after the party received multiple allegations against them of siphoning relief funds in the wake of the May 20 Amphan cyclone
File picture
---
Nandigram(Bengal)
|
Published 09.09.20, 02:51 AM
|
---
Trinamul Congress in Nandigram on Monday revoked the suspension of 15 of 25 party members accused of misappropriating Amphan relief funds in East Midnapore.
The party justified its decision, saying the members had returned the funds, the decision raising an outcry from the BJP and CPM.
Around 200 party members in Nandigram had been handed showcause notices by Trinamul after the party received multiple allegations against them of siphoning relief funds in the wake of the May 20 Amphan cyclone.
Of the 200, 25 Trinamul leaders were suspended on July 7. These included members of panchayat samitis, panchayat chiefs and booth presidents.
Justifying the withdrawal of suspension, Meghnad Pal, Trinamul president of Nandigram block said: "These 15 members have returned the misappropriated funds issued in the names of their family members to the government and given a written undertaking pledging not to repeat such mistakes in the future. So, a core committee meeting of the party's Nandigram block unit on Monday decided to revoke their suspension."
Mansura Begum, former chief of Kendamari-Jaalpai panchayat, is one of them. Many sources in the party confirmed the decision to bring Begum back was driven by political compulsions. Among 15 panchayat members — all from Trinamul — 13 are close associates of Begum.
Both the CPM and the BJP have been vocal in their indignation. "This proves that the corrupt are the assets of the Trinamul. First, the police didn't act against them, now we hear their suspension has been revoked," said Pralay Pal, vice-president of district BJP.
CPM district secretary Niranjan Sihi said: "It is only natural that the Trinamul will rehabilitate the corrupt."
Sihi also alleged that the BDO of Sutahata in Haldia had been transferred to Darjeeling as he had dared to lodge a police complaint against the Trinamul chief of one of the panchayats in his block.