TMC plan for Ram Navami in Purulia
The Ram Navami march was planned ahead of the Lok Sabha polls to woo Hindu voters away from the BJP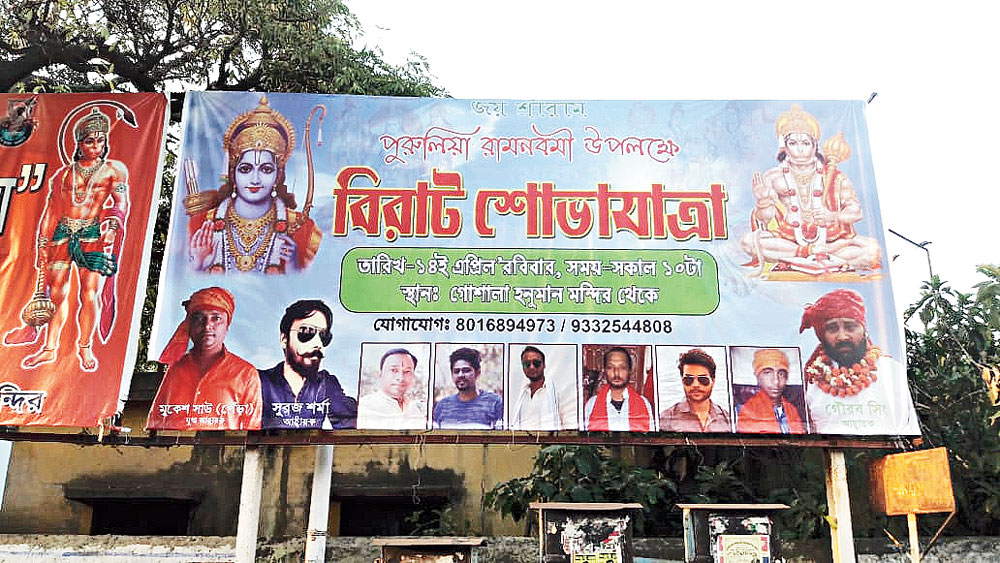 ---
Purulia
|
Published 25.03.19, 08:46 PM
|
---
A Trinamul-backed organisation has decided to organise a Ram Navami march here on April 14, the first such procession by the ruling party in the district to woo Hindus whom the Sangh parivar has been trying to court for long.
The Nagarik Manch (a citizens' platform) will organise the march a day after Ram Navami which falls on April 13. The Bajrang Dal and the Viswa Hindu Parishad will hold Ram Navami rallies in the Purulia town on April 13.
The Trinamul youth wing president of the Purulia town, Gaurav Singh, has been assigned the task of organising the procession. He had left the Bajrang Dal and joined Trinamul after rural polls last year.
"Lord Ram is for all who believe in Hinduism and we will organise the mega rally in Purulia town in which not only Trinamul supporters but people from different social organisations, clubs and temple committees will be present," said Singh.
Senior Trinamul leaders, including the party's candidate for the Purulia Lok Sabha seat, Mriganka Mahato, are expected to walk in the procession.
Sources in Trinamul said the Ram Navami march was planned ahead of the Lok Sabha polls to woo Hindu voters among whom the saffron brigade had spread its influence with the help of the Bajrang Dal and the VHP.
District Trinamul president and minister Santiram Mahato, too, said: "We believe in all religions but they (BJP) are trying to hijack religious events like Ram Navami. Local people have decided to organise the rally and we will support them and there is nothing wrong in it."
Sources said the number of Lord Hanuman and Rama temples had gone up to over 500 in less than a year in Purulia.
The district has a Hindu backward class population of nearly 68 per cent, including those from Scheduled Castes and Scheduled Tribes.
These sections had switched to Trinamul since Mamata Banerjee came to power but last year's panchayat poll results sent ominous signs for the party: the BJP bagged nine zilla parishad seats out of 38 and bagged majority in 48 gram panchayats out of 170, besides winning four panchayat samitis out of 20.
Several Trinamul leaders linked the outcome to the exponential rise in Hanuman and Ram temples.
Ram Navami and Hanuman Jayanti have always been popular Hindu religious events in the Hinid belt but organising processions on the occasion have become a trend in Bengal too as the saffron brigade grew in the past two-three years.
In the neighbouring Asansol and Durgapur in West Burdwan which houses a sizable number of Hindi speaking population, altogether 300 Ram Navami and Hanuman Jayanti rallies have been held in the past two years.
The Trinamul-run civic bodies in Asansol and Durgapur also distribute between Rs 5000 and Rs 3000 to the organisers of the processions from their miscellaneous funds.
Like last year, the Bajrang Dal and the VHP will organise the Ram Navami marches on April 13.