TMC demonstration near Gautam Deb's home
Deb, who was at home then, was left red-faced as the supporters came with placards and party flags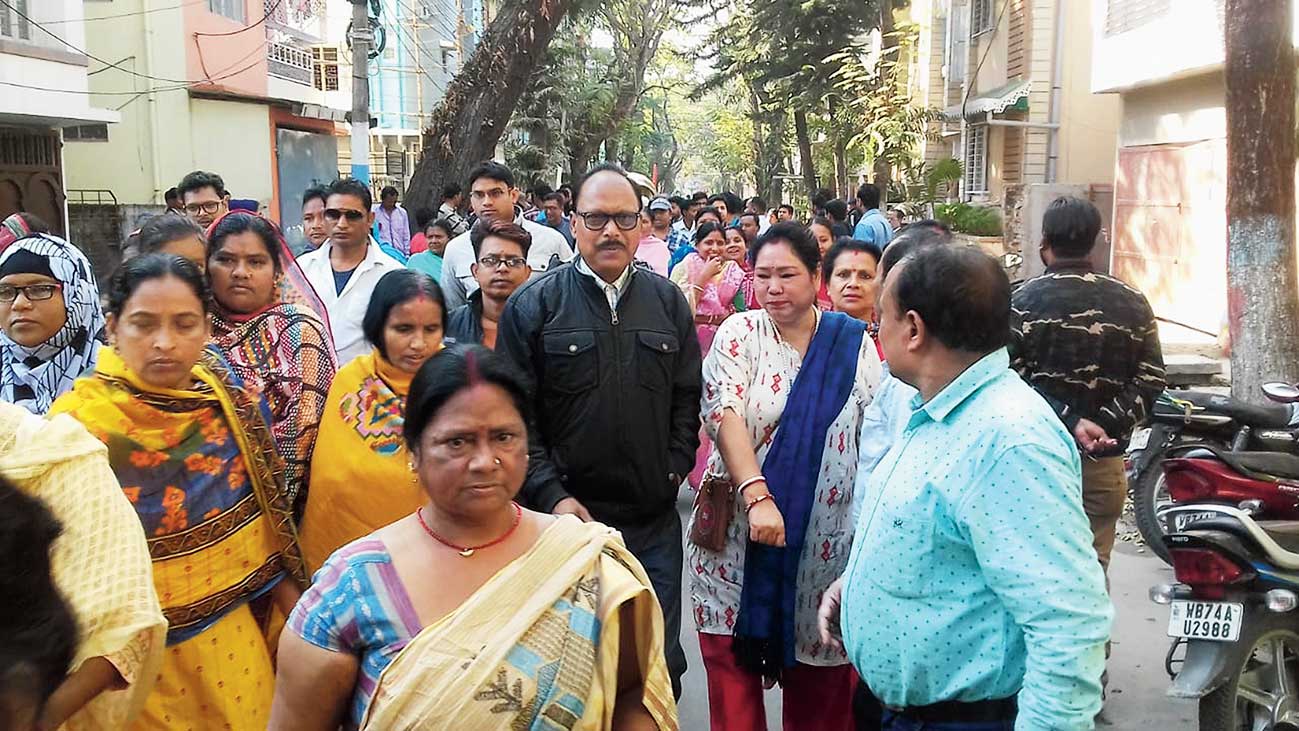 ---
|
Siliguri
|
Published 23.02.20, 07:43 PM
---
A drama unfolded in front of minister Gautam Deb's home here on Sunday morning when around 100 Trinamul Congress supporters demonstrated with a demand that a sitting party councillor in Siliguri be fielded again in the coming civic polls.
Deb, who was at home then, was left red-faced as the supporters came with placards and party flags. He eventually called some of them inside for a discussion.
Around 8.30am, the supporters from ward 40 of the Siliguri Municipal Corporation reached a crossing near the minister's house in cars and on bikes. From there, they headed for Deb's house, wielding placards which mentioned their demand.
"We want Satyajit Adhikari (known as Bhaijaan in his locality) to be nominated as our party's candidate in the same seat from where he had won the last civic elections. We will not allow any outsider to contest as Trinamul's candidate in the same ward. This is what we wanted to tell Gautam Deb, who is the topmost leader of our party in Siliguri," said one of the supporters.
Deb came out of home and called some of them inside. Around 9am, the group started dispersing.
In 2015, Adhikary had won ward 40 with a margin of 406 votes by defeating a Congress nominee.
"Some people from ward number 40 came my home and made their submission to me. They appealed to me to ensure that Satyajit Adhikary gets nomination from the same seat in the coming polls. I have explained our party's policy to them and said the decision would be taken by the state leadership," Deb said after the meeting.
Trinamul insiders said the party was not happy with Adhikary's performance.
"A section of the leadership is not satisfied with his functioning. Also, whatever happened in front of the minister's house on Sunday has not gone down well with the district leaders," said a party leader.
After leaving Deb's place, the group went to the residence of Ranjan Sarkar, the president of Darjeeling (plains) district Trinamul. They met Sarkar and raised the same demand before him, said sources.
Sarkar, who is also the leader of opposition at the SMC, however, said: "They came to me to apprise me that the civic board is not providing services in the ward. I will raise those issues with authorities concerned. Some discussions were also held on party-related issues."
Asked about the issue, Adhikary said: "It was a spontaneous demonstration by some enthusiastic residents of my ward. But they must understand that our party runs on some rules and guidelines."