Time table turned on VC
Visva-Bharati union hurls back 'late' charge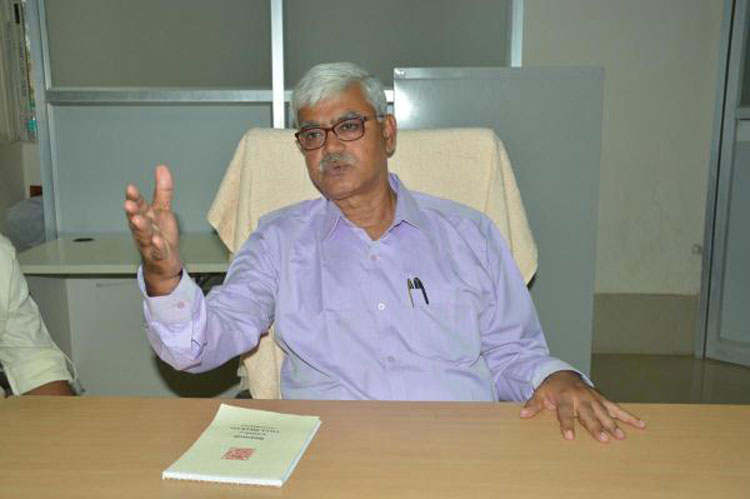 ---
---
Visva-Bharati's association of non-teaching employees has written to Prime Minister Narendra Modi, the chancellor, complaining that vice-chancellor Bidyut Chakrabarty attends office "after 2.30pm" when he himself initiated a circular asking staff to report by 9.30am.
The Karmi Sabha has also objected to Chakrabarty inscribing his name in stone in front of Shyamali, Rabindranath Tagore's mud house, after Vice-President M. Venkaiah Naidu reopened it last month. Having the VC's name on the inscription is allegedly not in keeping with "tradition".
The Karmi Sabha has been on a "pen-down" agitation since September 2 over wage arrears.
"Your good self has requested all government employees to come to office at 9.30am, whereas the vice-chancellor of Visva-Bharati regularly comes to the office after 2.30pm and no employees can get him in the first half…. He forces other staff in his office to stay beyond office hours, up to 10pm," the first letter states.
Chakrabarty had issued a circular recently asking all non-teaching employees to sign attendance registers by 9.30am and making clear that nobody will be allowed to do so after 10am. Chakrabarty also ordered photocopies of the register to be sent the registrar regularly.
"We have found that the VC, who asks his staff to report by 9.30am, comes to office around 2.30pm. Many of the staffers in the VC's office suffer as he forces them to stay till late at night. We protested and sent a letter," said Karmi Sabha president Debabrata Sarkar.
Chakrabarty did not respond to calls from this newspaper. Anirban Sircar, the varsity's public relations officer, said: "The VC can run his office from anywhere. During holidays, he ran his office from his residence." On the inscription row, Sircar said: "There are instances of earlier VCs having their names inscribed on the campus."
In the other letter to Modi, the Karmi Sabha contended that Chakrabarty's mention on the Shyamali inscription went against "tradition". The house was reopened on
August 16 following years of renovation. The stone with the inscription has the names of Naidu, Bengal governor Jagdeep Dhankhar and Chakrabarty.
"There is no such stone in front of any of the heritage buildings in Santiniketan. This brainchild of the VC has violated tradition," said a senior varsity official.