Tiger drags away 69-year-old crab hunter, sons helplessly look on
The villagers said poor people of the areas usually go to the creeks to catch fish or crabs in order to make some money, and often fall prey to big cats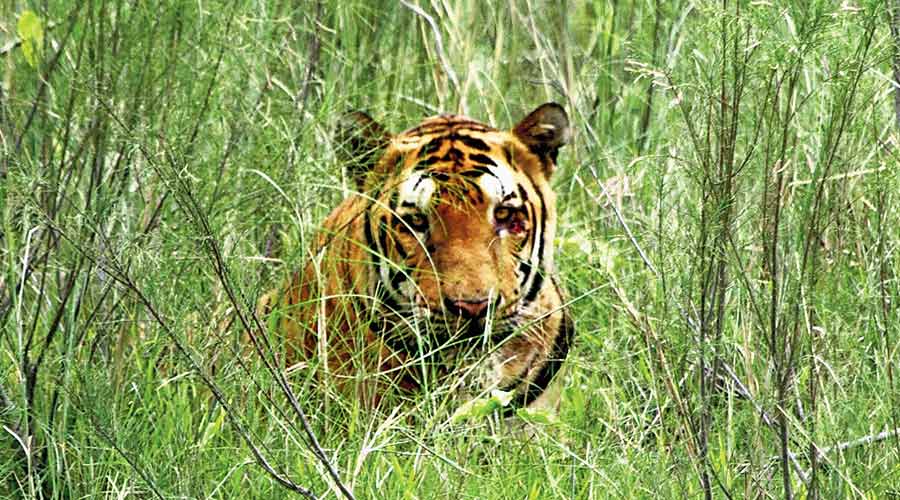 ---
Bolpur(Birbhum)
|
Published 20.11.21, 03:08 AM
|
---
A royal Bengal tiger dragged away a 69-year-old fisherman into the mangrove forests of the Sunderbans as his two sons helplessly watched, when the trio went to hunt crabs in a creek on Friday morning.
Hazari Mondal, a resident of the Chargheri village of Satjelia island in Gosaba, had gone crab-hunting with his sons Chittaranjan and Subhas. He remains traceless till late on Friday.
He is the third person in the past five days who fell prey to a tiger attack in the Sunderbans.
On Thursday, Lakhai Naskar, 39, a fisherman who went to hunt crabs in the Kultali area, had been injured by a tiger and later died on the way to a hospital. On Sunday, another fisherman from Gosaba was seriously injured by a tiger, when he went crab-hunting in the Pirkhali creek. He remains admitted to a Calcutta-based hospital.
Sunderbans tiger reserve officials said Mondal and his two sons went in their indigenous boat to catch crabs in  Chilmari creek under the Jhila forest range without permission. They got off their boats and were gathering crabs when the tiger attacked the father and dragged him away.
"The fisherman had no permission to enter the forest areas for fishing. We have been campaigning regularly, requesting the fishermen not to take small creeks and enter the areas frequented by tigers," said Jones Justin, deputy field director of the Sunderbans tiger reserve.
The villagers said poor people of the areas usually go to the creeks to catch fish or crabs in order to make some money, and often fall prey to big cats.
"It is well known that the tigers of the Sunderbans are man-eaters. Poor villagers become victims of tiger attacks as they go through narrow creeks where it is easier for tigers to attack. It has become frequent in the Sunderbans lately," said schoolteacher Umashankar Mondal, a resident of Chargheri.