Thousands of women queue up to register names under Lakshmir Bhandar scheme
A monthly assistance of Rs 1,000 each will be given to women of SC and ST families and Rs 500 each to women of general categories under the scheme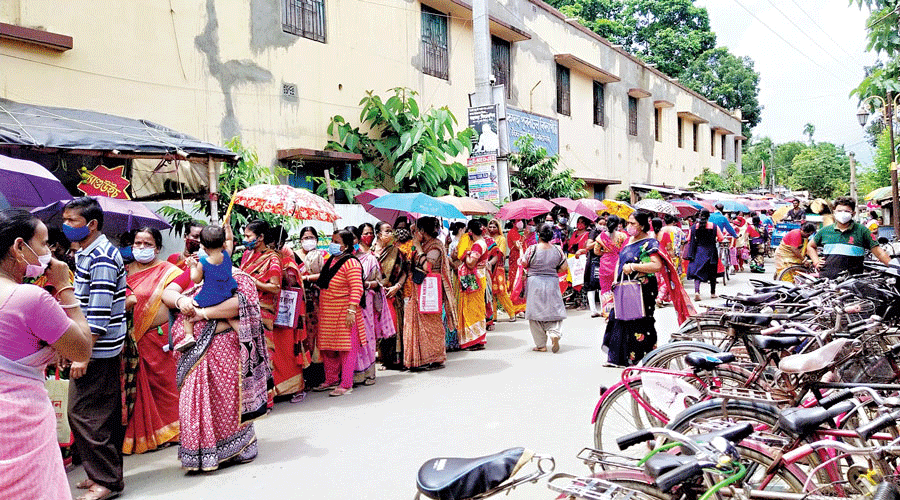 Women queue up at a Duare Sarkar camp in Nadia on Monday.
Pranab Debnath
---
Bolpur(Birbhum), Chakdah
|
Published 17.08.21, 12:59 AM
|
---
Government officials across the state faced a challenge on Monday — the first day of the second session of Duare Sarkar camps — as thousands of women began to queue up from early morning to register their names under the Lakshmir Bhandar (Lakshmi's treasure) scheme.
A monthly assistance of Rs 1,000 each will be given to women of Scheduled Caste and Scheduled Tribe families and Rs 500 each to women of general categories under the scheme.
In Nadia's Kalyani, the rush led to a stampede-like situation at a camp and six women had to be admitted to the JNM Hospital after they fell ill.
"We apprehended there would be a rush as around 1,500 women were there in the queue outside a camp as early as 4am on Monday. It is 7pm now and the women are still in the queue. We need at least two hours more to wrap up work," said a senior official in Bolpur and added that of all those who had turned up at the camp, over 70 per cent were women.
Though the Lakshmir Bhandar beneficiaries, who have to be in the age group of 25 to 60 and do not get any other government dole, struggled in the sultry August weather to get themselves enrolled, Trinamul leaders saw in the rush a dividend that the party would reap in the polls to come.
"There has been a huge rush at Duare Sarkar camps and most of them are women who want to register themselves for the Lakshmir Bhandar scheme. The rush proves that our chief minister Mamata Banerjee understands the needs of women. We are sure women voters will remember this when they vote next time," said a senior Trinamul leader in Birbhum.
He added it was Mamata's way of paying back women voters who had played a major role in ensuring her become the chief minister for the third consecutive time.
"We were not prepared to face such a crowd on the first day. At a few camps we had to open additional windows to handle the rush for the Laxmir Bhandar scheme," said a senior official in East Burdwan.
Mita Biswas, 30, a resident of Bolpur said she had joined the queue at 7.30am on Monday and found herself behind at least a thousand women.
"When I came here, I found the queue was too long. I managed to submit my form with all relevant documents at around 2.30pm," said Biswas.
The picture was the same in other districts like Nadia, East Burdwan or Hooghly and officials said the registration process was on even late Monday evening.
Moumita Biswas Burman, a homemaker in Chakdah, said: "The Lakshmir Bhandar scheme is a kind of social recognition of homemakers that no other government had imagined to offer. I had joined the queue around 6am, and around 100 women were already ahead of me."
"We had 26 camps in the district and around 56,000 people visited those camps till 6pm. Around 38,000 of these registrations were for Lakshmir Bhandar scheme," said Bidhan Ray, Birbhum district magistrate.
Hooghly district magistrate Deepap Priya P echoed Ray and said around 70 per cent of the registrations were for the Lakshmir Bhandar scheme.
"We had 35 camps across the district and received around 75,000 applications. Till 6pm, over 50,000 applications were only for Lakshmir Bhandar and the count is increasing," the Hooghly district magistrate said.
To control the rush, government officials tried to reason with the women that the camp would continue for a month but they were not ready to listen.
"I will get Rs 1,000 a month and it will help me buy books and other necessary things for my children. I didn't want to miss the chance and joined the queue at around 4am," said Sumitra Kisku, a woman from Nanoor.
Local people in many areas of Nadia and North 24-Parganas have, however, accused the administration of misleading campaigning about the camps.
"During public campaign the local administration did not specify the areas or civic wards where the camps would be organised. Camps were organised only for four wards today, but people from other wards had arrived leading to the chaos," said a Trinamul worker in Kalyani.
Nadia district magistrate Shashank Sethi said: "People, particularly women, visited the Duare Sarkar camp in large numbers and the Lakshmir Bhandar counter drew the maximum interest. I don't have the exact figure but the turnout was huge."