Techie who pens poetry
Read more below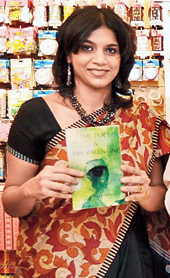 ---
Published 03.08.14, 12:00 AM
|
---
Poet Ananya Chatterjee with her book. (Arnab Mondal)
For software professional Ananya Chatterjee, technology was never a problem. Neither was poetry.
Chatterjee launched her first poetry compilation, The Poet and His Valentine (Shambhabi — The Third Eye Imprint publishers, Rs 170), at STORY on Elgin Road recently. The guests included composer Debojyoti Mishra, poet Bashabi Fraser and writer and adperson Anjana Basu.
The author elaborated on the title, taken from the first poem in the anthology that compares a poet's work to his lover. "I wanted my poetry to have feminine qualities and therefore made the poet a 'he'," she said.
Fraser, who doesn't like poetry that's "too clever", found Chatterjee's works transnational. "There are some poems like Inertia and Daughters of Darkness that are full of anguish and angst. Her poems touch readers to the core. It's good that you reach out against people's superstitions," she said.
For Mishra, Chatterjee's poem Birth of the Red Soil seemed to resonate with Tagore's The Child.
The book comes with a foreword written by actor Soumitra Chattopadhyay.
Passion and pain
(From left) Nabaneeta Dev Sen, Laksmisree Banerjee and Barun Chanda at Oxford Bookstore. (B. Halder)
An evening of poetry and a look at social injustices over the years — that is what Oxford Bookstore had in store for visitors on the evening of July 30. Poet and musician Laksmisree Banerjee read one verse after another from her latest collection, Peahen Passions, leaving the audience enriched and melancholic.
The book, dedicated to Nirbhaya, was launched with author Nabaneeta Dev Sen and actor Barun Chanda as chief guests. "The cover does not display a peahen but a peacock," observed Dev Sen as she read out a poem from the collection.
"I like Laksmisree because she is a fighter. She has achieved a lot, but not without fighting. I respect her for that," added Dev Sen.
An admirer of Keats, Banerjee's current volume of poetry is not really romantic. Whether it was about Draupadi or the Delhi rape victim or about a girl married off at eight to become a widow soon after, the verses were charged with anguish and repulsion at social injustices prevalent in India for centuries.
"I believe poetry is a performing art too. My family ambience was such that I took to music and poetry very early in life. I was always very imaginative," said the poet.
"Do you think love has gone out of our lives?" Chanda asked the poet. "I believe love and life are synonymous. But its external manifestations have changed and are disturbing at times," Banerjee said. She added how all her previous collections ended with a positive poem, but not this one.