Teams to ward off jumbos
Move to secure poll booths on elephant path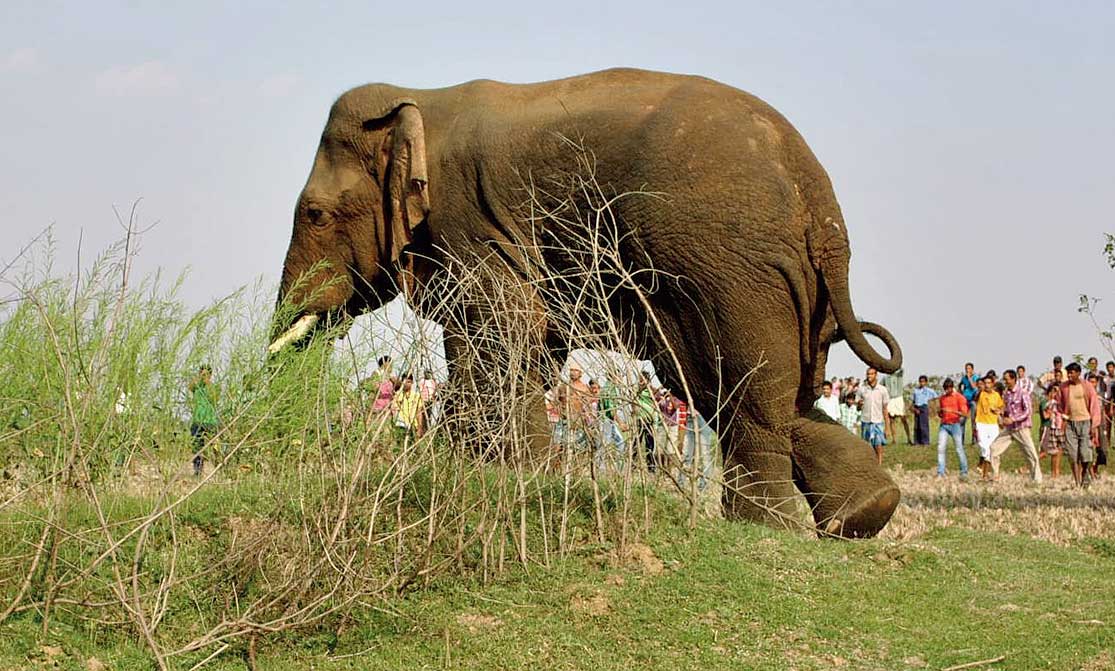 A wild elephant at a village in Bankura.
Picture by Rupesh Khan
---
Bankura
|
Published 24.03.19, 08:14 PM
|
---
The Bankura district administration has decided to deploy for the first time teams comprising forest officers and villagers to chase away elephants from polling booths.
Foresters have said at least 40 elephants roam the elephant corridor that passes through the Bankura district and often pose threats to voters and polling personnel.
"We have decided to deploy squads to ward off jumbos to ensure peaceful polls," a forest officer said.
Authorities in West Midnapore and Jhargram districts have also started identifying polling booths along the elephant corridor and are considering squads to ward off threats from the animals.
Sources in the Bengal forest department said about 250 to 300 elephants were roaming the 450km corridor in the three districts.
The Bankura administrative authorities held a meeting on March 20 with the forest officers and took the decision to form groups which comprise elephant chasers (locally known as hula party). The district administration has already marked around 100 booths, which are located close to the elephant corridor.
"Some elephants often stray out of the herd and attack people. We don't want to take a risk during the polls. So, we have decided to form several groups who would be deployed on the eve of the voting to guard polling stations and personnel," said, Uma Sankar S, the district magistrate of Bankura.
The elephant corridor covers Sonamukhi, Joypur, Raipur, Ranibandh and Borjora in the Bankura district.
On March 11, a 55-year-old woman, Sandhya Ghosh, was killed by an elephant at Saharjora village in Bankura's Borjora.
"We have planned to set up several groups comprising foresters and elephant chasers who would guard the polling booths," Bhaskar, the divisional forest officer of Bankura north division, told The Telegraph.
Districts administrations of West Midnapore and Jhargram said they would also apply the same strategy.
"We will identify the booths along the elephant corridor and conduct a survey soon after knowing the location of elephants. The forest department will be asked to maintain vigil," said Ayesha Rani, the district magistrate of Jhargram.
A senior forest officer said although paramilitary personnel would be deployed during the polls, they could do little to tame the jumbos.
"Elephant herds had often come close to polling booths in Jhargram in the past. The formation of hula parties and keeping them ready during the polls is a good decision," he added.
West Midnapore district magistrate P. Mohangandhi said a survey would be conducted to identify the booths near the elephant corridor.
Bhulabheda, Banspahari, Shilda, Nayagram and Lalgarh are among places which fall in the elephant corridor in Jhargram and West Midnapore.