Suvendu Adhikari, Sukanta Majumdar 'polls apart'
Bengal BJP is torn between two very contradictory approaches prescribed by two key leaders on how to fight the ensuing rural polls in the state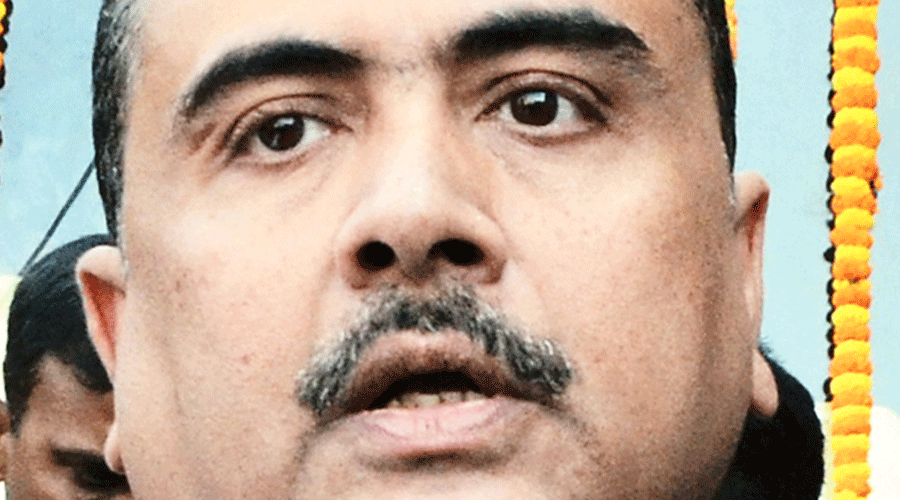 Suvendu Adhikari.
File picture
---
Calcutta
|
Published 25.01.23, 03:33 AM
|
---
Bengal BJP is torn between two very contradictory approaches prescribed by two key leaders on how to fight the ensuing rural polls in the state. 
Suvendu Adhikari, the leader of the Opposition, has publicly demanded the deployment of central forces to ensure a free and fair panchayat poll. He has moved Calcutta High Court demanding an order to the state poll commission asking it to conduct the polls under the supervision of central forces.
On the other hand, state BJP chief Sukanta Majumdar has asked party workers to prepare themselves to contest the polls based on their organisational strength.
The two leaders put forward their respective views at the recently concluded state executive committee meeting.
"Suvenduda says that we cannot contest the polls unless central forces are deployed. Sukantada on the other hand says we will have to fight it out ourselves," a state BJP MLA present at the meeting said.
During the meeting on Sunday, Adhikari reportedly referred to former state poll panel chief Mira Pandey who fought a legal battle to ensure the deployment of central forces during the 2013 rural polls. Majumdar asked his colleagues not to depend on the forces and instead work towards strengthening the organisation so that the BJP could fight the polls on its own. A similar appeal was made by national vice-president Dilip Ghosh.
Though there is no direct conflict between the two ideas and the leaders did not confront each other over the approaches publicly, BJP sources said the stand stated at the meeting exposed the contrasting standpoints of Majumdar and Adhikari regarding rural polls. The sources said it also brought to the fore the state unit leadership's lack of coordination when it came to such key political issues.
"Our central observers asked us to ensure better coordination at the grassroots but is it possible if such divided views exist at the top?" a BJP leader asked.
The party has failed to stage an impressive performance in any of the elections after the 2021 Assembly polls. Yet, the party's central leadership seeks a better outcome in the panchayat polls, with area-wise meetings across the state and stronger organisation across 79,000 booths in Bengal.
However, the deadline to finish area meetings expired on January 19 without the party being able to reach out to all areas. The deadline is now January 31.
A BJP worker said if the top party leaders in the state don't speak in a single voice, unity at the grassroots will be tough.
"How will we know what to expect from the state leadership? If the central forces are deployed we will approach the panchayat polls in one manner. If not, we need a different strategy," the BJP worker said.