SC fines Bengal over rural court lapse
The other states to be fined are Assam, Gujarat, Haryana, Odisha, Punjab and Telangana and the Union Territory of Chandigarh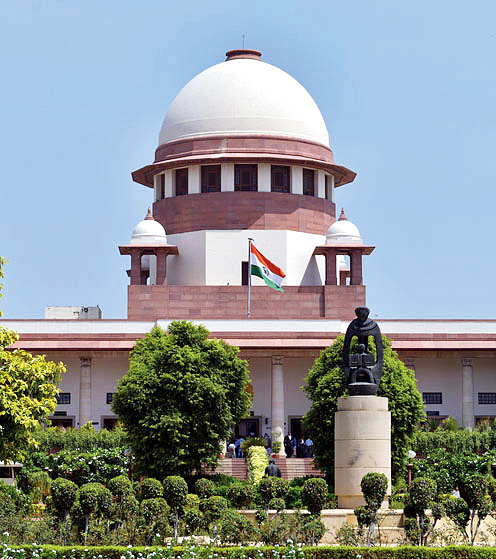 ---
---
The Supreme Court on Wednesday imposed a fine of Rs 1 lakh each on seven states, including Bengal, for failing to file their response on setting up "Gram Nyayalayas" to take the administration of justice to the doorsteps of people.
The other states to be fined are Assam, Gujarat, Haryana, Odisha, Punjab and Telangana and the Union Territory of Chandigarh.
A bench of Justices N.V. Ramana, Sanjiv Khanna and Krishna Murari was dealing with a PIL filed by the NGO National Federation of Societies for Last Justice seeking a direction to the Centre, the states and the Union Territories to set up Gram Nyayalayas under the supervision of the apex court.
The NGO, represented by advocate Prashant Bhushan, told the court that despite Parliament in 2008 passing the Gram Nyayalayas Act, most states and Union Territories had not complied with the mandate.
During the hearing on Wednesday, Rajasthan and Uttar Pradesh informed the court that they had so far set up 45 and 119 Gram Nyayalayas, respectively. Justice Ramana asked the two states to mention this through affidavits.
Kerala sought permission to file its affidavit during the day, which was allowed by the court that adjourned the matter by four weeks.
Against a requirement of 2,500 Gram Nyayalayas estimated by the 12th Five Year Plan for the period 2009-10 to 2017-18, only 320 have been notified by 11 state governments and of them 204 are operational.
"About 18 states have failed to constitute any Gram Nyayalayas over the past ten years, frustrating the object of the Act to provide 'access to justice' to all. The state governments concerned have been defeating the object of the Act, as Section 3 of the Act provides that state governments 'may' constitute Gram Nyayalayas," the petition said.
To reduce the workload of the district courts, Section 16 provides that the high court concerned may transfer eligible cases from the district courts to the Gram Nyayalayas.