Students write to Modi for free phone, Net
Poor students from semi-rural and rural schools and colleges were becoming victims of the digital divide amid the pandemic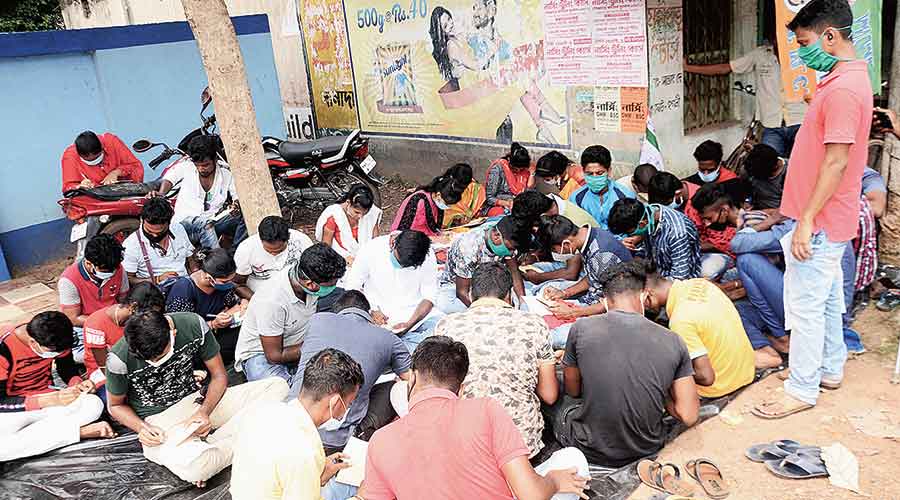 ---
|
Hooghly
|
Published 10.09.20, 03:10 AM
---
Around 300 school and college students from Hooghly's Goghat have written to Prime Minister Narendra Modi and some of his cabinet colleagues, asking for free Internet data and smartphones to be distributed among poor students of the country.
Poor students from semi-rural and rural schools and colleges were becoming victims of the digital divide amid the pandemic, they pointed out.
An initiative of the local unit of Trinamul Chhatra Parishad, a group of 100 students on Wednesday wrote on postcards and another group of 200 sent emails with the same demand at a time Covid-19 made online classes the norm.
The postcards were addressed to telecommunications minister Ravi Sankar Prasad. The emails were sent to the office of the Prime Minister with copies marked to home minister Amit Shah, telecommunications minister Ravi Shankar Prasad, and education minister Ramesh Pokhriyal.
Syed Ashik Hossain, Trinamul Chhatra Parishad president in Goghat-I block, said faced with financial hurdles to online classes, many students were demanding smartphones and Internet packs from the central government.
He called it just "just the beginning", and said "it will soon become a movement".
"Thousands of students are finding it difficult to buy smartphones and Internet packs. The Centre should shoulder the responsibility of providing smartphones and Internet packs to underprivileged students as most classes are being held online," said Hossain.
"My father is a farmer and he cannot spend Rs 800 per month on Internet. There are thousands of students like me. So, we request the Centre to think about our situation," said Payel Chakraborty, a third-year undergraduate student at Netaji Mahavidyalaya, Arambagh.
Sweety Khatun, a Class X student of Arambagh Girls' High School, echoed Payel. Sweety, who sent a postcard on Wednesday, said: "I do not have a smartphone. My mother, a widow, runs the family by working as a tailor. How can I ask her to spend on a smartphone for my online classes?"