Student beaten up over Ayodhya temple question in Cooch Behar
SFI and DYFI supporters hold a rally in the town to demand the arrest of the attackers on Thursday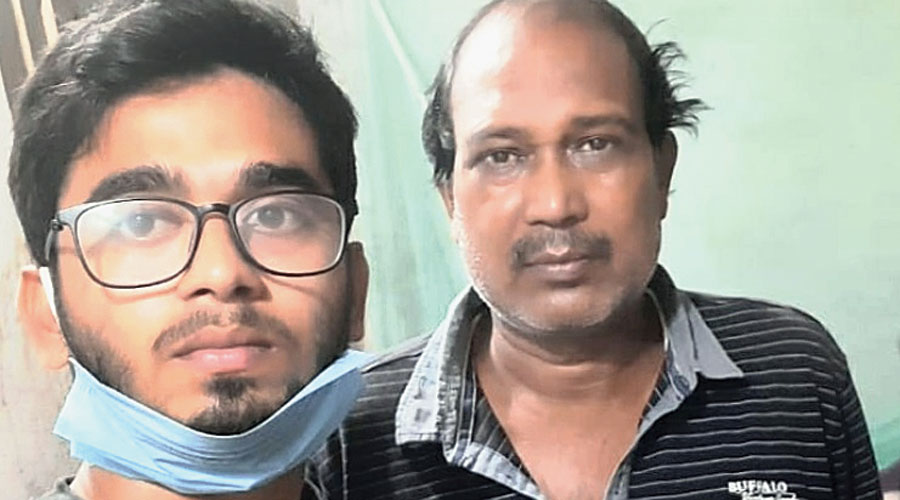 ---
---
A first-year medical student from Tufanganj town was assaulted on Wednesday allegedly by BJP supporters for asking on his Facebook page the need to set up the Ram temple in Ayodhya during the pandemic.
Amrit Arya, an MBBS student at the NRS Medical College & Hospital in Calcutta and a supporter of SFI — the students' wing of the CPM — on Tuesday asked on the social media platform if it was "apt" to focus on the temple when "thousands are dying of Covid".
The youth, who is home in the lockdown, said that on Wednesday some "BJP supporters" asked him to meet them at a specific place. When he went there, he was thrashed, he said. "They (BJP supporters) insisted I say sorry...my friend Rakesh Chandra Burman tried to save me (from blows) but was also beaten up," Amrit said.
The CPM reacted sharply. "It is evident the post did not go down well with the saffron brigade. The Centre miserably failed to control the pandemic and now the BJP is trying to divert attention with the Ram temple," said a CPM leader.
On Thursday, SFI and DYFI supporters held a rally in the town to demand the arrest of the attackers. Police arrested Bishu Rajbanshi and Chiranjit Das, but Malati Rava, Cooch Behar district BJP chief, said her party was not sure if the duo were BJP supporters. "However, people have strong sentiments about the Ram temple. It is undesirable to make comments," she said.