Stalls back on Salt Lake sidewalks
Eviction Suspension leads to encroachment by hawkers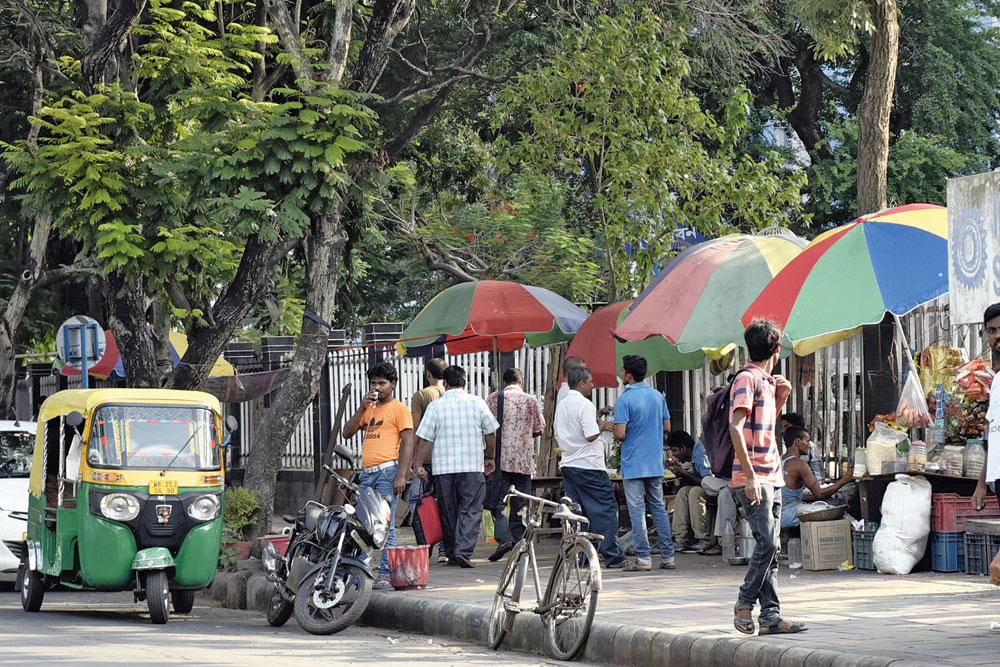 ---
|
Calcutta
|
Published 18.07.19, 08:23 PM
---
Salt Lake: Hawkers have reclaimed several walkways along major roads in Salt Lake as the Bidhannagar Municipal Corporation has stopped evicting encroachers.
A corporation official who oversees eviction said the drive was not being conducted because of confusion over the fate of mayor Sabyasachi Dutta, who quit his post on Thursday.
"No eviction drive was undertaken over the past couple of months. Earlier, we were required to submit reports about the drive to the mayor's office," the official said.
Civic officials as well as residents said hawkers started returning and grabbing footpaths in areas such as Karunamoyee, FD Block, the area around City Centre and other places 15 days ago.
The civic body had first removed stalls from the pavements and evicted 3,000-odd hawkers in the run up to the FIFA U-17 World Cup in 2017.
Regular eviction drive, marked with hawkers playing cat-and-mouse games with the civic teams, had been undertaken since.
The presence of hawkers and their sidewalk-grabbing stalls are hard to miss in all three sectors of the township.
Stalls made of bamboo poles and plastic sheets have mushroomed at Karunamoyee, opposite the Geological Survey of India (GSI) building, in front of the Punjab National Bank rotary and the lanes of DL and EE blocks. Many pavements where pedestrians had unhindered access till a few days ago have been overrun by hawkers.
"Driving towards DL Block is a nightmare. Hawkers have set up stalls on the pavements," said Anurag Agarwal, a resident of DL Block.
Soham Chakraborty, 30, a resident of ED Block, said the pavements and even the service lanes adjacent to the GSI building had been taken over by hawkers selling chicken, fish vegetables, fruits and grocery items.
"The stalls leave no space for pedestrians. The fishsellers dump scales of the fish on the pavement. Those who sell chicken dump feathers and offal in the service lanes. The stench at times becomes overpowering," said Chakraborty.
Shreya Dutta, of EE Block, demanded that the civic body intervene and give the sidewalks back to the residents.
Poultry seller Apu Biswas, who hawks in front of the GSI building, said they were now displaying their wares on cycle-vans. "The cycle-vans help us pack up and leave fast soon after they get to hear that an eviction team is approaching," he said.