Stage for children to discover their abilities
Akshar School students gear up for musical based on Hunchback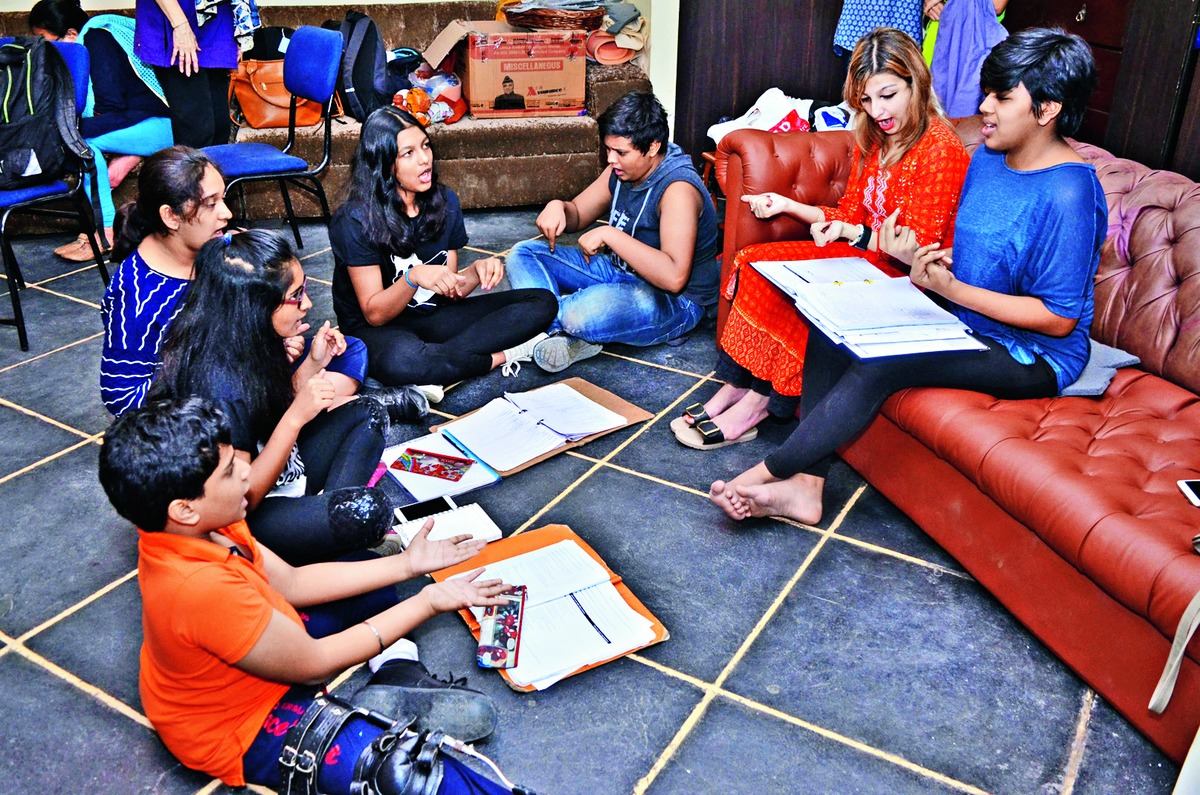 ---
|
Calcutta
|
Published 09.07.18, 12:00 AM
---
Calcutta: A group of children sit in a semicircle, learning sign language from a teacher as they get into the skin of Quasimodo, the titular character of The Hunchback of Notre-Dame.
Fifty-five students of Akshar School, seven of them with special needs, will present a musical based on the Victor Hugo classic at Kala Mandir on July 12.
Ritam Mukhopadhyay of Class VII has started identifying with the deaf-and-mute character shunned by society. Diagnosed with spina bifida - a birth defect in which a baby's spinal cord fails to develop properly - Ritam has difficulty moving his right leg and wears a caliper.
"Earlier I would crawl instead of walking and people were indifferent towards me. I was on my own most of the time and just like Quasimodo, I had my own imaginary friends. So I can connect with the character," said the boy who likes writing and reading and is an excellent motivational speaker, according to friends.
As excited as Ritam is Ansh Metharamani, who has Prader-Willi Syndrome - a complex genetic condition that affects many parts of the body. "Last time, I played the role of a tortoise and this year I have a small role apart from singing. I love singing," said Ansh, a student of Open Basic Education.
Playing the musical's main antagonist, Claude Frollo, is Rishi Sood of Class XI. "I liked the character of Frollo and found it to be very interesting. I started rehearsing just after my ICSE exams. I did my own research on the character and it took me 25 days to get the Hellfire scene right," he said.
Director Dana Roy and her team found the project challenging. "We have worked with Akshar earlier. The last production we did with the school was A lice in Wonderland. Though we knew this production would be tough, we wanted to take the risk and challenge the kids. It's the journey that is important and they are remarkable," said Roy, who is being assisted by Katy Lai Roy, also the costume director.
Music directors Subhagata Singha and Shireen Ghosh are teaching the kids to sing in Latin, English, Romani and even a bit of French.
"The music is tricky, made for two different choirs - gypsy and church choir. It's amazing how each of the students has picked up the lessons so fast," Singha said. "They have exceeded our expectations,"added Ghosh.
The choreography team includes Kirsten Samuels, Smriti Agarwal and Rupsha Chatterjee.
"The play stands for the very philosophy of the school. Akshar has grown to be such a fine institution in these two decades with the selfless energy of everyone associated with the institute," said Akshar principal Kavneet Khullar.
Neeta Singh, the executive director of the school, said: "The school has completed 20 years. There is still a long way to go. This is the time when we sit back and reflect on our functions and plan for the future."