Squash court at Darjeeling Gymkhana Club revamped
This welcome development highlighted the slide in sporting infrastructure in the hills, which was once among the best in the region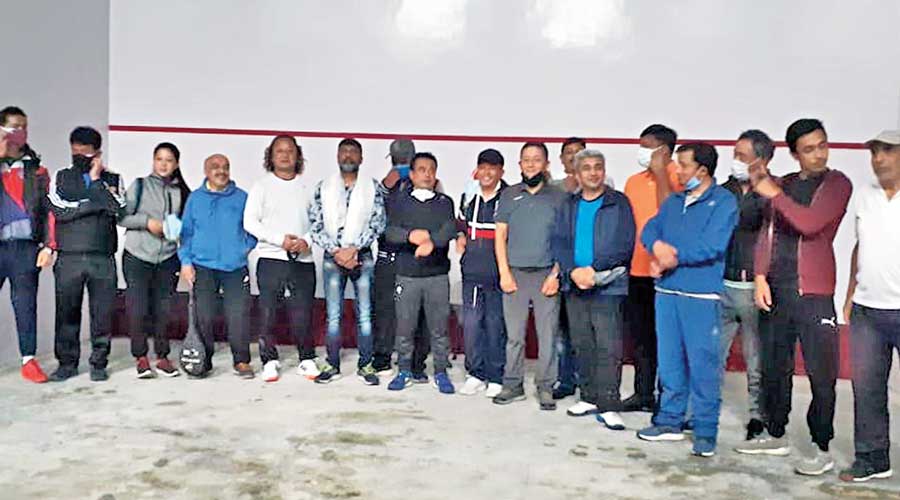 ---
Darjeeling
|
Published 07.07.21, 01:09 AM
|
---
A squash court at Darjeeling Gymkhana Club set up in 1909 and defunct for more than 20 years has been revamped to the glory of its heyday, club authorities said on Tuesday.
But this welcome development highlighted the slide in sporting infrastructure in the hills, which was once among the best in the region.
In the late 1950s, Darjeeling boasted of 18 tennis courts, four squash courts, a nine-hole golf course, a mini racecourse and over a dozen badminton and table tennis facilities.
Save for around five tennis courts, half-a-dozen badminton and table tennis courts and this squash court, other sporting facilities are closed.
Darjeeling Gymkhana Club alone had four squash courts when it was established in 1909. "We could renovate and inaugurate one squash court today, which was defunct for more than 20 years," said Bimal Jhawar, executive committee member of the club.
The club kept the vintage quotient of the squash court intact during renovation, refraining from using fibre used in modern squash courts.
Jamling Tenzing Norgay Sherpa, chairman of the club inaugurated the court. Pemba Tashi, vice-chairman of the club said that while producing champions was their dream, they hoped to help Darjeeling citizens lead a healthy life through sports at the least.
However, the talk in the town was about the need for a sports complex in Darjeeling.
"Children in Darjeeling do not have a proper playground. A sports complex is something both the administration and people's representatives must give priority to," said Sunil Shankar, father of an 11-year-old girl.
Roshankant Ghisingh, a resident of Darjeeling who represented Delhi in the national table tennis tournament in 1989, underscored the need for a sports academy in town. "During our day, we could play table tennis at District Cultural Institute, Buddha Singh Sporting Club, Station Club, Hayden Hall, Nripendra hall and Gymkhana Club. After football, the most popular sport in the hills was table tennis," said Ghisingh. "We need a sports academy here."
Ghisingh has set up a private sports complex in Siliguri, named Siliguri Gymkhana Club, whose Match Point Tennis Academy has three courts.
Darjeeling old-timers recalled that in the past, Prakash Padukone — the first Indian to win the All England Badminton Championship — had visited Darjeeling to play at the Nripendra Narayan Bengali Hindu Public Hall. National football teams like East Bengal, Mohun Bagan and clubs from Nepal, Bangladesh and Bhutan used to regularly take part in hill tournaments. In the late 1970s, the Gymkhana Club had hosted junior nationals in table tennis.
Many believe that the violent Gorkhaland agitation that started in 1986 and general apathy led to the death of sports culture in Darjeeling. The bungalow at the nine-hole golf course at Tiger Hill was burnt down during the 1986 agitation.
 The Darjeeling Gorkha Hill Council later bulldozed the golf course to unsuccessfully set up a helipad. The last contest at the Lebong horse racecourse was held on October 31, 1984. The Brigade of Gurkhas Gold Cup, a major football tournament has become erratic.