Music lessons for men start at Snehodiya
The new classes will be called Sanai and its logo — done up with harmonium reeds — was unveiled by Debashis Sen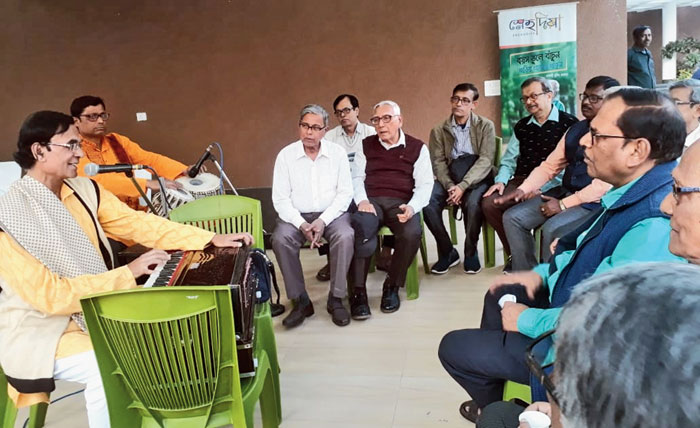 ---
---
Snehodiya, the senior citizens' home in New Town, started music classes from January 18 and 21 students enrolled on the very first day. All students are male.
"The idea of Snehodiya was an extension of Swapno Bhor, the senior citizens park right opposite," said Debashis Sen, chairman cum managing director of Housing and Infrastructure Development Corporation (Hidco) that runs the two facilities. "Swapno Bhor members have been holding music classes for a long time but somehow all students there are ladies. Now the men too will get a chance to hone their skills and later we may organise a competition between the two."
At Swapno Bhor, the singing classes are conducted by Sutapa Majumdar, a septuagenarian member. The classes had begun with a handful of students but the class strength is now 40. The choir calls itself Antara.
Members of Antara, in fact, sang the inaugural song for this ceremony. Majumdar, being out of town, could not lead them but her students performed Surer guru dao dao dao surer diksha.
The new classes will be called Sanai and its logo — done up with harmonium reeds — was unveiled by Sen. The event was presided by curator of Rabindra Tirtha Anup Matilal, additional general manager, Snehodiya Suparna Mitra and administrator, Swapno Bhor, Prasanta Maji, who has signed up as the first student at the class himself!
The classes will be held at the activity centre in the front yard of Snehodiya, that Sen announced would get air-conditioned. "For Swami Vivekananda's birth anniversary residents and staff staff got together to hold a cultural programme that was lovely. Now if these performers get some professional guidance it will add polish to their skills," he said.
The classes will be conducted by singer Sudeb Chattopadhyay, who presented the devotional song Shon re pathik and began teaching sargam to his students right away. "If a person starts learning music at 60 as opposed to 10, it will make a qualitative difference but then not every student is trying to become a professional artiste," said Chattopadhyay. "I asked them to sing Purano shei diner katha today and felt that half of them know how to sing. For the others, these classes reach out to their unfulfilled childhood desires."
Chattopadhyay will be teaching songs by the five poets — Rabindranath Tagore, Kazi Nazrul Islam, Atul Prasad Sen, Rajanikanta Sen and Dwijendralal Ray as well as those by Salil Chowdhury, Jatileswar Mukhopadhyay, Pulak Bandyopadhyay etc. "We shall also deal with raag-raginis. An hour of music shall surely keep problems like blood pressure and sugar in check."
"I play the tabla but never got a chance to learn singing after juggling studies and office. So I'm delighted at the idea of finally training in music here," said Swapan Saha of BC Block, who was the first to walk up to the dais for the lesson.
Sampa Debnath is a member of Antara and was one of the singers performing the inaugural song at the ceremony. "I am learning music at Swapno Bhor from Day One and the satisfaction is unparalleled. So when I found out about these classes for men, I talked my husband into signing up," said Debnath as her husband Pradyut, of AH Block, sat singing Sa re ga ma with his classmates. "Post-retirement, everyone needs some activity to stay busy and there is nothing quite like music."
The classes, to be held at 4pm on Saturdays, are primarily for men. The lessons are open to non-residents of Snehodiya and non-members of Swapno Bhor, although the fees for them will be Rs 400 a month. Members and residents will get 10 per cent off.